SE Ranking
What Is Patchwriting, Unique Value Content & Its Role in SEO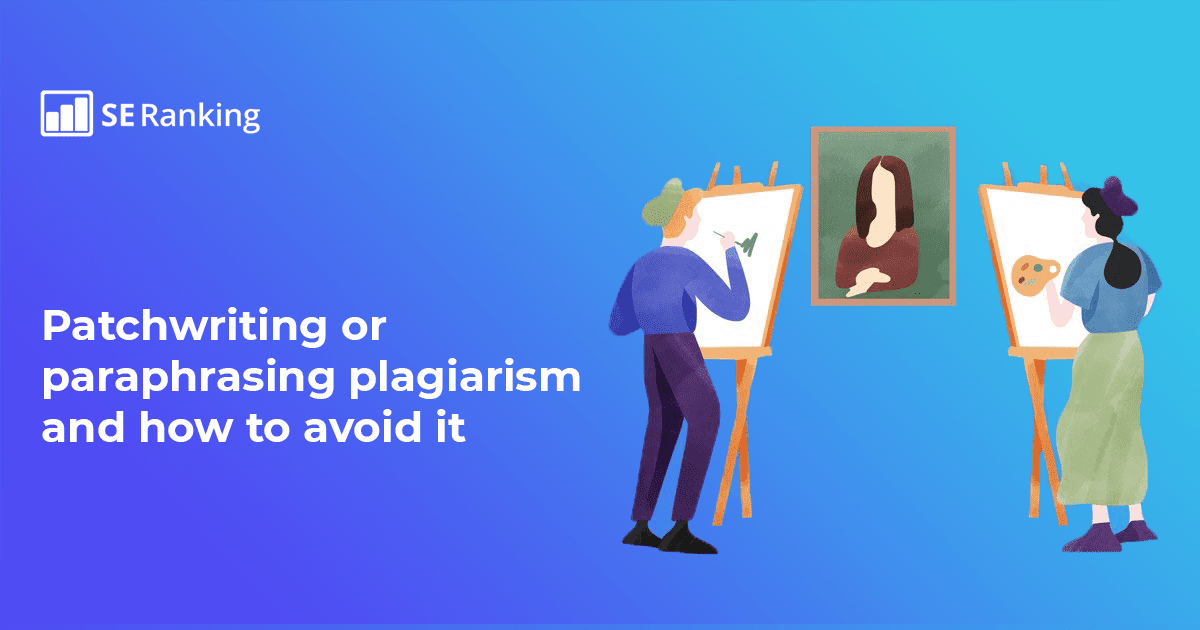 Google algorithms are constantly being improved and updated with the ultimate goal of providing people with search results that are as useful and as relevant as possible. And when it comes to search engines' ranking criteria, the website's content quality is right there at the top of the list.
Not too long ago, SEO specialists primarily focused on what search engines want when publishing content. To meet the necessary requirements, they only needed to consider the following criteria:
No verbatim plagiarism, no copying word-for-word;
No keyword stuffing. 
Today, this just won't do the trick. Search engines have introduced new methods of evaluating content to rank top-quality niche sites higher and lower the ranking positions of irrelevant, thin-content websites. As a result, the term 'unique value content' was introduced. Let us take a look at it in more detail.
What is unique value content
Unique value is the next-level evaluation criterion, a new approach for assessing content that goes beyond the requirements set for technically unique texts. It was released to the masses along with the Google Panda algorithm update in 2011.
It is no longer enough to create similar texts or high-quality rewrites that are 90-100% unique. If you want to get better results from your content and your site, you need to offer something special. And that something is information that cannot be found anywhere else online.
What is the difference between patchwriting and verbatim plagiarism
Verbatim plagiarism
Verbatim plagiarism or word-for-word plagiarism is when you copy the entire content or a part of it from another website. The way search engines work is that they divide every new text into word groups and analyze them to find similarities with other texts.
Technically non-unique texts never were treated well by search engines. As a rule of thumb, websites with duplicate content are likely to rank low.
Patchwriting or paraphrasing plagiarism
Patchwriting is when a piece of content fails to provide readers with new information. This text evaluation criterion goes hand in hand with the so-called "unique value."
A unique value is something that makes your content somehow different (additional information or the form it's presented in) from the content that is already published on similar websites. In other words, the formula of genuinely unique content is:
Unique content = No technical plagiarism + Unique value 
What websites are at risk
1. Sites containing multiple backlinks 
Platforms that provide advertising services or help promote websites by selling external links often have too many backlinks. From the point of view of search engines, such platforms are not at all useful and are considered stuffed.
2. Informational and news websites
Such sites may seem different at first sight but they still publish similar content that was paraphrased. To rank higher on SERPs, such websites need to take a new approach to add unique value.
3. Entertainment sites
It is more difficult for platforms with movies, games, and other non-text content to prove their unique value. 
Unique value content in ecommerce
Should online store owners worry about pessimization, considering the fact that their content is created by means of copying or rewriting the information about goods provided by manufacturers?
Let's analyze the situation and consider the risks of being filtered. The good news is that search engines distinguish websites that sell goods and services and don't focus on their content as much. Plus, they are pretty loyal to such websites. 
As for rankings, Google always evaluates a website's usefulness based on a set of various parameters. Websites that can offer not only a wide range of goods but also have detailed and unique descriptions, tips, recommendations, and articles have better chances of beating their competitors. 
How to create content of unique value
The best way of doing this is creating your own content without rewriting information from other sources and using additional tools that help you improve the value and comprehensiveness of your content.
What adds unique value to content
Let us take a closer look at what you can do to make content useful for your website visitors. That is the primary goal of search engines. 
Create original authorial content
Content created by niche specialists or just good copywriters who did proper research will have its unique style and have more informational value than standard, copied texts. 
Make your content as detailed as possible
Provide detailed and exhaustive information describing characteristics, prices, applications, and other parameters that may be interesting to your target audience. 
Draw conclusions and give expert assessments
Include a summary of your articles or posts to save the reader's time and demonstrate your competence in the matter at hand.
Provide tips and recommendations
Expert advice can seriously improve the usefulness of content. Users often have questions when choosing services and searching for goods. And by providing useful answers to customers allows you to achieve greater loyalty and improve your overall website rankings.
Reviews not only convince people to make a purchase but they also add real-life text written in colloquial, casual language. 
Stay up-to-date and write only relevant info
Those who follow the news in their niche and know how to stay ahead of competitors should use only the latest available information when creating content.
Other ways of adding unique value to improve content
Both people and search engines love pictures. So add various pics, infographics, illustrations, videos to your texts. 
Headings and lists give your content structure. This has a lot of benefits, but most importantly, it helps from the point of view of search engine optimization. A good structure and content presentation make it easier to comprehend. 
Adding tables is a good way of adding and organizing information that includes various parameters, characteristics, and stats.
User forms, online price calculators, interactive blocks, comments, and reposts on social networks can be great extra elements and functions that impact behavioral factors and increase user engagement. 
Cliches and clericalism should be minimized. Professional terms and slang, foreign words, names, and abbreviations should be used instead of cliches—such words will show that your website has something that others don't. 
Unique selling proposition
Commercially attractive, selling information is necessary for online stores and platforms that provide services.
What tools help create better content
Competitive analysis
Analyzing your competitors' websites lets you find out what kind of useful info is missing on their platforms and adds this info to your own site's articles.
If you are just looking to add the right keywords to your content to improve semantics, pay attention to the websites that are ranking higher than you in the SERPs. Before you start creating content that targets a specific keyword, make sure your content provides unique value. If you use SE Ranking's Keyword Rank Tracker tool, you will see who is on top of the search for any keyword and will be able to access the data on your competitors and to take a comprehensive look at their content and evaluate its quality.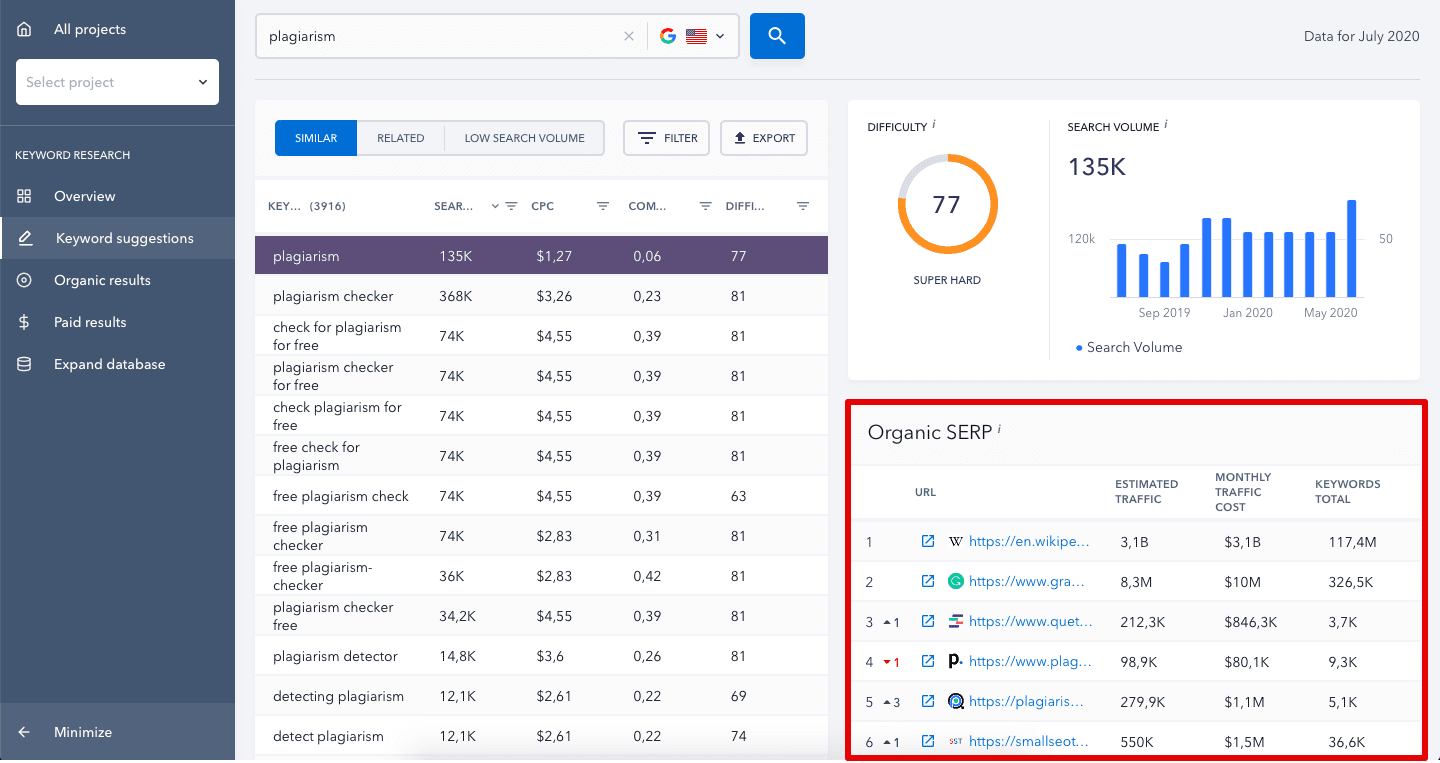 If you want to improve the unique value of content that has already been posted, find out which competitor sites rank higher than yours with the help of the SERP Competitors tool. You can set the date range for analysis and learn what sites were on top in the search results on each of the analyzed days within the set time period. Focus on the sites that rank higher and manage to retain their position on top of the search results.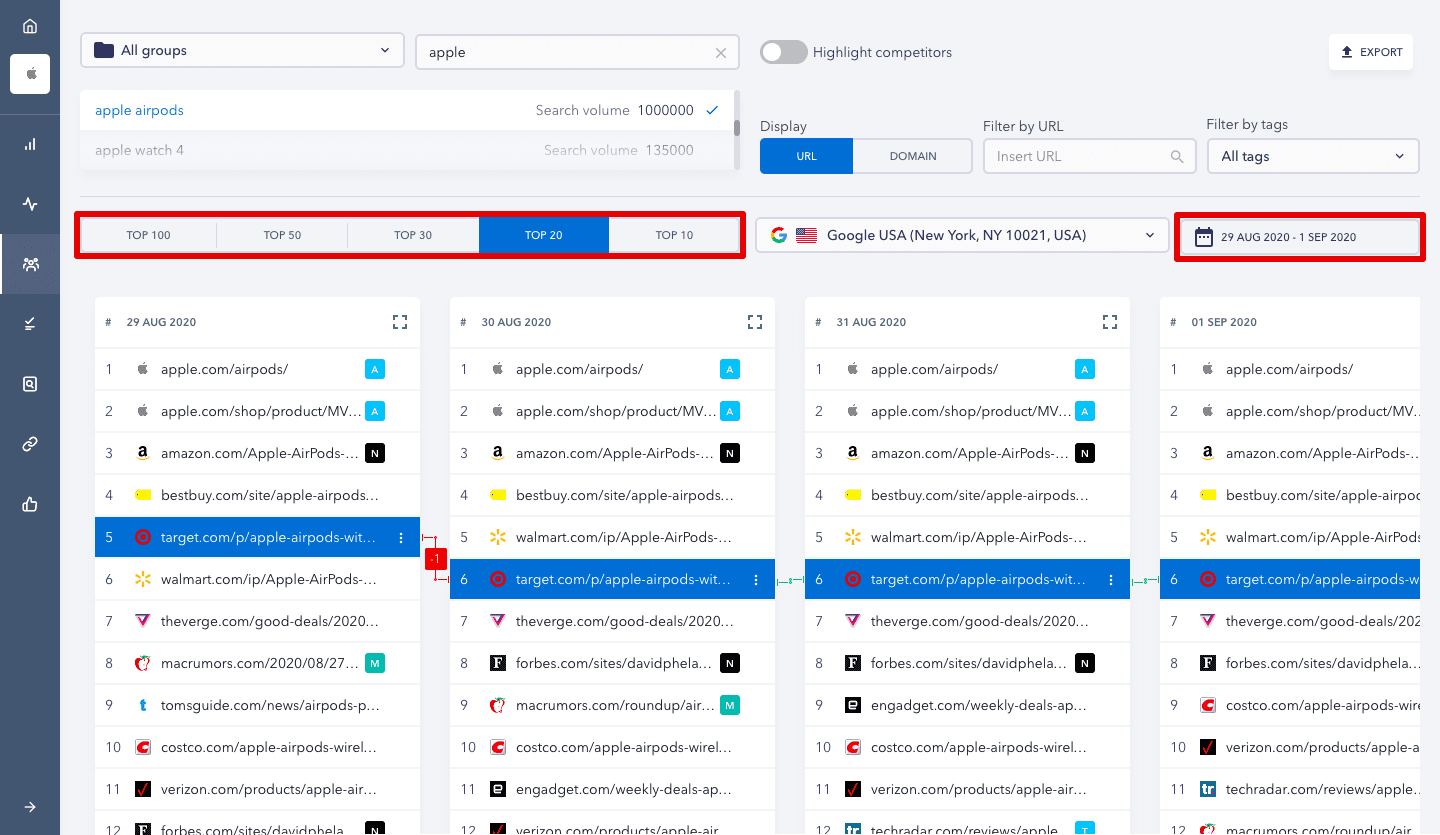 Visit your competitors' sites and find differences between your and their content. Think about the unique value you can add to your content. 
Keyword research and grouping
By analyzing search queries and their monthly search volume allows you not only to discover what keywords people are looking for, but also what questions customers may have while searching for an item or when using it. You can choose the relevant keywords to target by using the Keyword Suggestions tool. 
If it is difficult to understand what answers people expect to get to their questions, Google a search phrase and look through forum threads where this phrase is discussed. The better you understand user intent, the better chance you have of creating content that will be of unique value. To fully explore the topic, try to answer a few interconnected questions users may have on the same page. It's also important to make sure that search queries have similar intent, and that is why we recommend using the Keyword Grouper tool.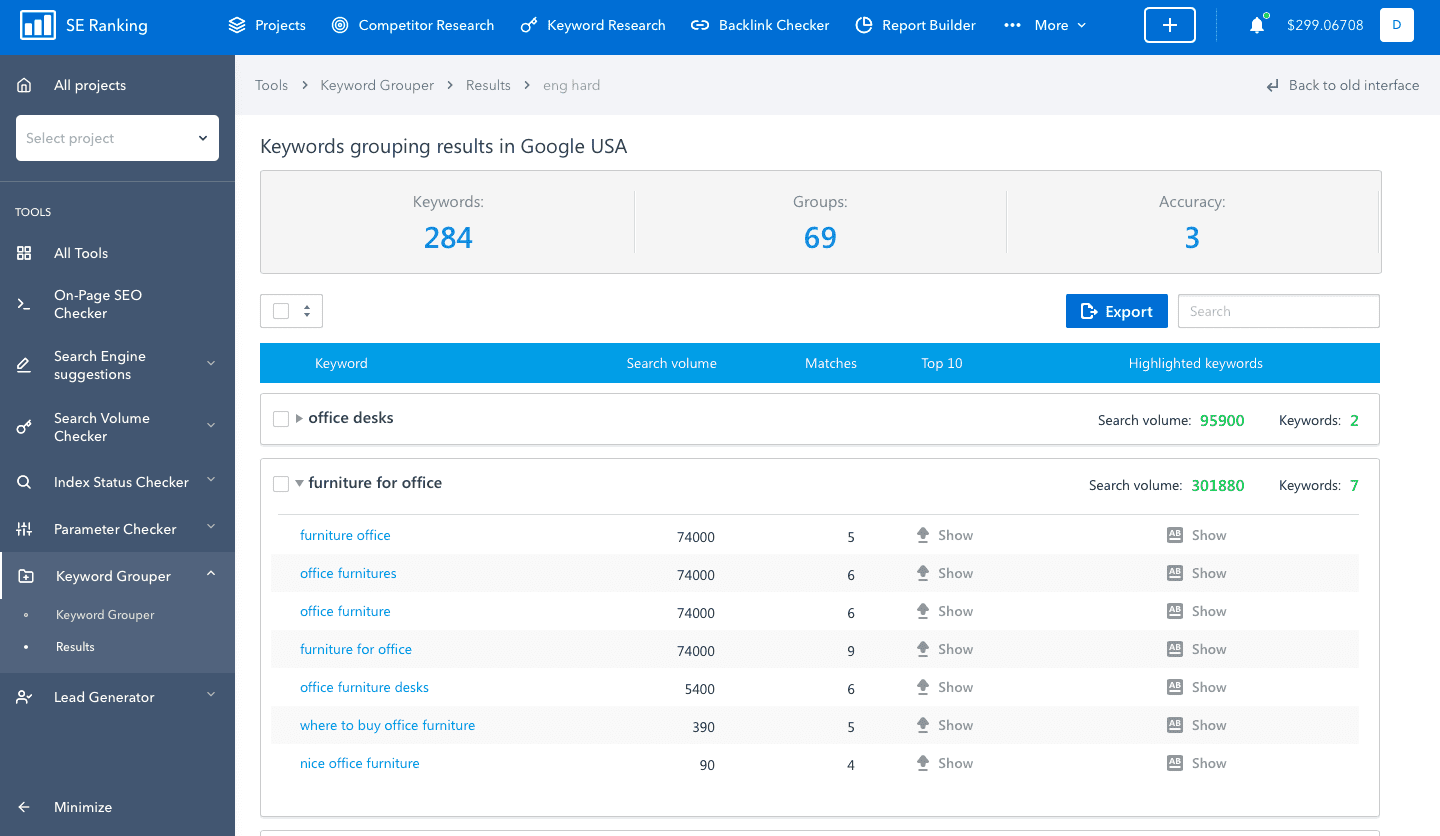 Web page keyword optimization 
With the On-Page SEO Checker tool, you can check how well any one of your web pages is optimized for its target keyword. The check includes an analysis of text, headings, tags, links, images, and more. Plus, you'll learn if your images and content is plagiarized.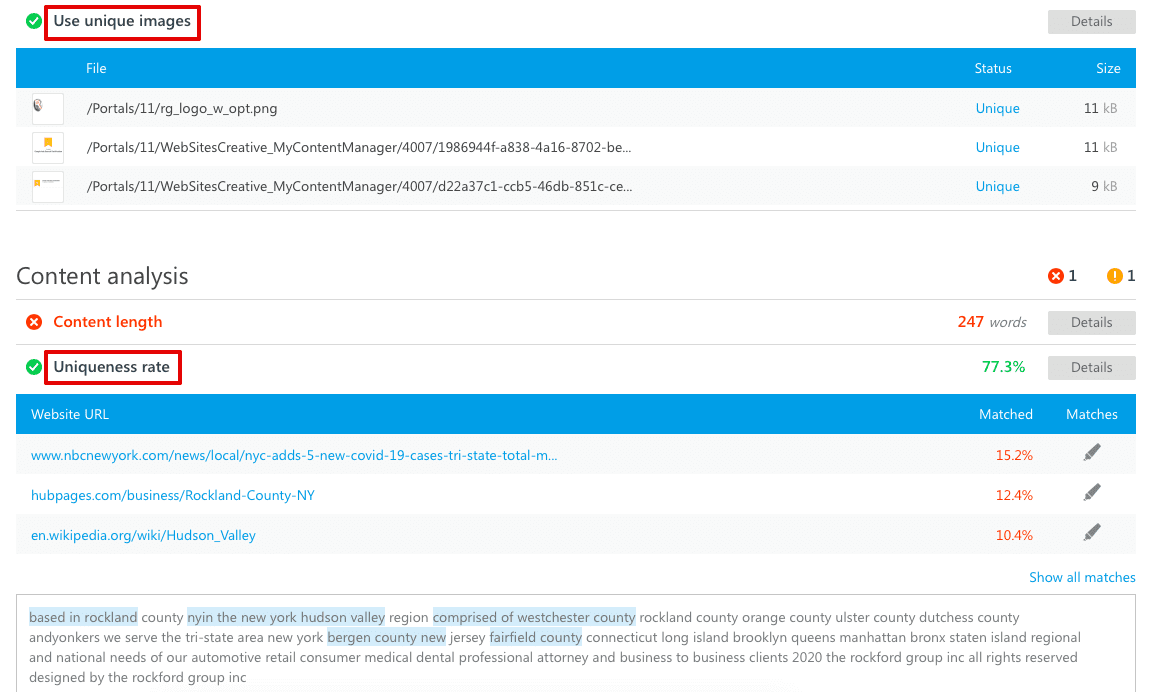 Of course, if you aim for unique value when creating your texts, you should not worry about plagiarism, including word-for-word technical plagiarism. But in either case, you should work on your web pages to ensure they are as optimized as possible for the target keyword because that way they are more likely to rank higher.
Wrapping up
Unique value is the result of development of Google algorithms. Since search engines focus mainly on the user experience and convenience, they started using more and more additional criteria when it comes to website evaluation. As a result, useless websites with low-quality content get much lower SERP standings.
Unique value content, i.e., content that contains info that cannot be found on other platforms, is beneficial to any website. It greatly improves your chances of beating your digital rivals and climbing to the top of Google search results.
Post Views: 470