SEOPressor
What is Local SEO: The Definitive Guide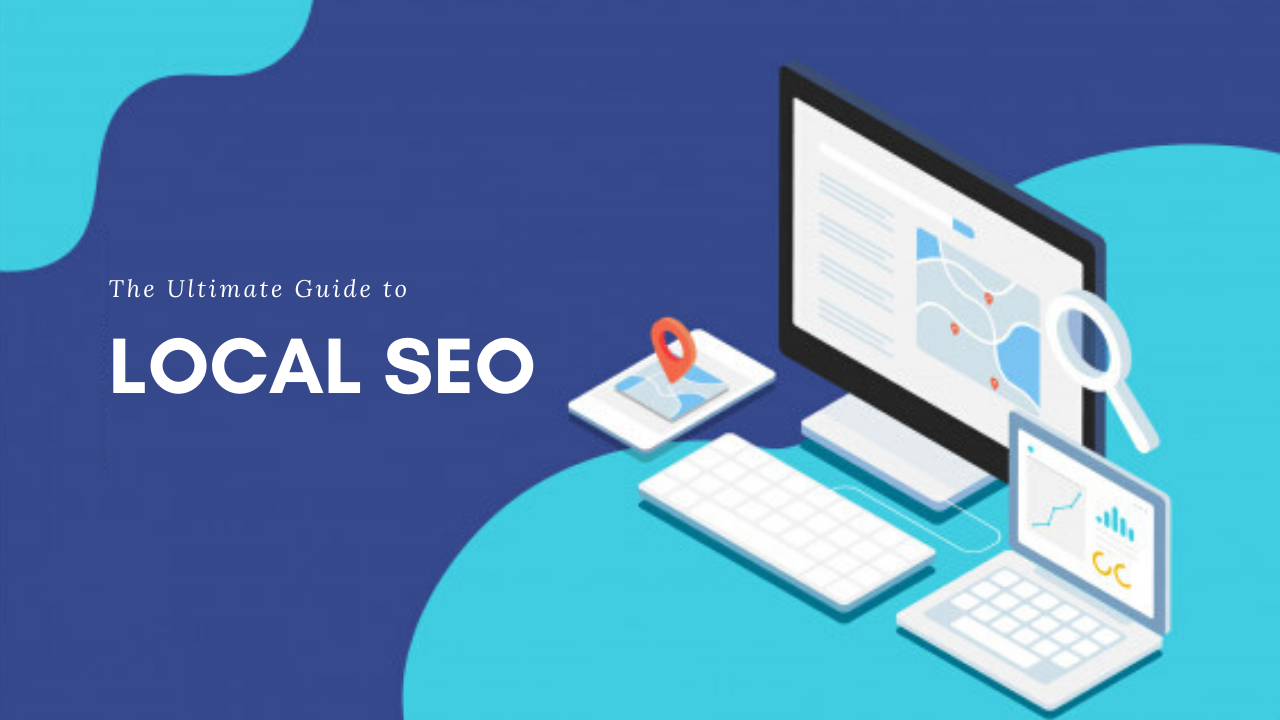 About 46% of Google searches are local. This means, if you're a local business and you haven't incorporated local SEO to your online marketing strategy, you're failing to connect with the many potential customers in your locality — who're actively looking for your services or products. 
The same study also shows that 89% of people who search online use their smartphones to search for local businesses at least once a week. Among that, 58% of people search for local businesses on a daily basis. 
So what exactly is local search engine optimization and how does it differ from regular SEO?
Organic SEO vs Local SEO 
If you have been actively marketing your business online, chances are you have probably heard of both local SEO and regular SEO. However, you might have found yourself confused between the two.  
For starters, SEO is an acronym for search engine optimization, which refers to the process of optimizing your site to rank high in search engines for targeted keywords.
And although local SEO is similar to organic SEO, local SEO also includes a geographic component and is subjected to an entirely different set of ranking factors.  
Of course, these ranking factors caters to the intent of people who are searching for nearby businesses. 
Take a moment and type 'Bakery in New York' into Google's search engine, you'll get two sets of SERPs: organic results and local pack results. 
"Local pack" results 
Local pack results show the top 3 or 4 local businesses relevant to your search inquiry.
Local organic Results
Organic results show the top three sites relevant to your local search inquiry.
Quick question, which do you think will get more clicks? 
The answer turns out to be quite unexpected as a Moz study reveals that the local organic results actually get more clicks at 40% compared to the local pack results which receive 33% of the clicks.
Though this is not a significant difference, this shows us it's not always true that the first ranking in the Google local pack will get the clicks, and customers are more likely to compare and look into each business.
Hence the best practice for any local businesses, if you're aiming to connect with local searchers, is that you should strive to rank in both. To achieve that goal, you need to master local SEO. 
This guide will focus on everything about Local SEO marketing and walk you through what are the ranking factors you should pay attention to. To start, let's take a deeper look into the definition of local SEO marketing. 
What is Local SEO Marketing?
Mostly practiced by brick and mortar businesses, local SEO marketing is a subcategory of search engine optimization marketing that focuses on ranking for local searches.
Because let's say you are the lucky owner of a cafe in New York, it's unlikely you are going to be able to compete with big chains like Starbucks or Coffee Bean for "best coffee", however there's a chance for you to rank for a search like "best coffee in New York". 
Just do a quick Google search and you will see the SERPs are all dominated by homegrown local businesses.
Likewise, if you're a bakery in Florida, you don't need to top the local search results in Houston. You want to be visible to people searching for bakeries in your locality in Florida.
For that, your proximity to searchers is the number one local pack-ranking factor, and here's the rest. 
What are the Ranking Factors for Local SEO?
The ranking factors and their relative importance are best described in this illustration by Moz:
As you may notice, the local SEO ranking factor with the most weightage is Google My Business (GMB) signals. So if you haven't set up your GMB account, get started here.
In fact, Google My Business is an excellent place to start establishing your online foothold. By creating a complete profile and collecting reviews, you will boost your Google ranking.
Besides, Google maps will indicate your location and this is very important because 86% of searchers check out a business's location using Google Maps. 
For more information on setting up GMB, you can check out our more detailed blog post on Google My Business. Once you have an officially verified account, it's now time to optimize your listing. 
7 Steps to Optimize Your GMB Listing
Add high-quality photos and videos that best describes your business
Write and optimize your business description with target keywords
Update your business hours, location, and contact information
Create Google My Business Posts to showcase offers and promotions
Add service menus and product collections
Encourage your customers to review your business on Google
View your search insights to learn your statistics and benchmark your business GMB's performance against others in the industry. 
4 Ways to Optimize Your Website for Local SEO
1. Local On-Page Optimization 
If your site is not well optimized, you'll struggle to rank high on local SERPS. Here are key local on-page optimization practices that you should always keep in mind:
Devote one of your pages to contacts
People are now seeking more detailed information about businesses. So you contact should display your NAP: name, address, and phone. It should also show your email. 
Include all business addresses 
If you have less than 10 locations, display the complete addresses, names and phone numbers in the sitewide footer section of your website.
Have clickable phone numbers  
30% of searches done through mobile devices are location-related. You should, therefore, optimize your site for mobile devices. Besides, 76% of location-focused searches lead to a phone call. So ensure you display a clickable phone number.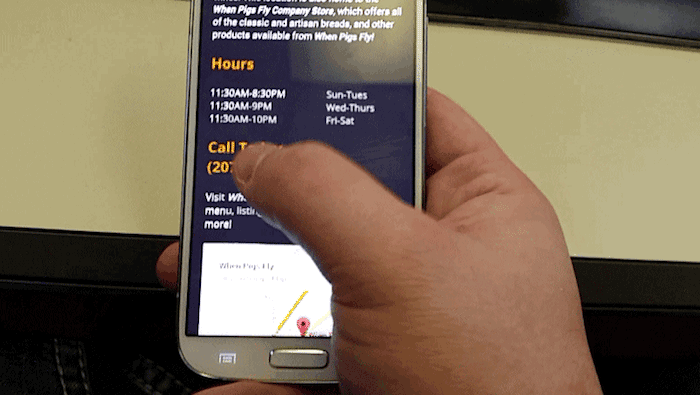 Many potential customers who want to talk to you will be put-off if they're forced to type your number manually. Here is a Google guide on how to make your phone number clickable. Additionally, you should add a map because 86% of searchers check out a business's location on Google Maps. 
Add testimonials 
Google views testimonials as a 'trust signal', so boost your local SEO by collecting and displaying your customers' testimonials on your website. 
Add Schema
Schema.org creates a shared language between the main search engines like Google, Yahoo, and Bing. Having the right Schema markup for local enterprises in your site informs Google that yours is a local enterprise and not some behemoth brand.  
Once you've added a Schema markup, you should test it using Google's testing tool. 
2. Local Link Building
Create online profiles
Your website should not be your sole online hub. Ensure you're listed on the major review platforms like Yelp, TripAdvisor, Google My Business, and Facebook. You should also be present in popular local review sites. Why? When the search is local, Google's 3 snack pack results are oft followed by review sites. 
 Create Online Content
Blogging is a key aspect of local SEO. To gain maximum SEO benefits, your blog should be part of your business's domain. For instance, it should be "site.com/blog "instead of "siteblog.com" or "blog.site.com."
Links are the top ranking factor for local search engines. So as your blog ascends search engine rankings, so does your site's rankings. Use local neighborhood and city names in your content. Some searches may not use your city's name when searching, so also include neighboring cities and towns, and the unofficial terms commonly used by locals. 
Besides, include local happenings and news in your content; that way, it will inform your audience as well as boost your SEO. Capitalize on local trends and upcoming events like fairs, elections, etc. You can also sponsor local organizations, teams, or events and feature them in your content. Cover local happenings from the standpoint of a local entrepreneur.  
Don't tout your business. People don't care about your offerings, they care about their needs. Create blog posts that are useful to your readers. Aim to establish yourself as a trusted voice in your industry.
But what do you need to observe when creating content?
As you strive to reach more people through your blog, you should also start collecting inbound links. While you might need to avoid your direct competitors, try to connect with related or complementary blogs in your locality and industry.
Participate by mentioning and creating links to their content on your blog, or by leaving useful comments on their posts. Cultivating such relationships is a great way of establishing your site and attracting linkbacks.
Target the right audience 
It hard to create helpful content is you don't have a clear picture of your audience. Once you've figured out your reader persona, you should also be aware of your target locations and their demographics.
Tools like Zip Code Lookup can provide you with key demographic data like consumer spending, age, and the median income of your target zip codes. 
Local content – best practices
Don't copy content from other sites, even your manufacturer's site – unless you attribute it to the source or quote it in your content.
Besides, avoid the multi-site approach to SEO. You'll be better off if you build a single, robust site for your business, it's branched, and service instead of dividing your resources between multiple sites. 
3. Building citations 
Citations are mentions of your site, address, business name, or site, anywhere on the internet, even if it's not linked to your site. Citations are an essential part of any local SEO strategy because they count for 13% of pack-ranking factors.   
Ensure you only create citations for your real physical locations – virtual offices and P.O boxes don't count. Besides, ensure your site URL, address, and phone number are correct and match in all citations.  Consistency is key – 41% of all ranking issues result from mismatched NAP citations.
 Here is how to build citations:
Search engines rummage through the internet for citations to update or validate the data in their indexes. You can make search engines' work easier by listing your business on websites like Foursquare, Hotfrog, and Yelp.  List your business in all relevant and quality local directories. 
Local blogs are great for local SEO as well as an excellent place to get your business listed. The blogs are strongly associated with certain regions and well-indexed by search engines. As you get links from these local blogs, the search engine will progressively view you as relevant and trusted by local search engines. 
Top local blogs vary from location to location; however, you can find top local blogs by searching phrases like [niche/industry] [location] blog. Top local blogs typically have their location's (region or city) name on their domain or title. 
Locally focused directories 
Similar to location-centered blogs, local directories are strongly linked to their geographic region and well-indexed by search engines. You can find the local directories for your region by searching terms like:
i) [state] directory
ii) [Target location] directory
Your local SEO can also benefit from citations from industry-specific directories and blogs. These sites focus on keywords and topics that are related to your services or products.
While these sites may not be location-focused, they can serve as useful citations sources as they are usually crawled by search engines for local citations. 
You can find relevant industry blogs and directories using search-terms like:
i) Top [industry] blogs
ii) [Your keyword] directory
iii) [Your industry] directory 
When it comes to keywords for local SEO, think of where your customers come from. Fortunately, you can easily find keywords or terms that are highly relevant to your local customers using BiQ's Keyword Intelligence. 
For example, you want to create a blog post about Mothers Day flower targeting people in the United States.
BiQ's Keyword Intelligence will reveal all the related keywords or terms that people use when searching for  Mothers Day flower.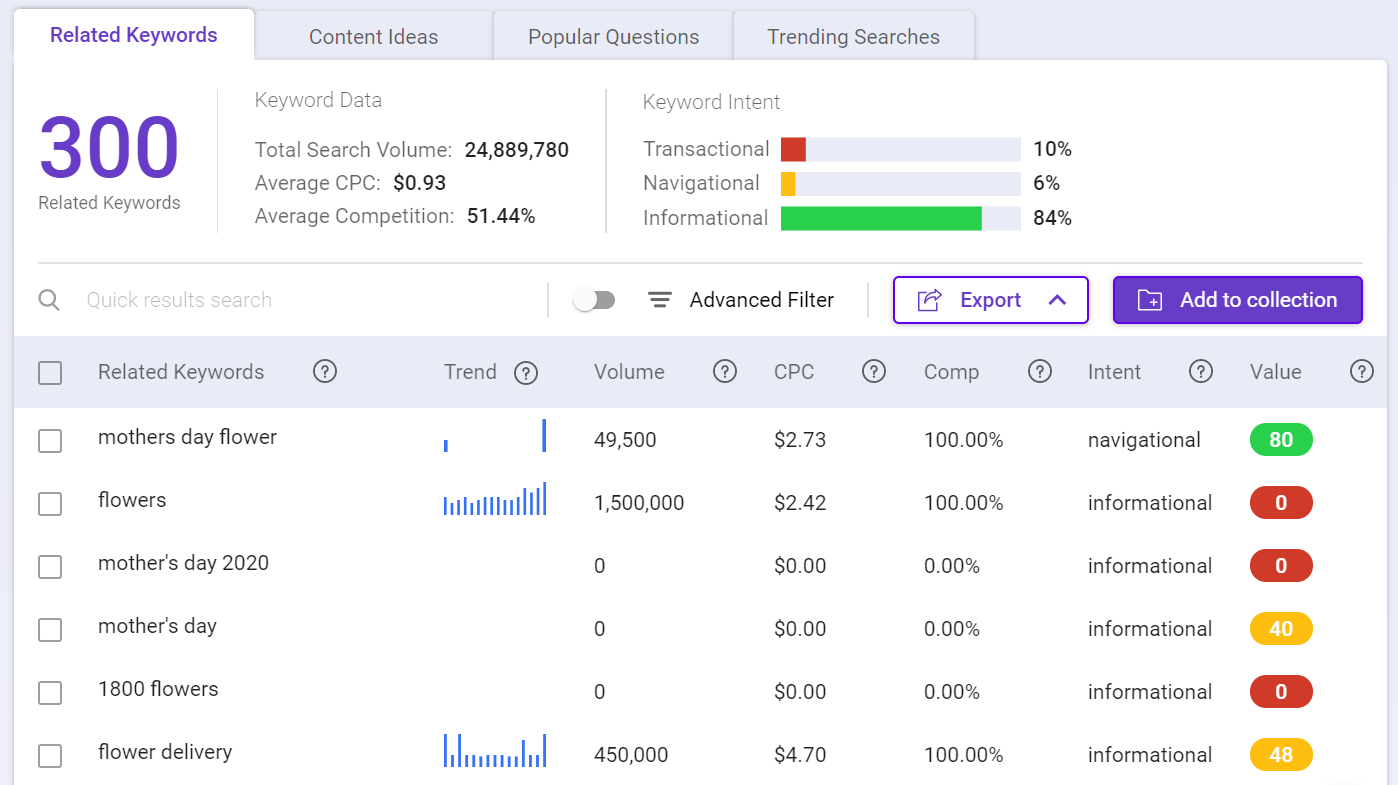 Based on the keyword intent distribution overview, you quickly see most searchers are looking for information, and there are also some who are ready to make a purchase. 

Now, let's take this keyword research one step further by filtering only long-tail keywords that are closely related to your main keywords using the Advanced Filter. Here is the result that I get:

You can then make an informed decision on which keyword to use based on its volume, search intent, and relevance. 
Try Keyword Intelligence for free here.
4. Local Business Reviews
While digital marketing is always evolving, one factor remains important and that is the power of word-of-mouth. This is simply because people trust other people more than they could ever trust a brand or its ads. 
That's why without a doubt, you should garner customer reviews for your business. 
You'll often get local review sites among the major players like Yelp and TripAdvisor. You can zero in on review sites that are relevant to your location and business by searching terms like: 
i) [location] reviews
ii) [location][industry/niche] reviews
Claim your social media profiles
You also need to create profiles on social media platforms that are important to your potential customers. When creating your profiles, ensure you include accurate information that's corresponding on each platform.
Being on these platforms makes you more visible to your target customers. You also bolster your search ranking by providing search engines with more data about your business. 
Before the internet, horrible businesses could easily spin their brands and fool customers. Fortunately, the internet has placed more power in the hands of customers. Everyone can now see whether your branding matches up with your offerings.  81% of people check ratings and reviews, and over 1 in three customers contributes to blogs and online forums, this is according to research.
Also, 97% of buyers say reviews inform their purchase decisions. So if your rating isn't four- or five-star, you're likely in trouble. Poor ratings push customers away and lack of ratings undermines confidence and trust in your brand.
A study by Harvard Business School showed that even a one-star increase in your score can boost your revenue by about 10%. Reviews also stick out to potential customers as they are usually featured in search results. 
Reviews count for 13% of pack-ranking factors. Getting reviews is an unending process that encompasses the lifespan of your business. Every business gets negative reviews along the way.
Once you do, ensure you respond personally and professionally. To limit negative reviews, deliver incredible services and products. By over-delivering to your clients, you encourage good reviews and prevent bad reviews.
Ensure you follow the terms of service and the guidelines of the review platforms. For instance, Yelp forbids businesses from soliciting customer reviews and Google doesn't permit businesses to offer rewards to reviewers.  
In a nutshell, don't be pushy; ensure customers only leave reviews using their accounts and devices.
Great reviews are a product of the quality of your offerings. Also, don't push for too many simultaneous reviews. A rapid increase in positive reviews may seem suspicious and can lead to censuring in some platforms. Reviews should be an organic, steady, and ongoing process. 
Conclusion
Fighting to be visible in SERPs can be challenging for businesses, particularly small local businesses with constrained resources.
However, local SEO is central to business success. 18% of local searches, conducted on mobile, lead to a transaction within the day. 
By improving your local search rankings, you'll increase the quantity and quality of your organic traffic which will, in turn, lead to more leads and more sales.
Local SEO is should not be a stand-alone endeavor, though. You should combine it with social media marketing and SEO to enhance your rankings. 
Updated: 17 October 2020