Sendinblue
The Perfect Thanksgiving Email: A Two-Part Strategy | Sendinblue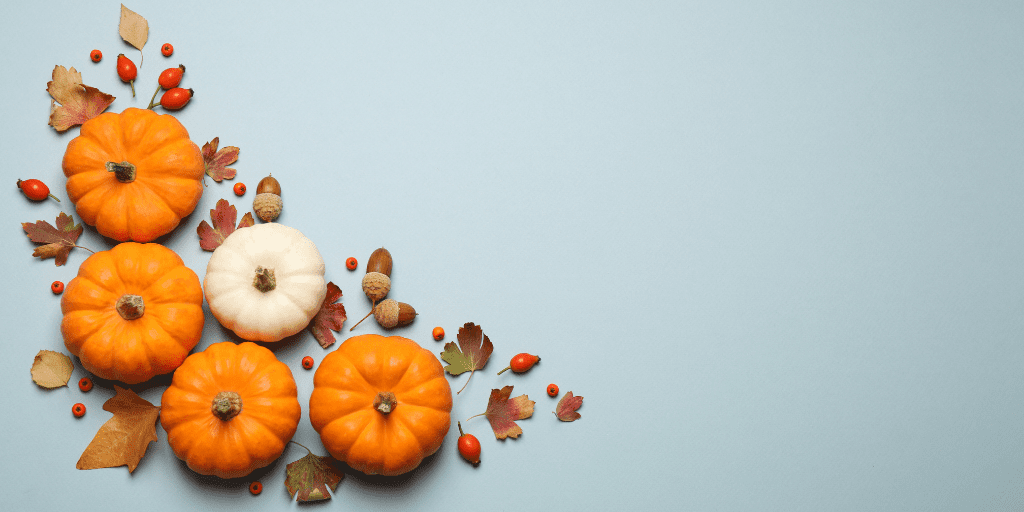 What's your Thanksgiving email marketing strategy look like? This year is a bit different than Thanksgivings past, so it's more important than ever to have your turkeys in a row when it comes to your business's holiday campaign.
Thanksgiving is the American holiday. 🦃 It's a time for families and friends to come together. It's a time to give thanks and enjoy delicious food. It's also when the holiday shopping season starts to pick up speed. But sending genuine best wishes and promoting your business can be a tricky balance to strike. 
That's why we've researched the perfect thanksgiving email and how to write one with a simple two-part strategy. 
Basically, your thanksgiving email campaign should:
Connect with your audience on a personal and sincere level;
Subtly sign-post upcoming holiday sales.
Keep reading to learn more about this two-part strategy, the message you want to get across, and some email tips to make sure everything goes according to plan. 🚀
Two-Part Email Marketing Strategy for Thanksgiving Day
1. Being grateful
The whole idea of Thanksgiving is in the name. It's a time to be openly thankful, tell others how and why you appreciate them, and give back. As a business, you can and should do the same.
Americans take Thanksgiving pretty seriously. Not to add any pressure to an already stressful time in marketing, but it's incredibly important for your Thanksgiving message to come across as sincere and genuine. Sending a quick "Happy Thanksgiving" followed by nothing but details of your Black Friday and Cyber Monday sales is not going to land well with audiences. 🙅‍♀️
Instead, it's worth taking time to embody the Thanksgiving spirit. Try thinking of your Thanksgiving email as an opportunity to join in the festivities. The content should express gratitude, send warm wishes, and focus on giving back. 
For those of us in marketing, the holiday may be overshadowed by the upcoming holiday season. But it's important to remember that Americans don't see this holiday as a marketing event. 
For the vast majority of those celebrating, the meaning of Thanksgiving is spending time with family and being thankful. In this way, an overly promotional marketing campaign isn't going to do you any favors. Instead, it's more likely to end up unread. 📬
Therefore, it's hard to overstate how important it is to lean into the spirit of Thanksgiving for your holiday marketing strategy. 
2. Anticipating earlier holiday shopping
At the same time, end-of-year shopping is moving closer and closer to the middle of the year! Large retailers concerned with supply chain issues have moved forward their black Friday sales the earliest they've ever been. 
In the world of marketing, Thanksgiving is a critical time for client communication. It's an opportunity to lay out what your customers can expect from the busiest shopping weekend of the year. Making your brand seen before the chaos of Black Friday is a powerful way to stand out from the rest. 💃
But let's not forget part one of the strategy! 
The key to a perfect Thanksgiving email is striking a balance between holiday spirit and promoting your business. To help you do so, we've broken things down into Thanksgiving messages and email tips. Take a look! ⬇️
Essential Thanksgiving Messages
These Thanksgiving messages will help your business connect with customers and come across as sincere and genuine. It's a necessary first step to an effective marketing strategy for the holiday.
Send your best wishes
The first thing your holiday email should do is wish your subscribers a happy Thanksgiving. But don't stop there! Take this opportunity to lean into the Turkey Day spirit. Before giving any details about your Thanksgiving sale, you should let your customers know you understand what this holiday is all about. 👍
Think about people gathered around the table for thanksgiving dinner. Ask yourself what you like most about this time of year. Is it the pumpkin pie? Maybe the crisp fall air? Spending time with loved ones? 
Putting yourself in the mindset of Thanksgiving day will help your email resonate with subscribers. Even mentioning little things like cranberry sauce, grandma's stuffing, or all the leftovers from dinner makes your Thanksgiving email more relatable! 🥧
And for many, Thanksgiving is a day to disconnect from potential stressors like work and money. For this reason, your email marketing campaign shouldn't be overly promotional.
Basically, Thanksgiving day is the time of year when the tone of your campaign should be the most caring, friendly, and sincere. Anything else may make your subscribers feel like they're just consumers in your eyes. 
Express gratitude
Another essential Thanksgiving email message you should aim to get across is gratitude. Again, a basic "thank you to our loyal customers" will most likely fall flat. 
For many families, going around the dinner table and saying what you're thankful for is a yearly Thanksgiving day tradition. To really resonate with your clients, take your place at the table! 🍽️
To go deeper than a simple "we're feeling grateful" message, try explaining why you're grateful. What goals has your company achieved this year? What have your customers helped you accomplish? Maybe share a story of how your product or service helped someone in need.
Of course, keep things brief—don't bore your subscribers with the nitty gritty details of your successful business strategy. Instead, try to show your customers that you understand what it means to be thankful and that you have reasons to be thankful for them. 🙏
Support a good cause
Another Thanksgiving tradition is giving back. Many families like to use some of their time over the holiday weekend to volunteer at a soup kitchen, make donations to a food bank, or volunteer with a charity. 
As a business, you should consider doing something similar. An easy way to give back is pledging to donate a portion of your sales to charity. And of course, this isn't just a nice way to join in the holiday spirit but also a good way to boost sales. 📈
Other ways to give back on Thanksgiving include offering something to your own clients. Of course, this could be a Thanksgiving sale, but by now consumers have come to expect this. Instead, offering your customers personalized discounts, a free gift, or early access to certain products comes off as much more generous. 💝
If you do decide to offer some kind of Thanksgiving sale or free gift, be careful not to come across as overly promotional. Offering something to your customers on Thanksgiving is certainly a nice gesture. But if your offer is too urgent or flashy, you risk being seen as out of touch with the Thanksgiving holiday. 
This example from Leesa hits all the marks in terms of message:
Thanksgiving Email Tips
In part two of crafting the perfect thanksgiving email, we'll give you some practical tips on some technical aspects of your holiday campaign.
Mention Black Friday Cyber Monday sales
Now, we did just go over how your Thanksgiving Day campaign shouldn't be overly promotional. Instead, your content should lean into the heartwarming spirit of the holiday. This still holds, but you should still mention your upcoming Black Friday and Cyber Monday sales. 
The key word here is mention. 
Save your flashy, urgent content for the Black Friday email itself. On Thanksgiving, anchor your campaign in warm wishes. Then, include a convenient and subtle mention of what's to come in the next few days. 📅
Consider leaving a link or an unobtrusive CTA button near the end of your email newsletter. Alternatively, you could create a "coming up" section after laying out your Thanksgiving content. Maybe you have a custom HTML box or banner you normally include at the end of your newsletters? If so, mentioning Black Friday and Cyber Monday there is a nice way to alert your customers without unnecessary urgency. 😌
Take a look at this example from Aftershokz. Their Thanksgiving email content focuses exclusively on embracing the meaning of the holiday. Then, at the bottom of the copy, they include a subtle link to their sale.
Segment your contacts
Another top tip for your Thanksgiving email is segmentation. Email segmentation is something you can and should use year-round to reach your customers in a more personalized way. That said, it becomes particularly important during the holiday season.
Segmentation helps your business distinguish between year-round and holiday shoppers. After all, you likely have a different relationship with your most frequent, loyal customers and may want to reward them ahead of Black Friday. 🎁
At the same time, segmentation allows you to re-engage last years' holiday shoppers to make sure they come back this time around. 
If you're looking for an easy way to segment your contact list, Sendinblue offers advanced segmentations on all plans. (Including the free one!)
To learn more about, take a look at this article on email list segmentation. 
Use a Thanksgiving email template
To touch on email design, there are a few things to be aware of for Thanksgiving. As with the email copy, your email design should embrace the feeling of Thanksgiving. 🍂
Think of fall colors—but remember it's not Halloween, so stay away from the classic orange and black. Include graphics like leaves, pumpkins, cornucopias, and pilgrim hats. Even photos of the Thanksgiving dinner table, groups of friends and family, and foods like turkey and pumpkin pie are nice additions. 🍗
In terms of layout, plan to make things simple. Remember, your Thanksgiving email should read almost like a personal note. No need for product features, dozens of CTA buttons, or showy headers. 
If you're looking for ready-made Thanksgiving email templates, have a look at Sendinblue's  free holiday email marketing templates. From there, the options are endless. All the templates are fully responsive, meaning you don't have to worry about how they'll appear on mobile devices. Customize using our drag and drop editor. Choose the font you like best. Add GIFs and emojis where you see fit. It's as easy as that!
Take a look at this Thanksgiving email template below:
Fine tune your Turkey Day campaign
Lastly, there are a few simple but important considerations to make sure your Thanksgiving email lands with flying colors. ✨ 
Choosing the right time to send your email can be a daunting task. You don't want to interrupt Thanksgiving dinner! Luckily, Sendinblue's send time optimization feature uses AI to individually determine the best time to send your campaign to each of your contacts. 
Email subject lines are another key consideration. Again, no need to be overly flashy or attention grabbing this time around. Aim for a subtle, friendly tone that wishes customers a happy Thanksgiving. A/B testing is a great tool to know which subject line works best for your audience.
Wrapping up Thanksgiving Emails
Use this two-part strategy to craft the perfect Thanksgiving email campaign. This holiday is the perfect time of year to connect with your customers and send them a virtual greeting card expressing your gratitude. 😊 But remember, your message should go a little deeper than a simple "we're thankful for you." 
Next, making use of advanced email marketing techniques will help broaden your campaign's reach. Email segmentation, attractive templates, and send time optimization will really be your best friends this time of year. And don't forget to research the best holiday email subject line.
What's the best part of this strategy? It works for any type of brand—from ecommerce giants to small businesses. 
To wrap up, we at Sendinblue wish our readers the best this holiday season and the happiest of Thanksgivings yet.
For more content like this, sign up for our monthly marketing tips newsletter and follow us on Twitter.