Constant Contact
Small Business Saturday 2021: Get Ready with These Ideas | Constant Contact
Did you know that last year, spending on Small Business Saturday reached a record high of $19.8 billion? With more than 50 percent of Americans reporting that they shop small on the holiday, you want to make sure your small business doesn't miss out!
We're here to help you take advantage of that spending with some proven Small Business Saturday ideas.
The fact is — We love small businesses. In fact, it's our mission to help small businesses to do more and grow more with our tools and guidance.
So read on for everything you need to know about Small Business Saturday 2021, and some ideas you can use to rake in some of the spending as Americans shop small!
What is Small Business Saturday?
The idea for this special day is to encourage people to shop small during the post-Thanksgiving weekend and support their local economies. It has become a holiday shopping traditional dedicated to supporting all kinds of businesses — from the corner store, to your favorite local restaurant, to your neighborhood comic book shop — and everything in between!
When is Small Business Saturday 2021?
Small business Saturday falls on November 27, 2021. This nationwide effort is poised to direct lots of retail traffic and revenue to U.S. small businesses. And you'll want to be a part of it.
Since Small Business Saturday started, U.S. customers have reported spending an estimated total of over $100 billion at independent retailers and restaurants. Not bad!
6 Small Business Saturday ideas you can use to sell more this year
According to our own survey of 5,000 consumers, 72 percent of people said they will make more of an effort to support small businesses this year. We think it's great that people are going out of their way to shop small this year, and hope this leads to the biggest outpouring of support of any Small Business Saturday to date! Use these simple ideas to make sure you're a part of the the moment.
1. Own your identity as a small business
Remember — customers want to shop small this year, so in everything you do, highlight your identity as a small business! Tell your story of how and why you got started. Remind your customers of ways you've gotten involved in local community efforts. Share what makes your produces or services special and personal. Just don't be shy about talking about what makes you different from the big box stores. This is called your brand story
To effectively use your brand's story to find more customers, you first need to define it. In general, your brand story is who you are. It's a combination of:
The people behind your business and their values
The purpose of your business or the problem you're trying to solve for customers
Your relationship to your customers and how you interact with them
Learn how to make sure you have a strong brand identity.
2. Craft a compelling Small Business Saturdy offer or discount
It's so important to have a great offer to help your business stand out from the crowd.
Start thinking about your audience and what would appeal to them. What is your store known for? Has anything worked particularly well in the past?
No matter what you decide, be sure that it's something that your business can realistically deliver on.
Here are some examples of offers you might want to consider:
15 percent discount on all new items
Free coffee and cookies for guests while they shop
Free gift with any purchase over $50
20 percent off your next purchase when you spend $40 or more
Free gift wrapping
3. Send out an email series
Email marketing is a tool that helps you reach your customers and prospects, directly in their inbox.
When people sign up to your mailing list, they're interested in what your business has to offer and are interested in supporting your business.
Utilize one of the "Small Business Saturday" email templates in Constant Contact to encourage shopping locally (you can see all the templates at the end of this post).
Let people know why shopping small is important for your community. You can include a special offer or exclusive content to promote Small Business Saturday.
Consider partnering with other local businesses in order to promote each other. Let your email readers know where they can shop local on Small Business Saturday.
Use a series of 3 emails to remind people to shop with you. This time of year is busy, so these emails are a great way to remind people and get them to take action to support your business:
Email 1:  Send an announcement email as soon as possible. Let them know that Small Business Saturday is coming up and why they should shop locally. Include the details about your offer.
Email 2: Send a reminder email a week before. Remind them of the deadline and your offer so they don't forget.
Email 3:  A day or two before Small Business Saturday, send a last-chance email so they don't forget to shop with you and use your offer.
Social media is a tool that will help you expand your reach to even more potential customers.
Start by sharing similar content used in your email series on social media. Use the content and offer you've added to your email campaign to promote the idea of shopping small.
Create a series of three social posts, just like you did with your email series; an announcement, reminder, and last-chance reminder to keep the buzz going.
5. Prepare your physical store (if you have one)
Now that the word's out, make sure you're stocked and staffed for success. Think about your staff and what their strengths are, then assign tasks to each member to cut out any confusion when your store is filled with eager shoppers.
If you have a master gift wrapper, you can delegate that task to them, while other members of your team can be assigned to helping customers or handling the register. If you're holding down the fort by yourself, make yourself a quick To-Do list so you can stay on track even when things are hectic.
You should also print out an email sign-up sheet ahead of time and encourage shoppers to share their email address to stay in touch throughout the rest of the holiday season and into the New Year. And don't forget to snap a few photos to capture the excitement in your store.
6. Keep the momentum going!
As exhausting as the day might be, don't overlook the importance of follow-up in the week after Small Business Saturday.
A small thank you can go a long way, and it will only take a few minutes to create. Depending on how many photos you took, you could share an album on Facebook, or simply pick the best one to share with your fans.
You can keep your text simple — try something like Thanks to everyone who stopped by to #ShopSmall this Saturday. We appreciate your support and hope to have you back again soon!
Next, add your new email subscribers to your list and send out a quick email.
In any follow-up message you send, your goal should be to remind your customers of their great experience with you and entice them to visit again soon. Include an image to make the thank you more personal and include an offer to bring people back into your store before the end of the year.
Small Business Saturday email templates
We'd like to help you make this one of your biggest sales events of the year.
Along with other holiday email templates, we've created Small Business Saturday-themed templates to help you spread awareness and rally customers to shop small on the big day.
If you're a Constant Contact customer just log in and search for "Small Business Saturday" when choosing a template for your next email campaign.
TIP: Not a customer? Just sign up for a free 60-day trial to send a Small Business Saturday email for free.
"Small Business Saturday is Coming" template
#Shopsmall e-card template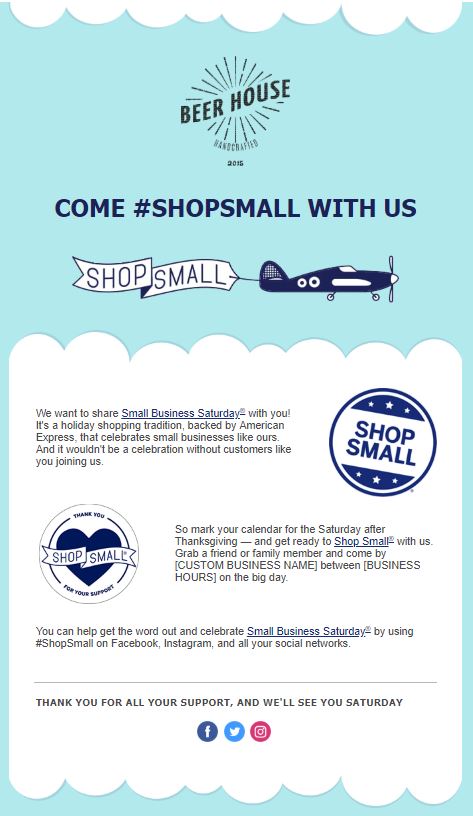 Encourage your customers to shop small this year!
In addition to sending out Small Business Saturday communications to your email list and social media followers, you'll want to make sure to create or update your listing on the Small Business Saturday Shop Small Map.
And remember — especially with the uncertainty that still surrounds us with the pandemic — to encourage your customers to shop safely. Check out the official Safe Shopping Guide from Amex for Small Business Saturday for tips and ideas to encourage a safe shopping season.