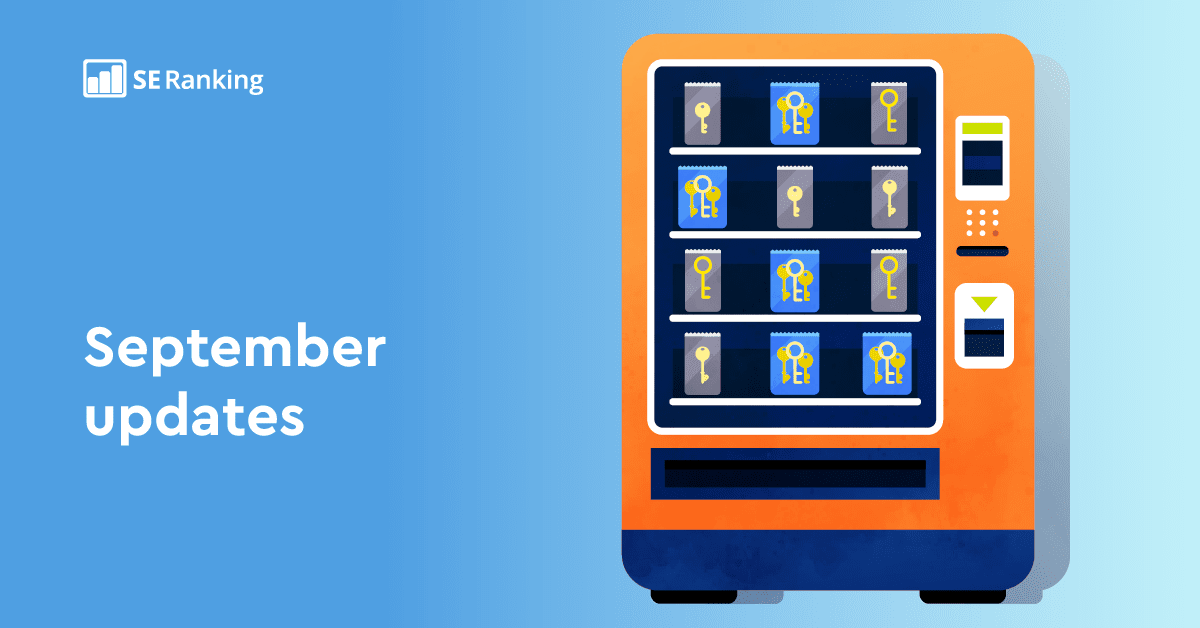 Many of you joined us last week to celebrate Google's birthday and other joyous occasions. But creating fun tasks and sending out cool presents wasn't our only concern during this month. We also worked on improving our platform and managed to bring many new features to life.
Working with keywords is getting even more practical: we added bulk analysis to the Keyword Research tool, expanded filtering options in Rankings, and integrated keyword ranking data into the Overview section in Analytics & Traffic. More good news for our clients working in agencies: there are more customization options for White Label users and new opportunities for managing backlink building processes.
Bulk keyword analysis: save time and account limits
You may have already noticed a brand new button in our Keyword Research tool. If hundreds or thousands of keywords are your usual workload, you'll love our new bulk analysis functionality. Now you don't have to input each search query separately: with bulk analysis, you can upload hundreds or thousands of keywords and get them all analyzed at once.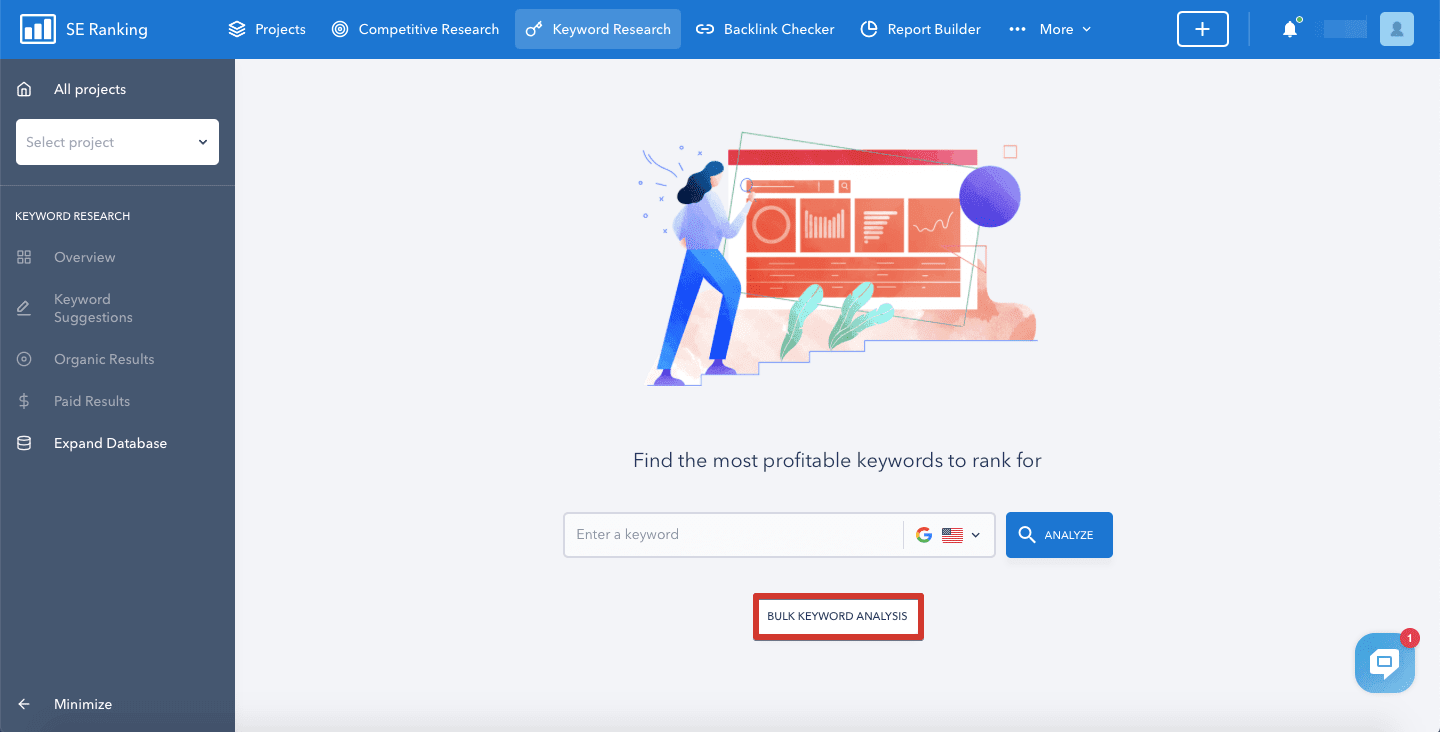 The report limit depends on your subscription plan. Regardless of the number of keywords you add, be it 2, 20, or 200, one bulk analysis equals one report. For example, your account limits allow you to generate 100 reports a day and include 1000 values per report: it means you can check 100,000 keywords against all major parameters.
To import keywords, you can enter them manually or upload a .TXT or .CSV file. You will get the following metrics for each query: difficulty, search volume, CPC, Google Ads competition. This information will help you select the most profitable keywords for organic and paid campaigns.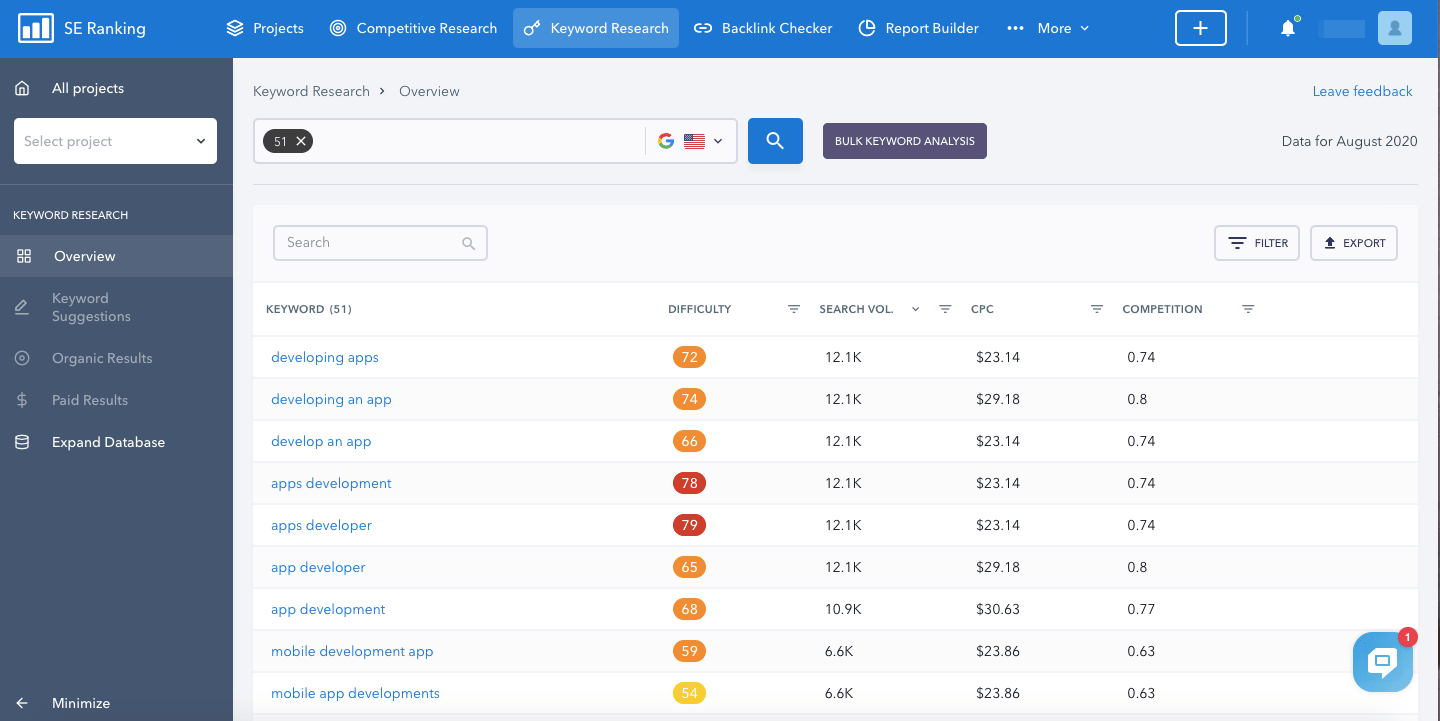 If you want to target a keyword in your organic search campaign, you can also check who your major competitors are in one click. Just hover over a keyword and press the Organic results button.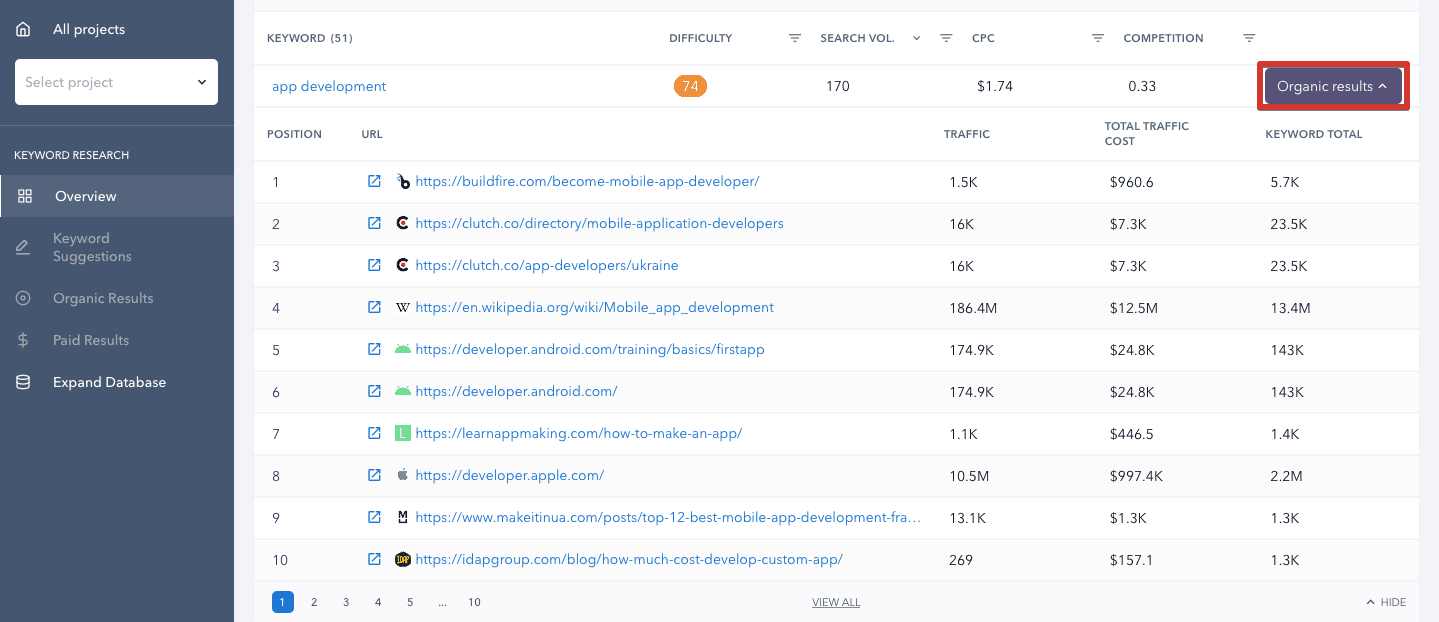 Traffic data and the number of keywords your rivals target will help you evaluate your competition. You can open the links and check out their content to see in which direction the wind is blowing and possibly adjust your strategy.
New filtering options in Rankings
Many of you work with groups and tags while analyzing website rankings. This month, we added new helpful features to the Rankings module to make it easier for you to find all valuable data.
Under settings, you can choose the default table view mode for your projects: list, groups, or grouped by URLs. You can also switch the mode using the icons above the table. If you choose the list mode, you can still view keyword distribution across groups by adding the Group column: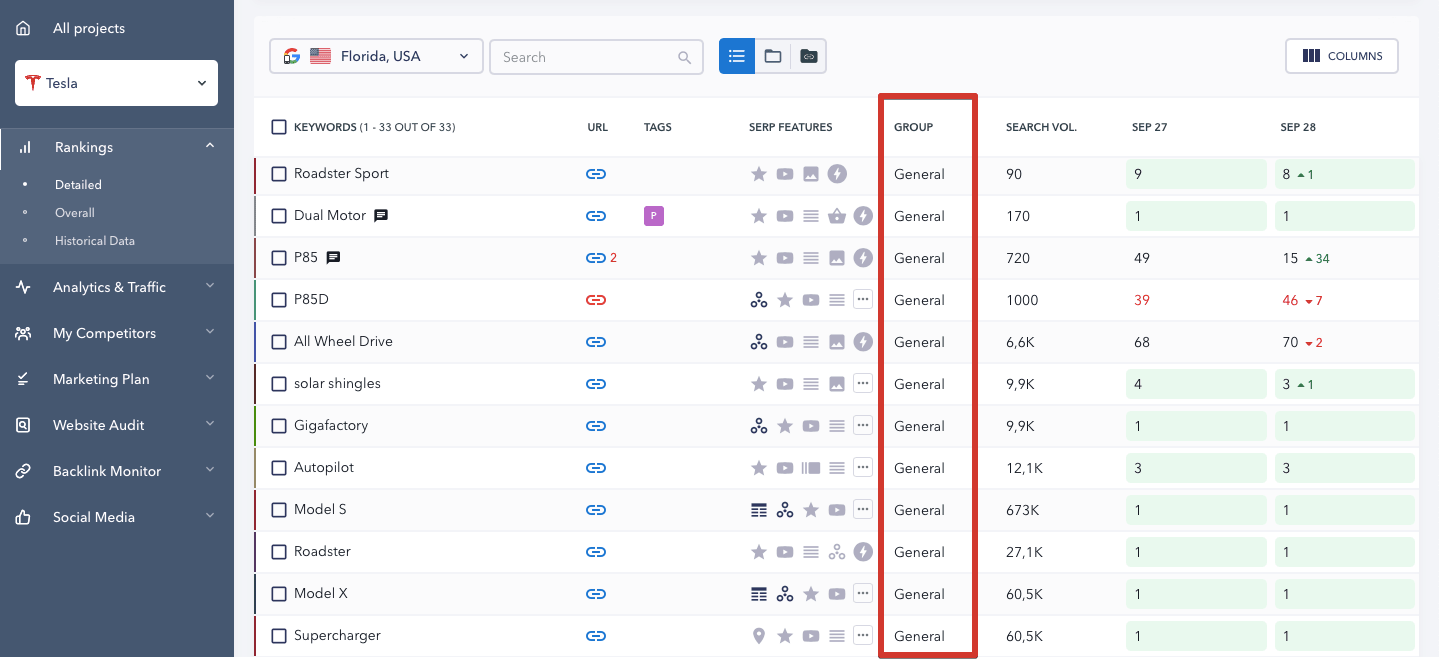 You asked us to put tags back into the keywords column and we listened. Now you can view tags assigned to each keyword without enabling the Tags column: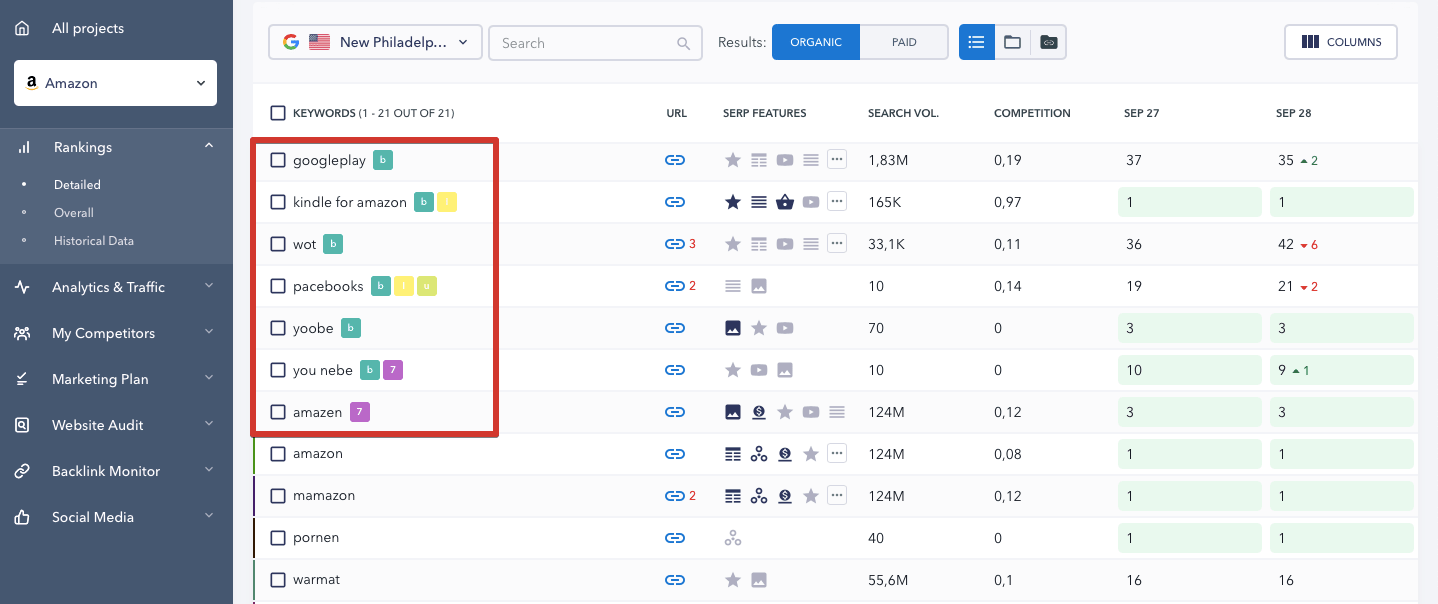 Also, you can now easily filter your keywords by several tags at once. If you want to view the queries with multiple tags assigned, choose the tags and press And in the drop-down menu. If you want both the queries with several specific tags and those with a single tag, press Or.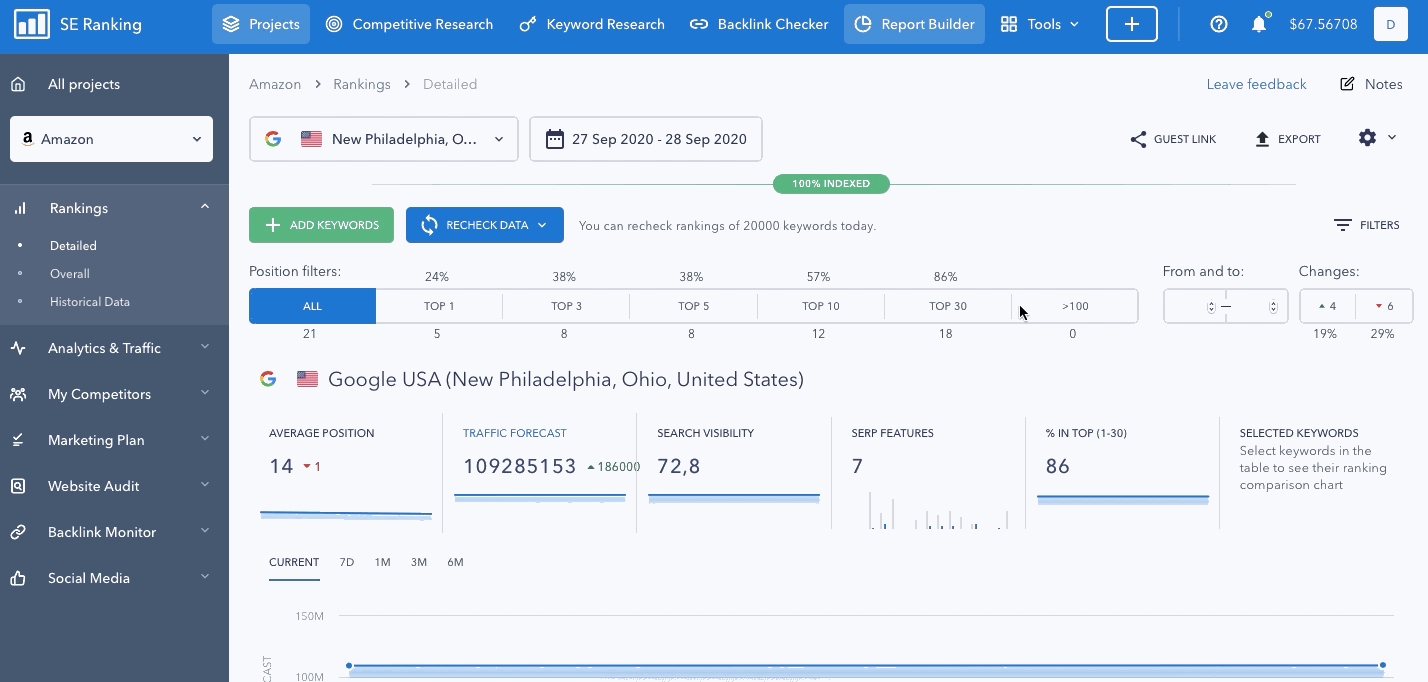 If you use many tags, you'll be happy to know that you can search for the one you need right in the search field, available for each keyword under the drop-down menu (Filters → Tags) and under the vertical three-dot menu.
The same is available for filtering by group, which is especially helpful when you have many of them. 
Finally, we slightly changed the % in top graph. Earlier, it showed only the percentage of keywords in the top-10 but now you can spot the dynamics of your rankings for targeted phrases, seeing where you've made it into the top-1, top-3, top-5, top-10, top-20, and top-30.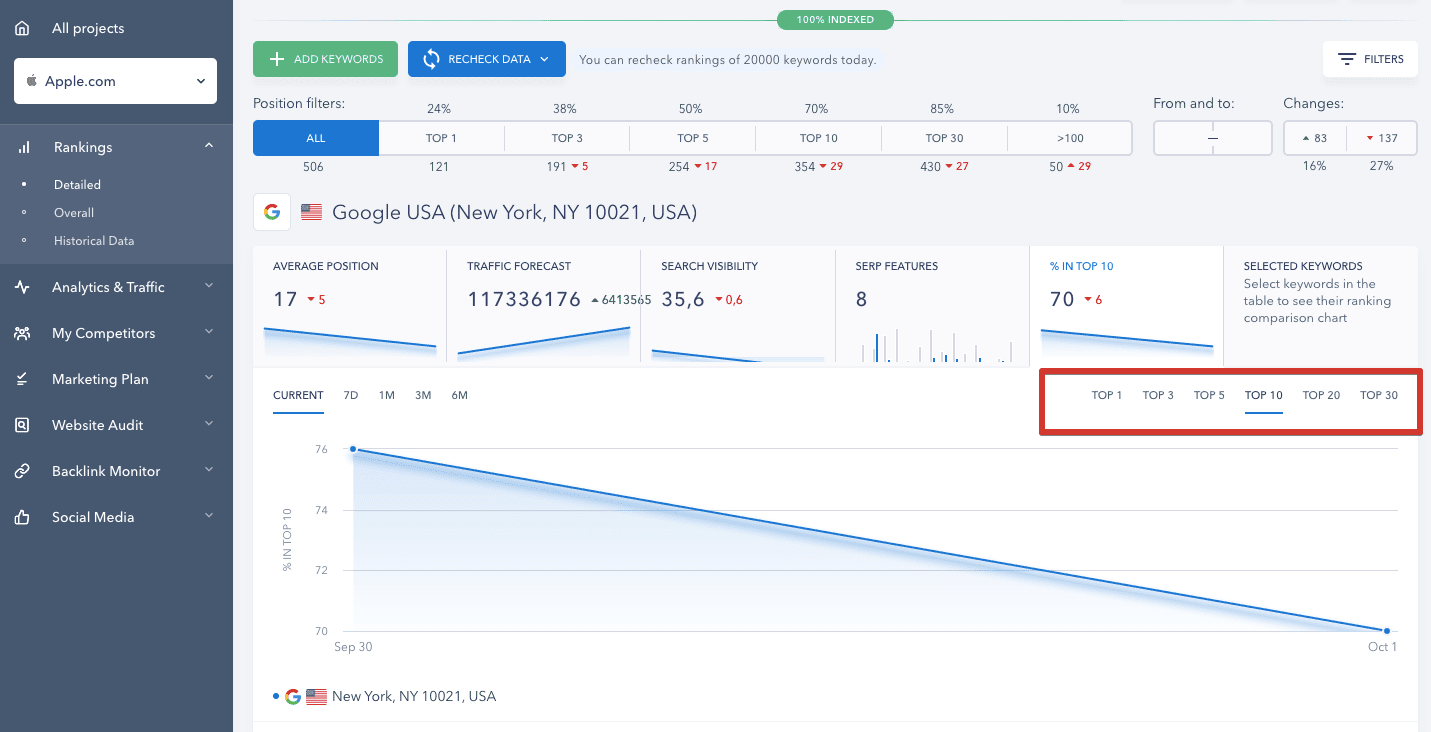 Ranking data in Analytics & Traffic
There's a small but handy update in the Analytics & Traffic section. In Overview, you can not only access the website's ranking data but also learn about how well your website's ranking and for what keywords. Just click on the value and examine the data in drop-down rows.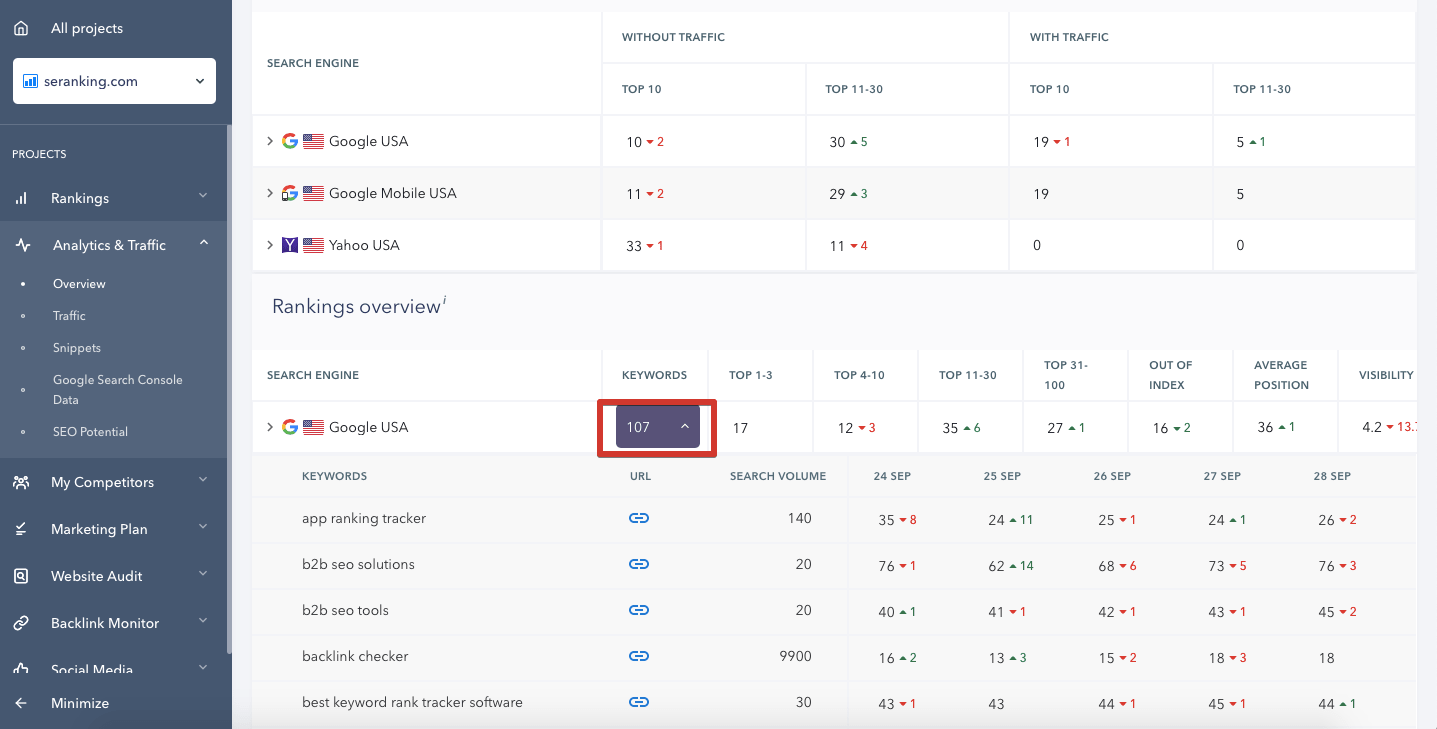 Analytics & Traffic won't redirect you to Rankings for viewing detailed keyword data. Now you can access everything in the same section in one click: what phrases don't bring traffic to your website, which ones dropped out of the index and which ones reached the top-100 search results. This data is available in the tables Keyword importance, Rankings overview, and Keyword changes.
Expanded White Label functionality
Those of you who use SE Ranking tools under your own brand name have more customization options: not only you can adjust the website's color scheme and add your logo but you can also add your links to the footer.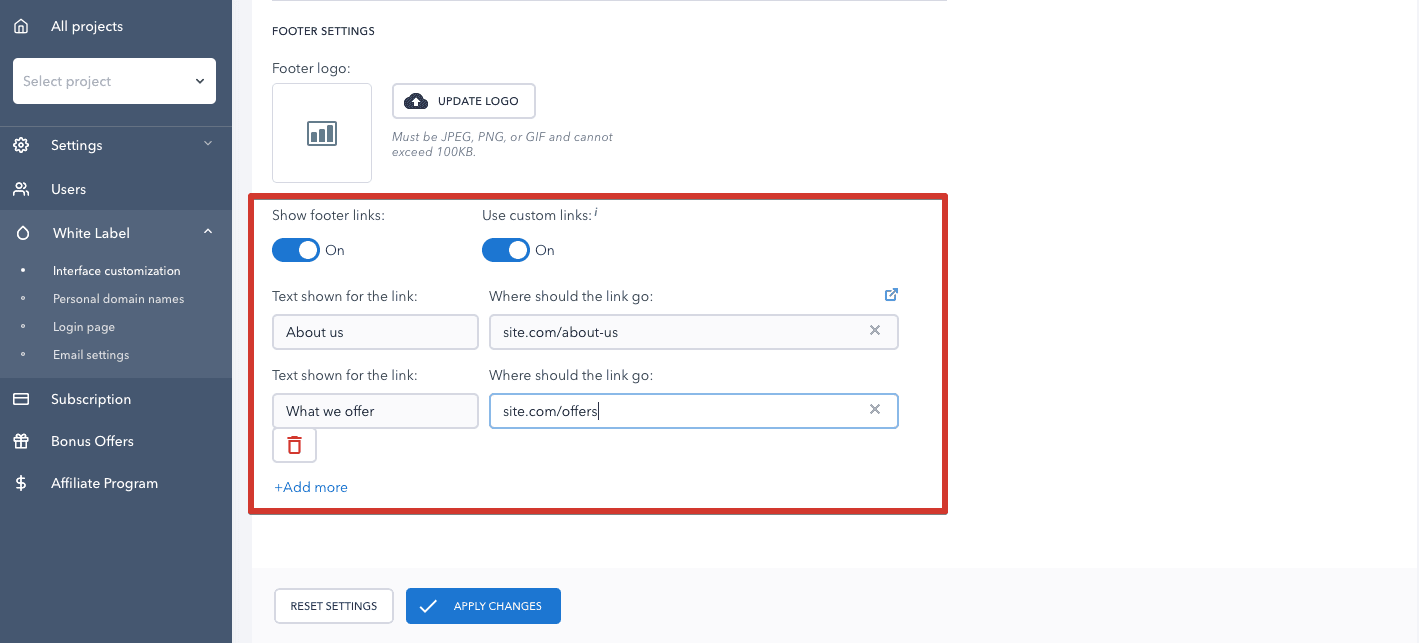 Another White Label improvement will ensure better security for your domain. If you use your own domain name via CNAME to log in to SE Ranking, you can easily activate a free SSL certificate. An SSL certificate ensures that data exchange between a website and users is executed through a secure encrypted protocol.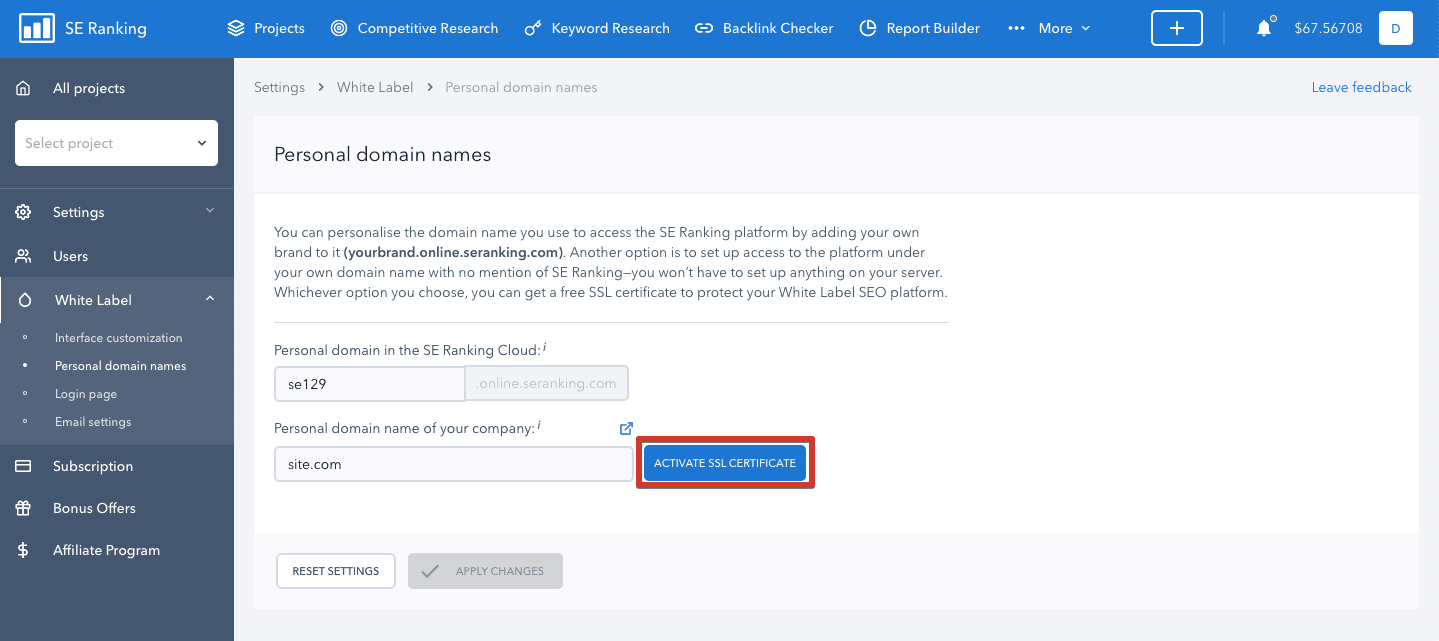 One more helpful update allows you to customize the report emails. Now you can edit the email, add links to it, format the text, and preview how it looks like.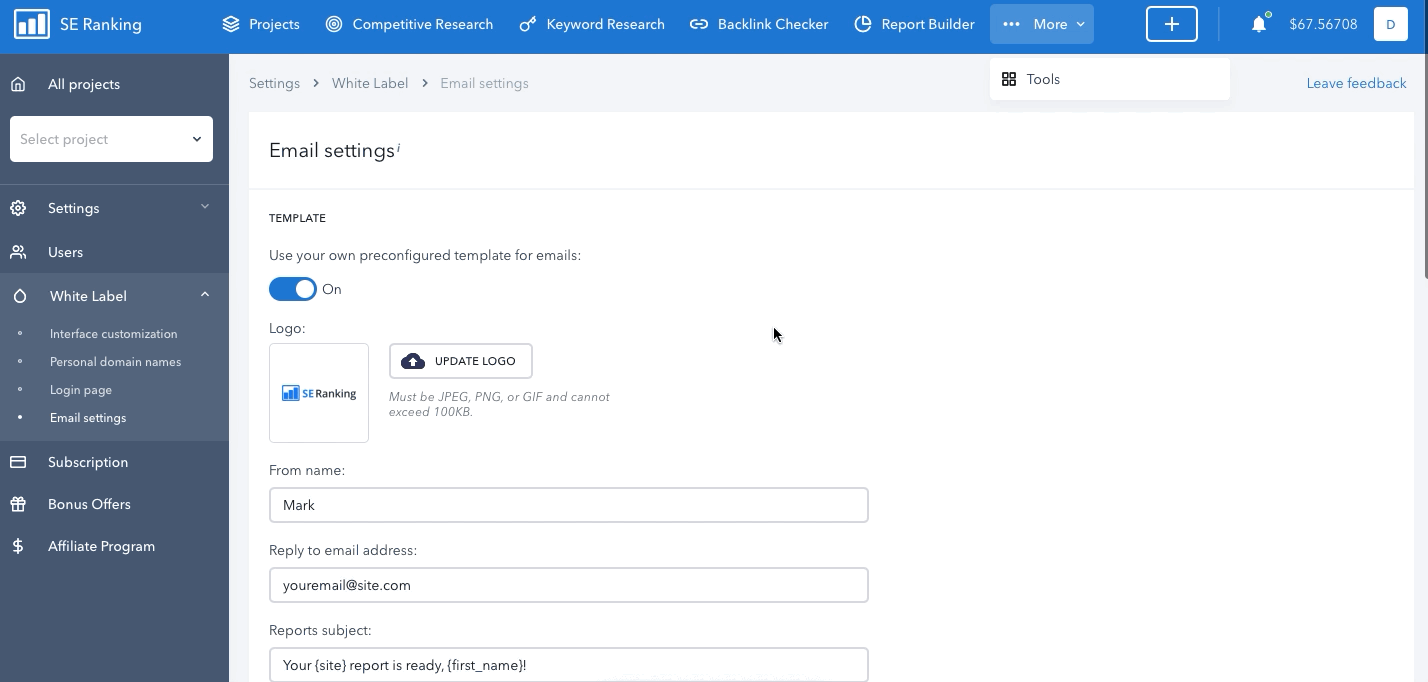 Track your link building process: cost of backlinks and managers assigned to them
To properly manage the work of teams with regard to backlink acquisition, it's important to track who's responsible for each link. If you're building your clients' backlink profile, it's useful to have a price set on each link. SE Ranking's Backlink Monitor module allows you to specify the price and assign a manager to each backlink you build. Starting this month, you can do so for the whole group of backlinks.
Earlier, you had to edit the fields in the Backlinks table to set the price or assign a manager. Now you can add these values while adding a backlink. If you're adding multiple links, the values will be added to each one of them.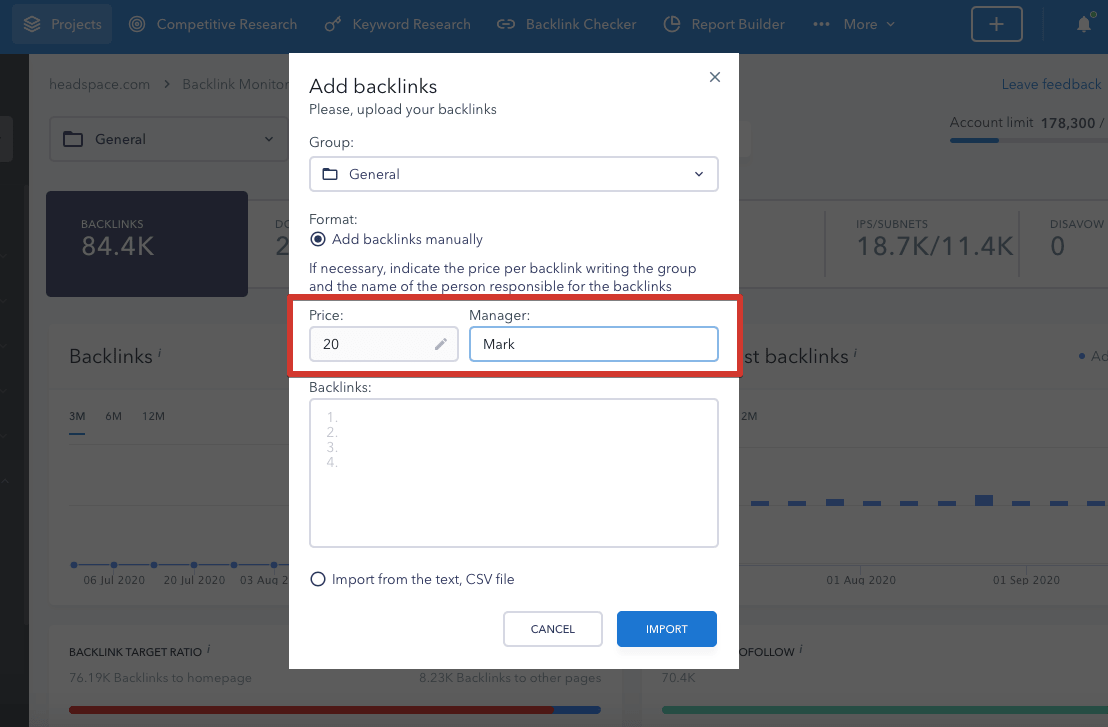 That's it for now. What changes do you like the most? Tell us in the comments section! Meanwhile, we'll continue expanding SE Ranking's functionality and will be back soon with a new set of updates.
Post Views: 1,526