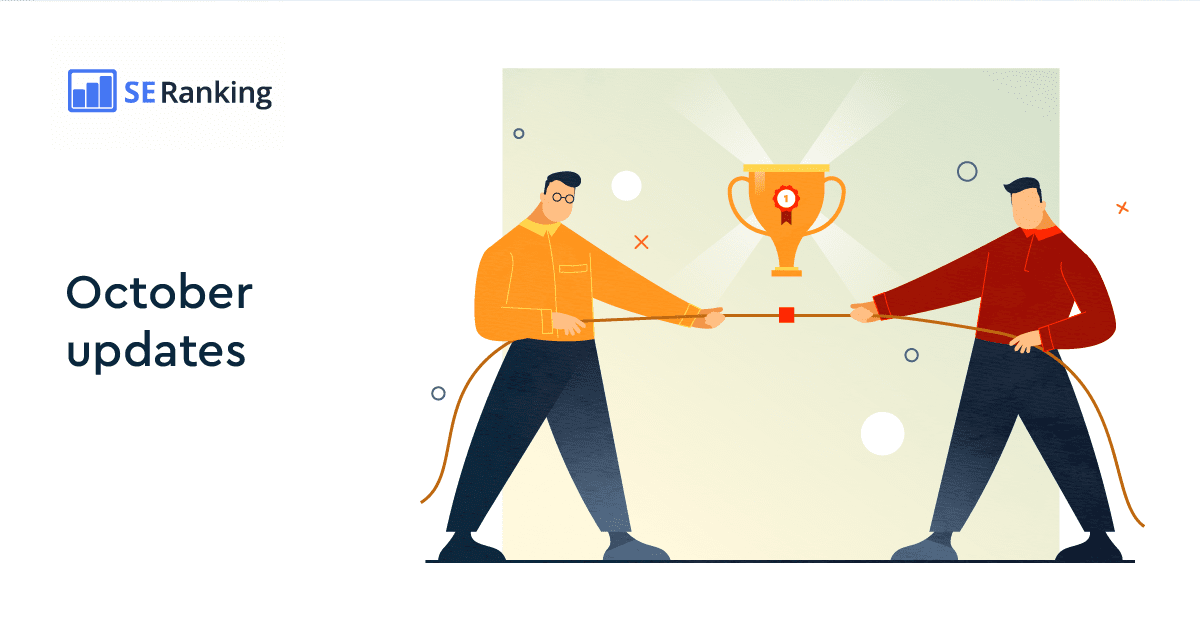 Halloween is over and we want to thank all of you for participating in our little game and catching scary—to be honest, cute scary—creatures in SE Ranking. On another note, you might have noticed some changes made to our instruments. In this post, we'll talk about our most recent improvements.
In October, we totally redesigned the My Competitors module—now it aligns with the style of our big update. But it's not only about the looks—the functionality was also expanded with new tabs and graphs. We have also further expanded our keyword databases and slightly changed the Rankings section to make it even easier to navigate.
What else? Keyword Research and White Label have experienced some improvements. Let's review all of October's updates in detail.
Brand new design and added functionality in My Competitors
The graphs available in My Competitors now look exactly like they do in Rankings. You can switch between the detailed and overall view in the dashboard and access historical data while exploring competitor rankings.
In the Added Competitors section, you'll see rankings data for a chosen project and its competitors. There's a new tab that allows you to see the distribution of competitors to learn where you stand in search results compared to major rivals. There will be information on the number of keywords your competitors rank for, their average position, and search visibility.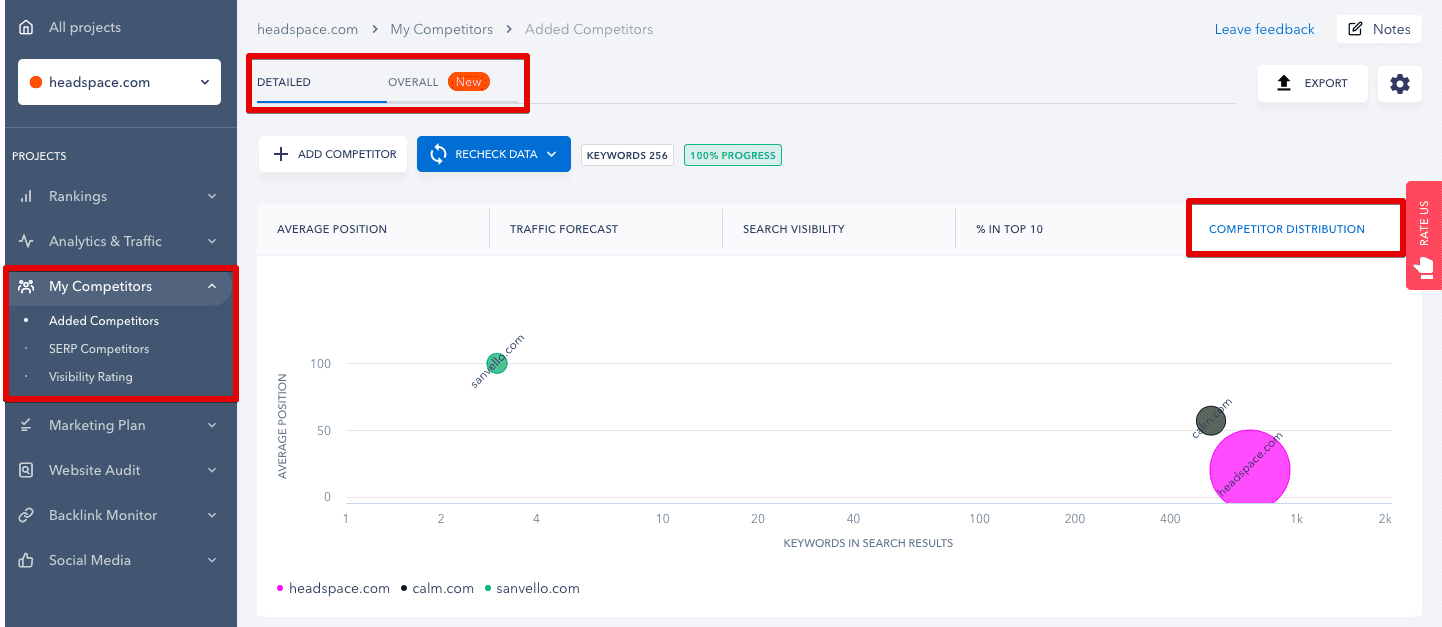 By switching to the overall view, you will be able to see the comparison table with data grouped by search engine: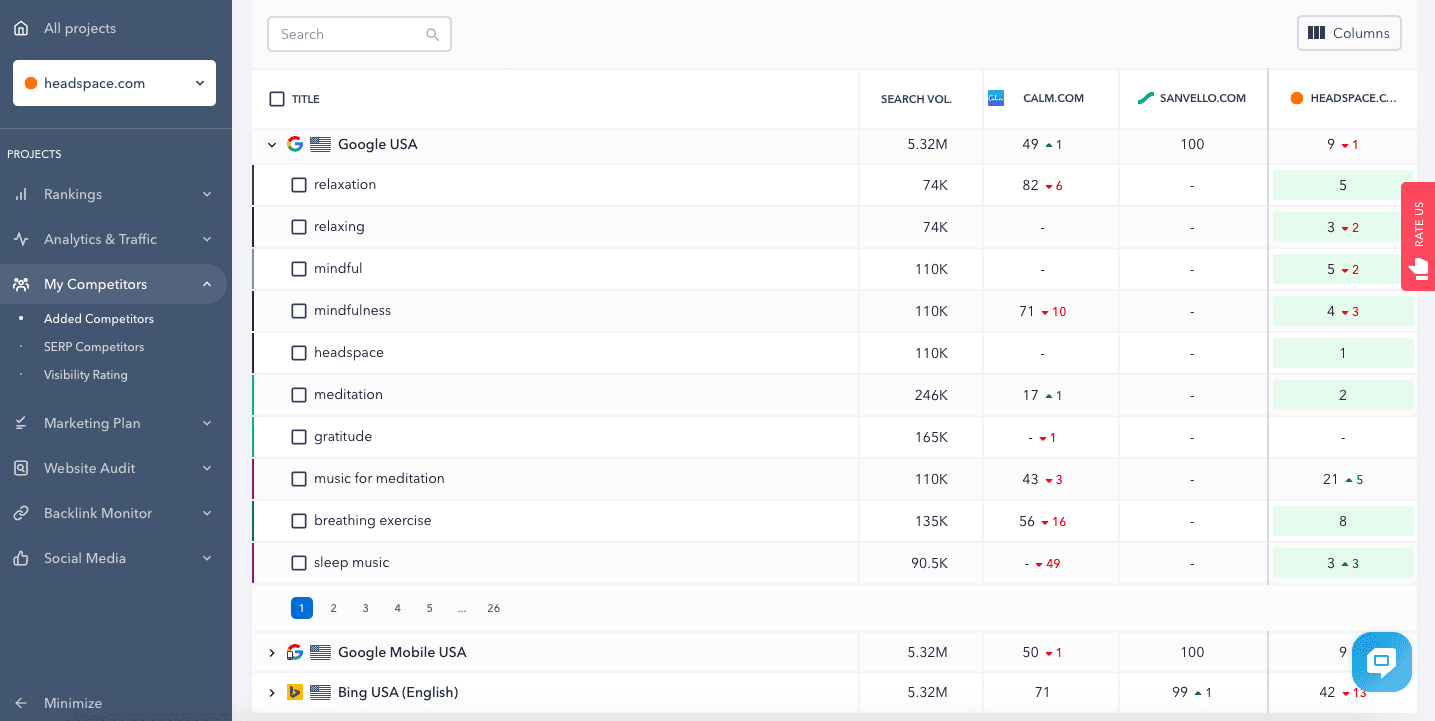 You can check the average position of competitor sites with regard to each chosen search engine. Your own project is added to the columns so that you can easily compare data and find out how well your site's ranking for chosen keywords.
You can filter this data by search engine, the range of search results (from top-1 to top-100), keyword groups, and tags.
Under the settings of My Competitors, set your preferred section view and it will be displayed by default.
Ranking charts for added competitors have been updated as well. Now, you can access their data together with your rankings. Besides current rankings, you can also check your rivals' historical data: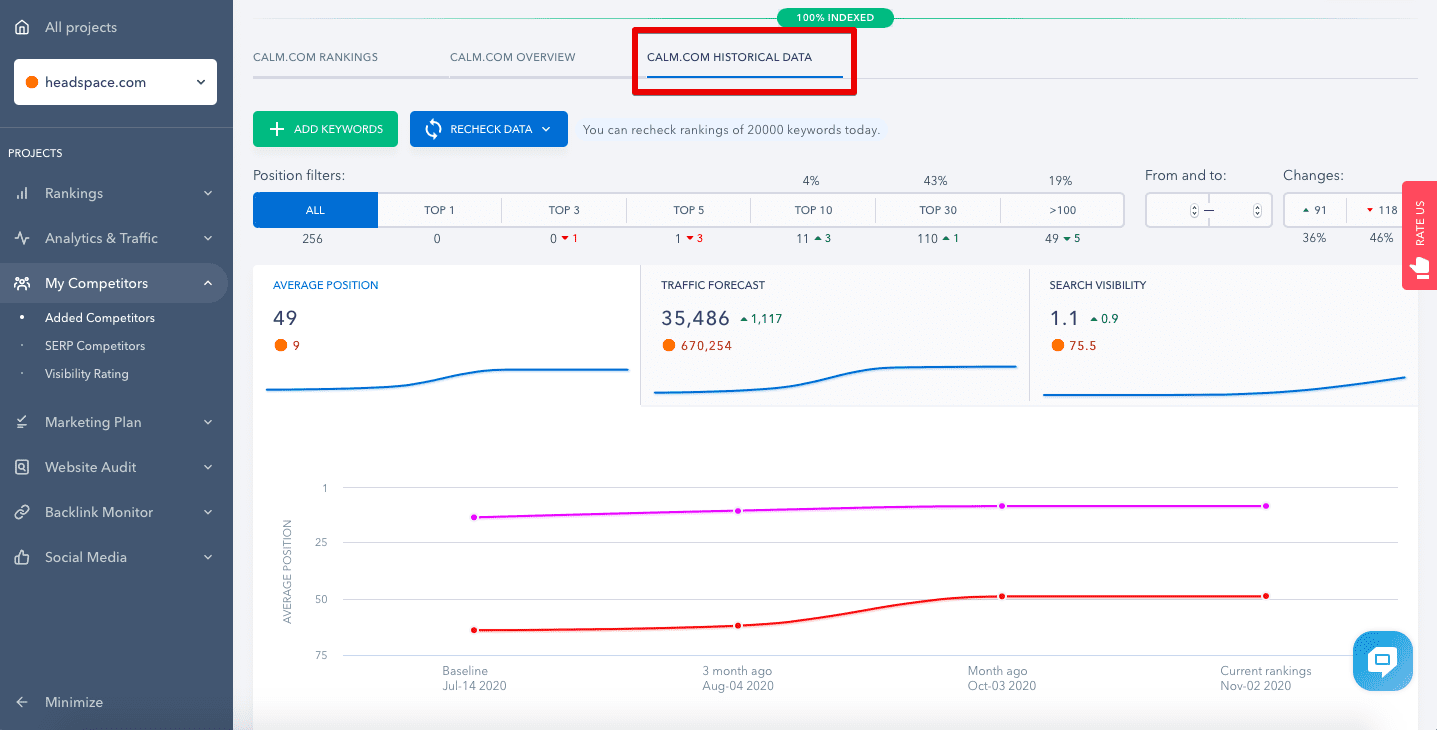 To see this detailed ranking chart, you should click on the Rankings icon next to a chosen competitor site in the My Competitors table.
Rankings analysis is getting even easier
We continue improving the UX in the Rankings tool for you to analyze ranking data in the most convenient way possible. 
When choosing the time period for analysis, you can now select a specific year from the drop-down menu—you no longer have to scroll through the months to access previous-year data. And when it comes to choosing how to group information—by day, by week, or by month—you can analyze more detailed graphs or get a more generalized picture.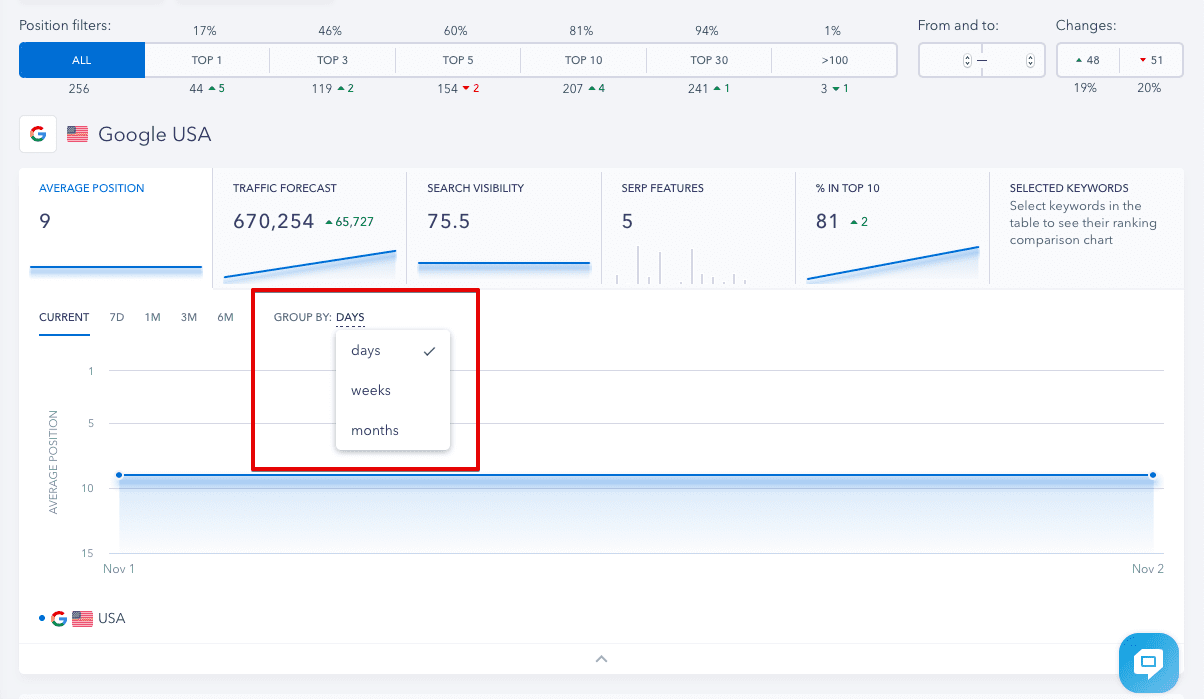 In the rankings table, you can disable every column with additional metrics and leave the essentials—keyword and URL—to see more ranking data in one screen and compare the site's ranking positions more easily.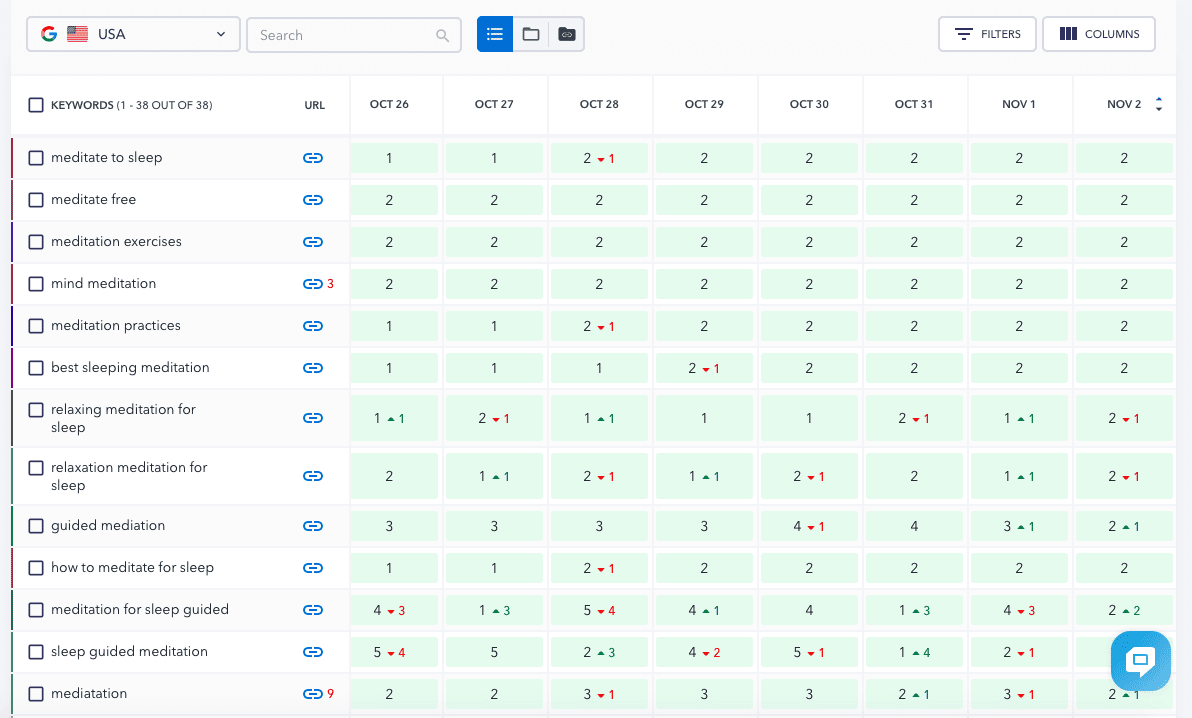 Another thing that can make the process easier is the system of filters. All the filters you apply will be visible above the table. Furthermore, if you often use the same set of filters, you can save a preset and not waste time on filtering in the future.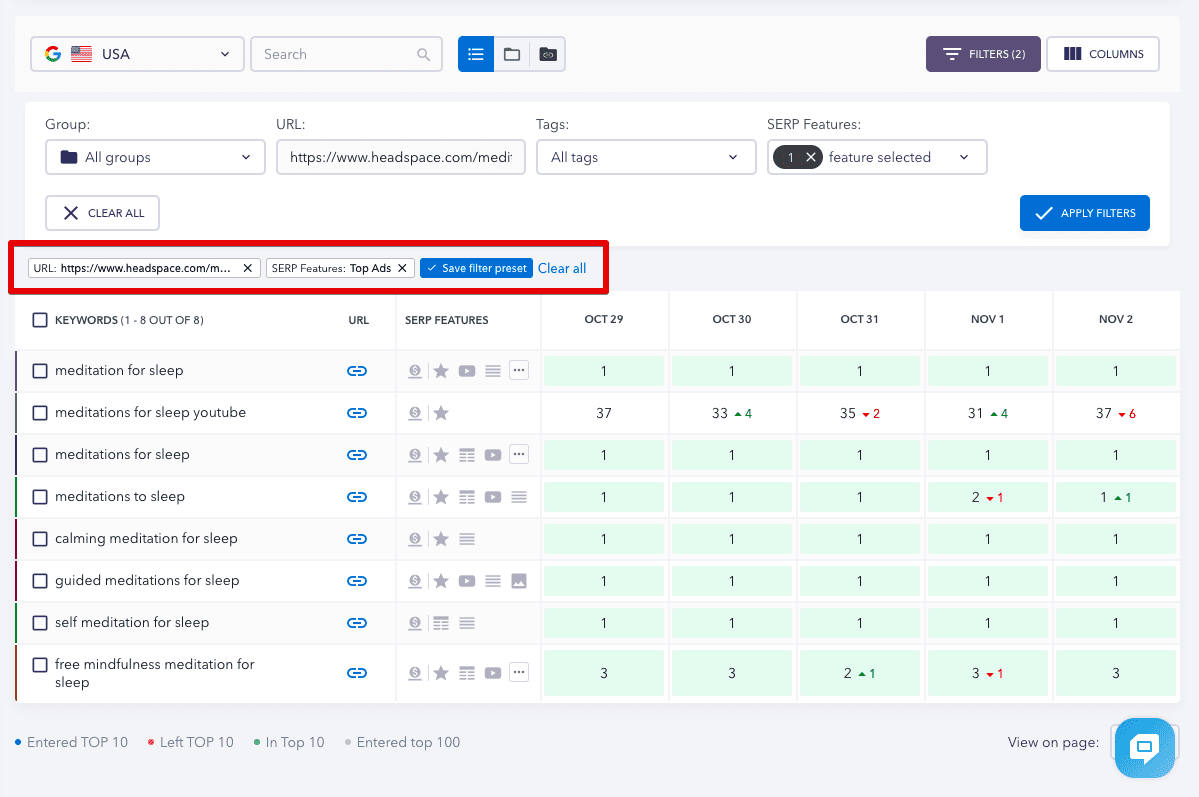 Using a saved preset takes just one click: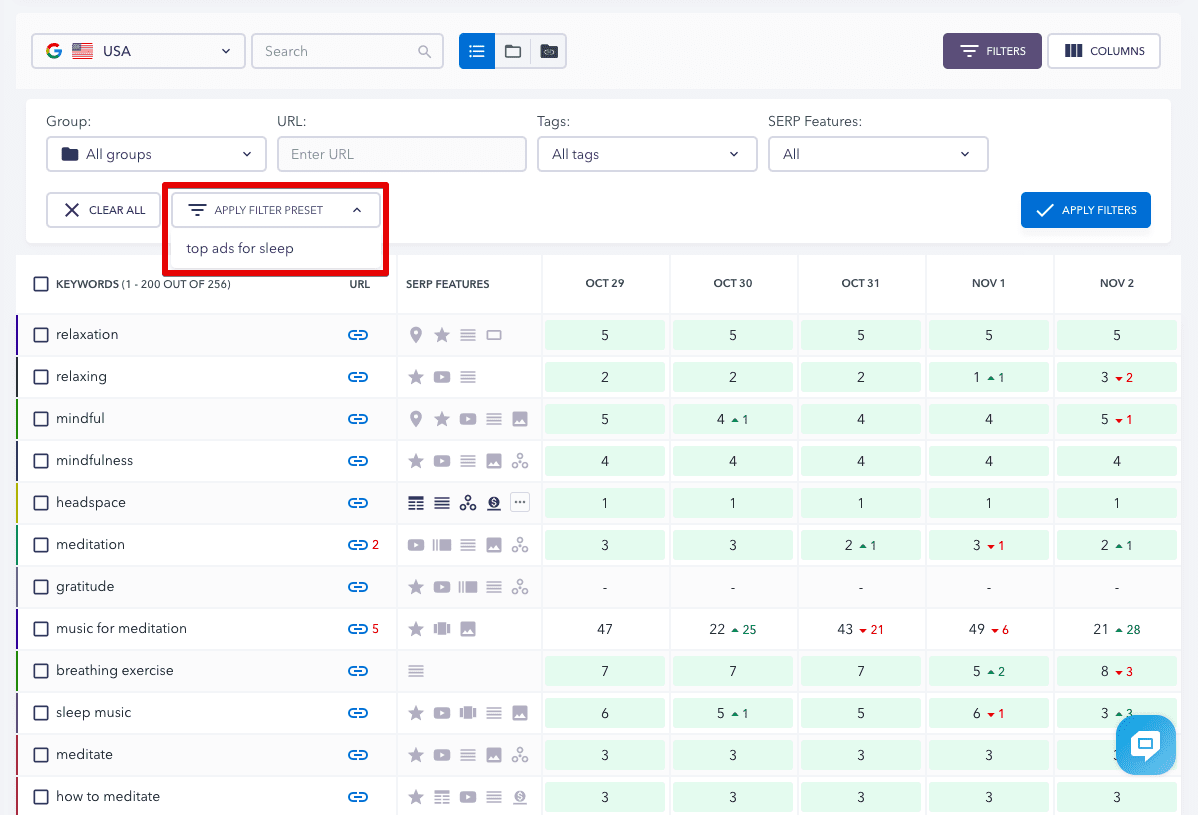 One specific update will be particularly handy for those working with hospitality businesses. Now, SE Ranking monitors the SERP feature Hotel Pack that displays information on hotels in a given location. This feature takes a lot of screen space and can significantly improve the site's CTR.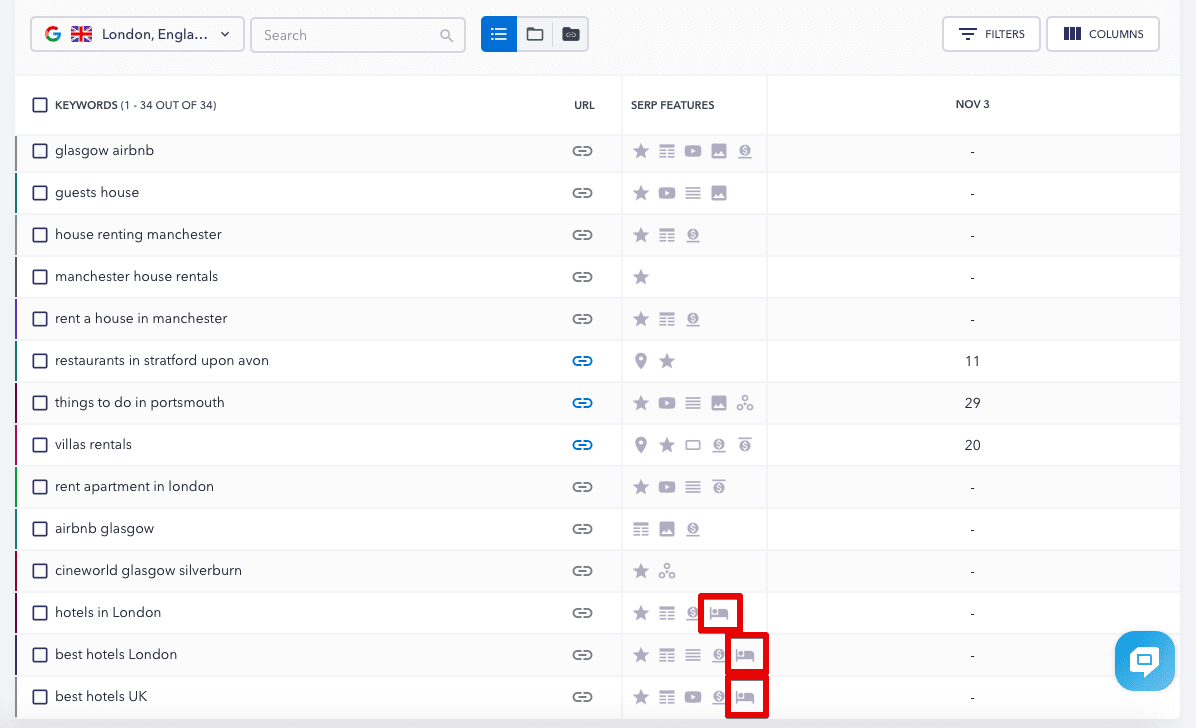 Finally, in the Rankings settings, you can choose how to sort data—in the ascending or descending order. For example, if you set 'Sort by column Search Vol.' and the default descending order, keywords in the table will be sorted from the highest search volume to the lowest.
The settings you choose in this tool will apply to all projects. Tables with ranking data on added competitors will also be sorted in the similar way.
Adding your own favicon in White Label
We've brought more customization options to White Label: not only can you set your own header, footer, and logo but now you can also use a unique favicon. Favicons are what makes websites stand out in an array of open tabs.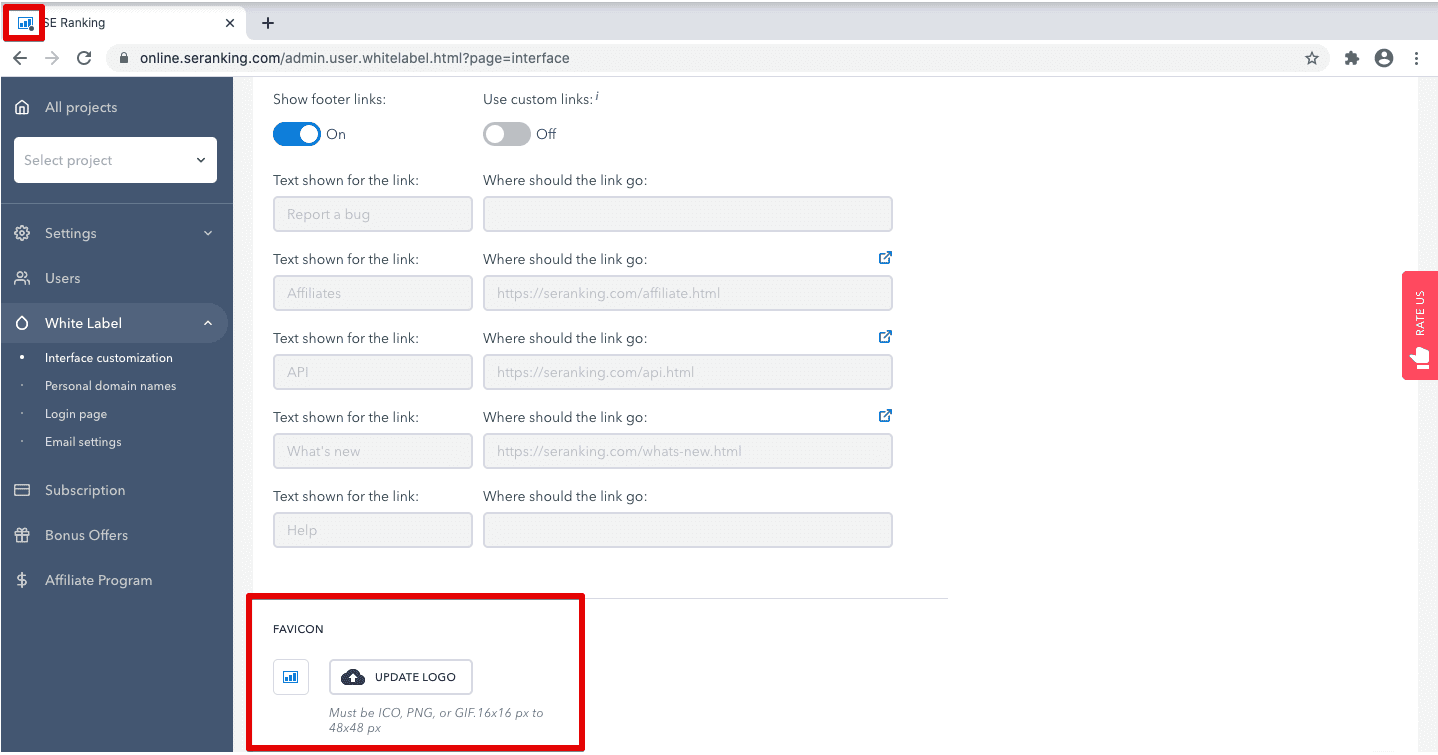 Database expansion and new opportunities for keyword and competitor analysis
Traditionally, we continue expanding our keyword databases used in Keyword Research and Competitive Research. This month, we have good news for users working with the Turkish, Colombian, Chilean, and Thai markets. 
Turkey: 17 398 08 and 12 000 000
Colombia: 13 714 284 and 6 800 000
Chile: 9 290 139 and 5 500 000
Thailand: 9 227 778 and 4 827 31
To choose the country you're targeting in Keyword Research and Competitive Research tools, you no longer need to input its whole name—the country code will be enough.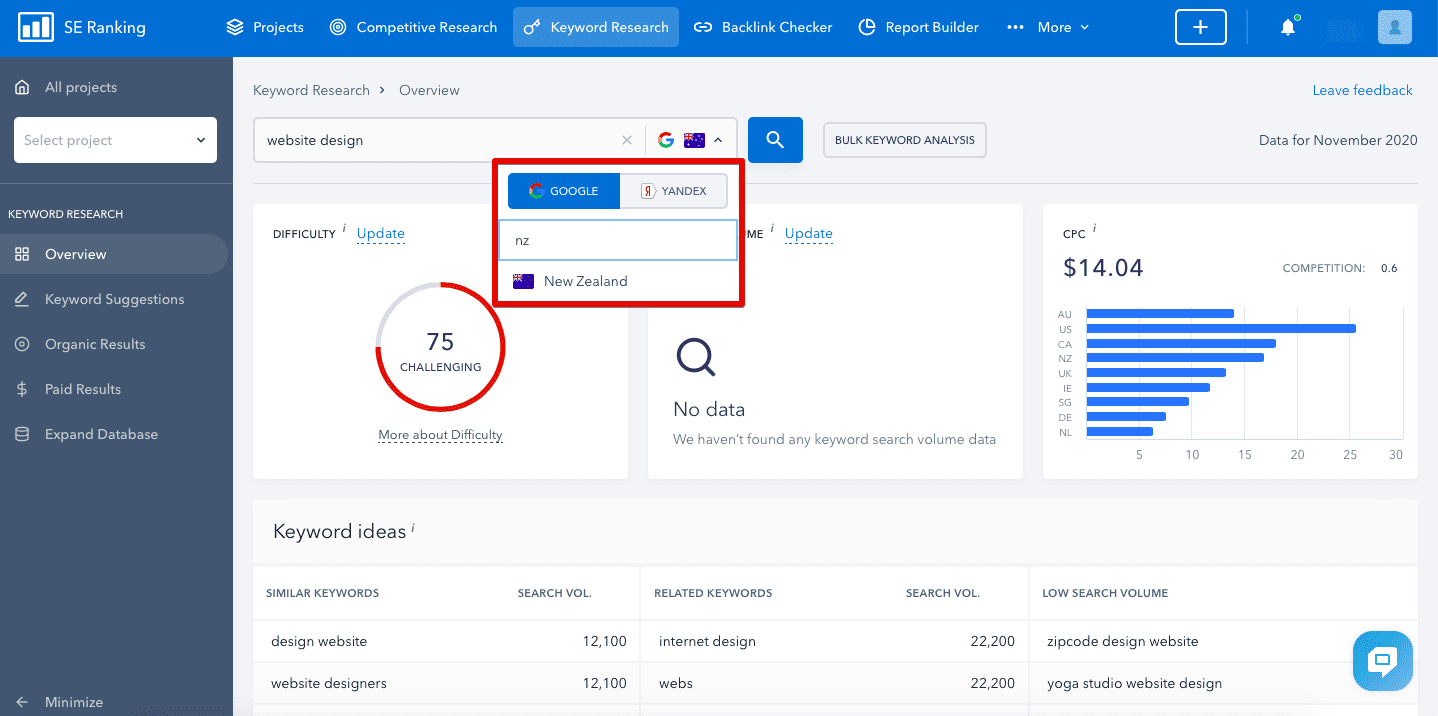 Also, SE Ranking's tools now understand that inputs like 'America,' 'US,' and 'USA' mean you're searching the database for the US market.
Moving on to the last update for today. Now, you can update the search volume and difficulty data once a month. Despite the fact that we regularly update our databases, information on less popular queries can be updated less frequently.
To get the most accurate and up-to-date data, click on the Update button in Overview and Keyword Suggestions sections of Keyword Research. Data on CPC and Competition will be updated as well.

There's not much left to 2020 and we're eagerly waiting for the next year to finally arrive. But that doesn't mean that we won't be doing anything during the following months—we'll be making further improvements to the platform. Stay tuned and safe!
Post Views: 6