Buffer
Plan and Schedule TikToks in Advance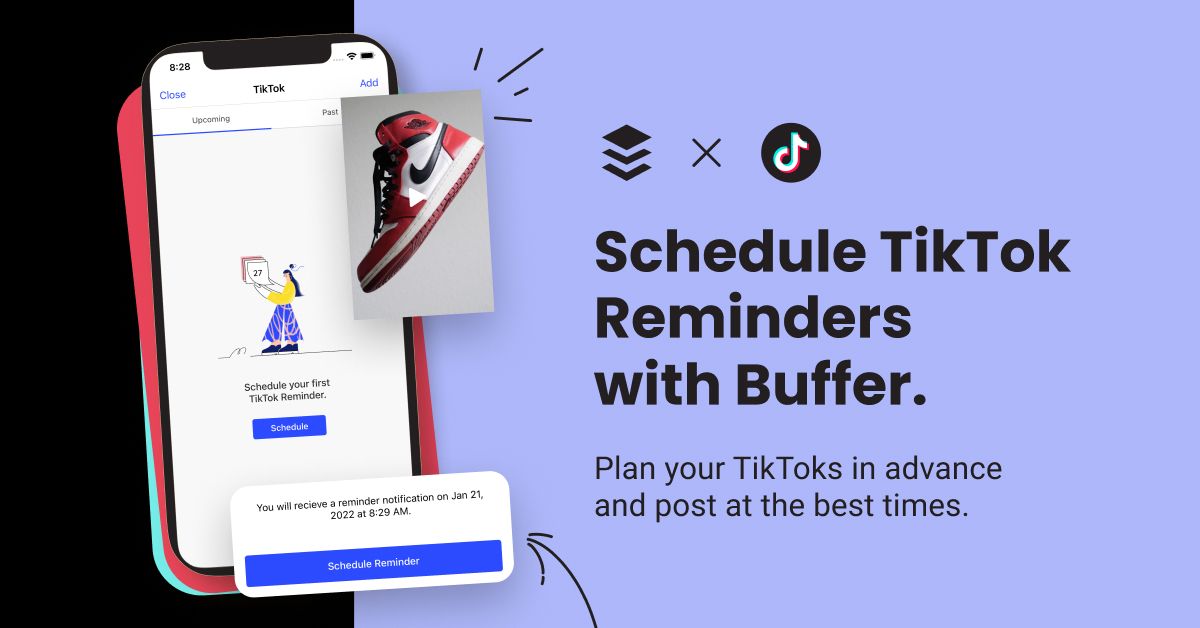 Using reminders to help with TikTok planning
Two of our product principles are to keep things simple and to add value incrementally (we don't wait to add everything at once).
With that in mind, we looked at how we currently support Instagram Stories scheduling. Perhaps we could replicate a similar workflow.
The way it works is:
You upload your video content to Buffer.
Then choose a date and time you'd like to publish the post.
When that time comes, Buffer sends a reminder notification to your phone, with everything ready for you to finish the post in the app.
This "reminder" workflow is already very familiar for social media marketers and in the graph below you can see how it has grown in popularity among our customers. About 19,000 Instagram Story reminders are created and scheduled through Buffer every month.
Given the success of Instagram Story reminders, creating something similar seemed like a natural first foray into the world of TikTok.
Moving fast with mobile
TikTok is a mobile-first platform, with the vast majority of content coming straight from the creator's phone. So when it comes to scheduling, we decided to build TikTok Reminders into our mobile apps, to begin with. We considered adding to our web platform too, but in the spirit of building quickly and adding value incrementally, we're excited to release it on mobile and then add it to web once we have more feedback and advice from our customers.
Andy, one of our iOS engineers, was able to whip up the first prototype in less than two hours.
From there, we fleshed out the prototype over the course of about a month, tested the finished product internally, and submitted it to the Apple app store and Google Play store for review.
How TikTok Reminders work
With Buffer's mobile app you can plan and schedule your TikTok videos in advance, alongside the rest of your social content. It's pretty simple; upload your video, add a caption, and schedule a posting time. When the time comes, we'll send you a notification to publish the video on TikTok.
Step 1: Load your TikTok content into Buffer.
Select TikTok under the Reminders section of the navigation panel. From there you can create your TikTok post by adding media and a caption.
Step 2: Schedule a time to post to TikTok.
Choose the date and time to receive a reminder to post.
Step 3: Finish the post in TikTok.
When it's time to post your TikTok, Buffer will send you a push notification that will guide you to the TikTok app to publish your content.
Getting started with TikTok
TikTok can be a little daunting if you're not familiar with the platform. But don't worry, you don't need to be a great dancer or video genius to kickstart your TikTok presence. I've compiled some of my favorite TikTok marketing resources below. I hope you find them useful!
We'd love your feedback
TikTok is a new area for Buffer and we'd love to understand more about how we can help you save time and grow your TikTok presence. Would you like to schedule reminders through our web dashboard, too? Are we missing anything from our mobile app? What sort of advice and resources would you like to see from us?