SEOPressor
Is Content Marketing Effective? Stats Every Marketer Should Consider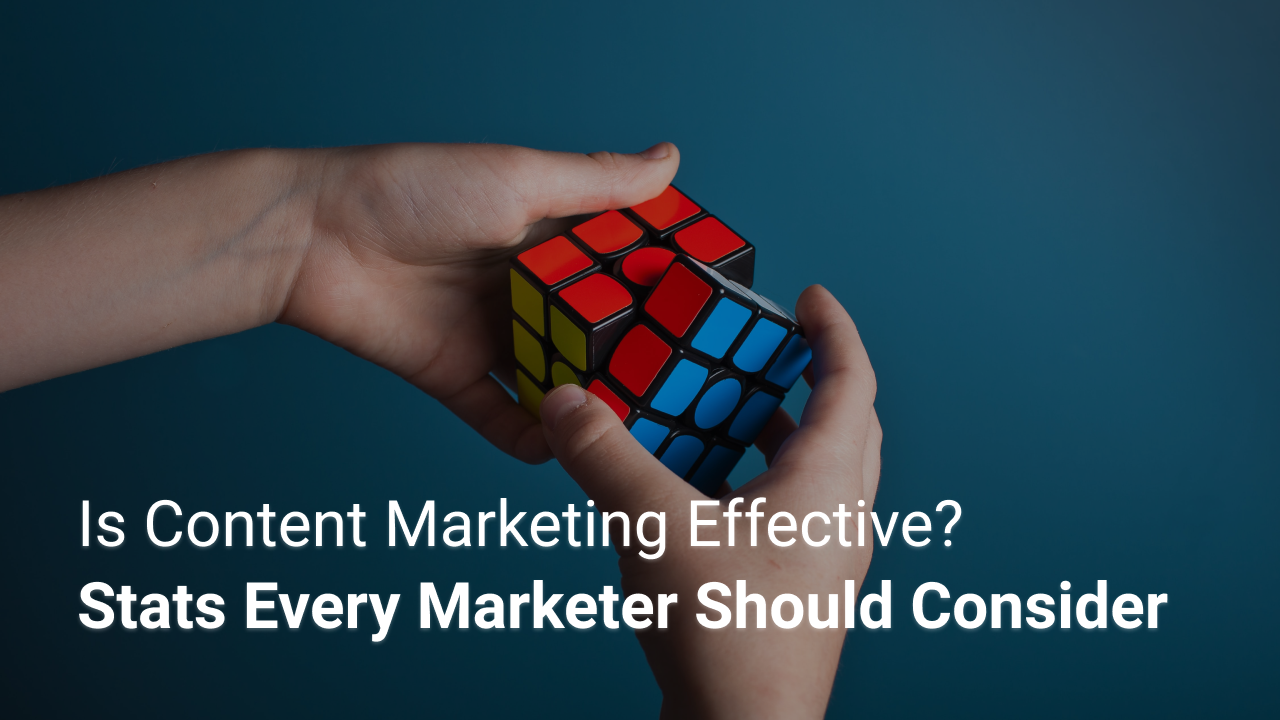 There is a popular buzzword popping up all over the internet that marketers and bloggers on all levels are being challenged to understand and implement as a long-term strategy to growth and success: Content Marketing.
This is an industry expected to be worth 413 billion by 2021 (MTA)! There are countless sources and statistics that paint a picture of just how effective this concept is and we're going to highlight some of them.
Let's take a quick peek into this powerful technique for driving business and offer you some positive affirmation that content marketing is an excellent road to travel down. According to the numbers, it isn't a nice, quiet drive down a back road. It's an ever-busy interstate.
Here at the beginning of our quick journey, so we don't get lost along the way, let's first clarify our understanding of a couple of key preliminary questions.
What is content marketing? What does it include?
I like the quote Ramona Sukhraj of iMPact shares from a marketing friend of hers, "Everything the light touches is content". That's a very inclusive definition! A decade ago, content meant written blogs (which are still huge), but today it's more broadly defined.
Typing "define: Content Marketing" into the Google Search engine you'll find their understanding put this way: "a type of marketing that involves the creation and sharing of online material (such as videos, blogs, and social media posts) that does not explicitly promote a brand but is intended to stimulate interest in its products or services."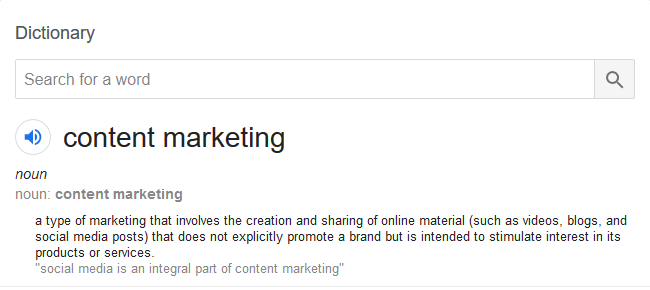 Stimulating interest in your audience stimulates a perception within them that you are a reliable and quality authority in your particular field. Over time this stimulates economic growth by increasing the traffic that comes to you.
Lyfe Marketing shares the Top 10 highest performing types of content marketing. A little further down the road, we'll focus on a few of the most popular.
From the start, it has been established that content marketing is effective, but if you're like me, you need cold-hard facts!
At our next stop, we'll fuel your intellectual curiosity by providing you with reasons and effective ways to start driving in that direction.
Overall, how effective is content marketing, really?
The popularity of content marketing has risen rather consistently since 2004.
Thus we can gather that there is a correlation between this and its level of effectiveness. Take a look at this chart from Google Trends.
If only it were possible to buy shares in a keyword!
Content marketing success, growth, and popularity are comparatively astronomical. With that stated, most large companies still dedicate most of their marketing dollars to paid advertising.
Google AdWords generates the majority of sales leads and Facebook Ads is far behind in second place.
Other forms of Social Media advertising exist, but comprise a very small percentage of the total dollar amount (See #2 at Elite Copywriter).
Large companies choose this method because revenue tracking for content marketing (and SEO) is pretty tough to do and the ROI (Return on Investment) is not immediate and can sometimes take months or more to stick.
So what are the benefits of content marketing?
1. High Return on Marketing Spend
With a little patience and a steady improvement in your skills, content marketing pays off in the long run and there are much lower up-front costs associated with it.
Many marketers and bloggers may not have a huge pot of cash to fulfill the immediate gratification that paid advertising provides, but they do have something potentially more powerful: A super high return on the marketing dollars they spend.
Pro Tip: Slow and steady win the race. In the game of content marketing, you need to consistently pump out good quality content. It doesn't end there, you also need to audit your content strategy from time to time to make sure that it's working for you.
2. Provide Substance and Cultivate Loyal Customer
Anybody with a product and a pile of marketing cash can make a sale, but that doesn't always translate to quality control for the consumer. The world is inundated with under-performing products and services, but content marketing tells a different story.
Having a resource-rich blog full of useful information for your potential clients is the perfect place to cultivate a booming community of readers.
Content marketing when done right comes with maximum benefits and minimal cons.
Beyond the low cost and high return, content marketing gives more substance to a website and creates a more loyal customer base, which is likely to increase referrals and conversions.
Pro Tip:Talk to your customers if you want them to become loyal to you. Understand their concern and provide them with answers they need. They are who you need to win, and the first step to winning someone, is by understanding them.
3. Build Industry Authority
In addition, brand reputation improves, industry authority is strengthened and search visibility is heightened. No matter the industry, content marketing can make any subject more attractive and relatable to a wide range of consumers (Inc.).
Building authority also means getting your brand name out there. And that will not happen if you just keep quiet while doing thinking I'm doing a great job why is no one talking about me?
Well, that's because *you* need to be the one who starts talking about yourself.
A lot of industry experts talk in conferences, give out their opinion online for free, or are just very active in social media. That can be seen as an extension of content marketing.
So do not be entrapped in the mindset that content marketing = blog.
Yes, blog is a big part, but there is also a big part of marketing (from content marketing) that happens out of the blog. And you need to remember that.
Pro Tip: Build your authority by building a voice for yourself, and having a strong blog post that showcases the depth of your expertise is an invaluable tool to help you achieve the status of a guru. So make sure to help advertise and be active in online communities.
What are the most effective types of content marketing?
The formatting choices for content marketing are many, but there are two very popular methods we want to focus on because we think they are the easiest way for marketers and bloggers to begin down the road when there isn't much gas in the tank to start the journey.
1. Blogs – The classic muscle cars of the content marketing world.
Until 2020, blogs were the tried-and-true, Number 1, Granddaddy of all content marketing strategies and still about 4.4 million are published every day!
According to NewsCred, 55% of small business marketers claim blog content creation is their top priority. To match, websites that have blogs attract 55% more traffic to them (BackLinko)!
Marketers that focus on blogs, if patient and conscious of quality, are 13x more likely to earn a positive ROI for their work (BackLinko).
With 77% of web users attentive, there is no wonder to the wonderful results blogs produce.
Not all blogs are created equal, though. Some blogs, especially those under 500 words are ineffective when it comes to SEO and visibility. The long-form blog is King and the longer the better! Blogs containing 3k-10k words are more likely to go viral through sharing (Siege Media).
The average blog is 1151 words and takes just over 3 hours to write. Those containing statistics and relevant images are more trusted and more likely to be read (even though, according to the highly informative BackLinko, 43% of readers admit to skimming them).
Pro Tip: For best click and engagement results, aim for a strong blog title that includes numbers, if possible, and is between 6-13 words in length.
A tool recommended to help your blogging efforts is BiQ.
You can get all the basic keyword data necessary to keep a blog afloat such as Search Volume, Cost Per Click, and Competition in this one tool. They are all in a glance, helping you to pick and choose which main keyword to target.
Blogging's success also depends heavily on nailing the reader's intent. Are they looking for information? Or are they looking to make a purchase by Googling that term "UVB Light Therapy"?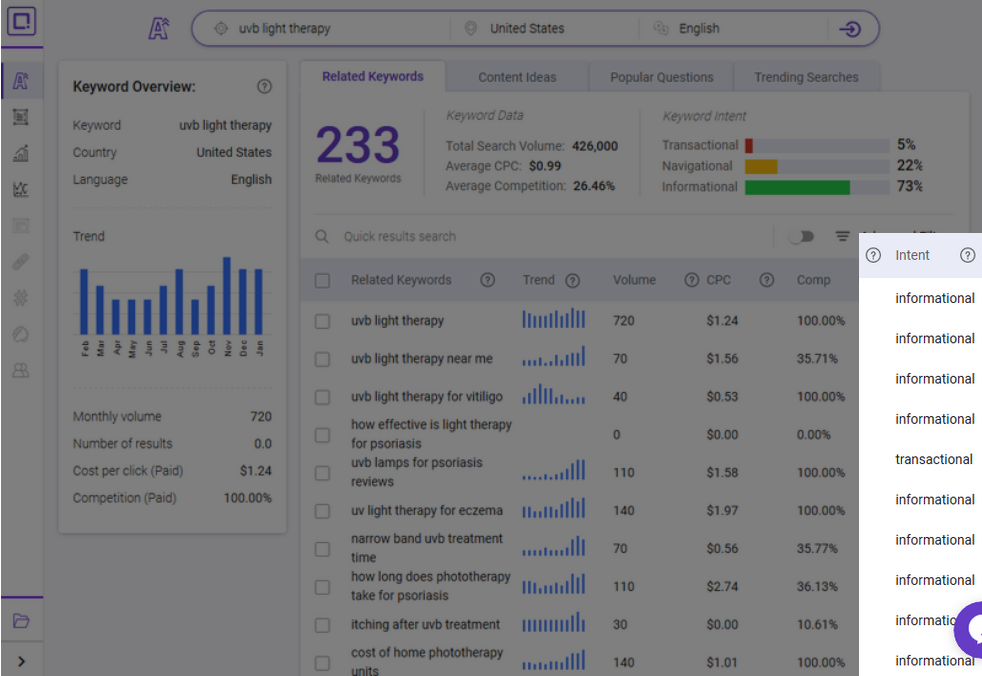 The tool shows you the searcher's intent for each keyword, so you can make sure that the keyword you're targeting fits the level of funnel and the visitors you're trying to attract.
2. Videos – The sports cars of the content marketing world.
Times are changing and this year, for the first time, video content has surpassed Granddaddy Blog! Promo Videos and Brand Storytelling clips are the most common forms of motion picture expression among product marketers (HubSpot).
However, Animoto claims that service marketers find webinars, demos, social media videos are the most popular kinds and YouTube rules all platforms for viewership, but Facebook and Instagram are coming up quickly. Like blogs, not all videos are treated the same.
There is simply more horsepower behind this explosion of video content.
Here are a few reasons why.
First, the interactive nature of videos help keep people's attention and 97% of consumers claim they help them better understand a respective subject (Siege Media).
Videos give marketers the ability to grow their revenue 49% more quickly than marketers that don't incorporate video (Vidyard). The simple fact internet users are over 12x more likely to share video than any other form of content should explain why (Small Business Trends).
Web consumers don't skim videos, but we still have attention span issues, so videos under 90 seconds have the highest retention rate at 53% (Neil Patel) so it's good to get straight to the point when that play button is clicked!
: Try combining the power of video and blog. This way you cover more ground on all the content you share. Some people prefer reading, others prefer videos. Videos can be played in the background and listened to and blogs can be read in quiet areas.
TL;DR
Here's quick summary of all the stats we have included in this blog post, so if you need to convince someone that yes, they need content marketing, then fell free to share the image.

So what's the conclusion?
No matter where you are in your business development, take control of your marketing direction. As a marketer or blogger, you'll find that content marketing is an excellent vehicle and the driver's seat is quite comfortable.
If you need help, reach out. We'll ride shotgun.
Updated: 18 October 2020