SE Ranking
Guest Posting Tips and Tricks to Get the Most Out of Every Article
Anybody who has ever written a piece of content knows how much time it takes to craft a quality blog post. But why would you offer somebody else to publish an insightful article you've been working on for a week? Because guest blogging remains one of the most effective marketing strategies for growing brand awareness, building quality backlinks, and driving referral traffic to a website.
We at SE Ranking are strong believers in the power of guest blogging, so we regularly share our experience and expertise across various digital marketing platforms. For example, this summer we contributed to Search Engine Watch sharing our thoughts on using customer feedback to grow a product. But since some marketers call guest posting a waste of time, we decided to reach out to leading SEO experts and ask them for their two cents. It turns out they all have guest blogging included in their marketing mix, but still admit that it can be tricky at times.
In this blog post, we've outlined the benefits that guest posting can bring along with some pitfalls you need to be aware of. The post is full of practical tips that are based on our own experience and insights of several SEO experts. So, hopefully, after reading this guide, you'll know for sure whether guest blogging is the way to go for your business, and if so, will be able to build your own impactful guest posting strategy.
We've also prepared a fun bonus for you. Make sure to check out our INFOGRAPHIC if you prefer to learn things visually and/or love board games.
Step 1: Understanding your goals
Before you start looking for guest blogging opportunities, there are two questions you need to answer.
Why do you want to get into guest blogging? 
How much resources do you have on hand?
If you think of guest posting as a way of quickly building backlinks to your website, I have some bad news for you. Every expert we reached out agrees that writing guest posts just for the sake of links won't do you any good.
Here's what Jason Barnard, a digital marketing consultant and host of the SEOisAEO podcast at Kalicube.pro, says on the matter:
Guest posting just to get links is not something I recommend. John Mueller has stated multiple times it is against Google's guidelines. Google is working to devalue these links so, even though it may sometimes work today, it isn't an effective long term SEO strategy. On the other hand, approaching guest blogging with the marketing-to-humans mindset will work wonders for humans… and (as a bonus) give your SEO a boost.
Jen Penaluna, SEO Manager at Bigfoot Digital has a similar opinion:
The old-school guest posting just for the sake of links is dead, or at least becoming less valuable because it's been done to death. I'm on a mission to re-classify 'link building' as 'link earning' because any links worth their weight are earned, not easily built.
So, while guest posting can still help you acquire backlinks, the trick is to treat it as a way of finding platforms other than your own website to communicate with your target audience. Here's how Igor Kolesnikov, Head of SEO at SE Ranking advises to approach guest posting:
It all depends on what guest posting means for you. I believe that today to succeed with guest blogging you need to create every article with the intent of bringing something of value to your audience. If you create quality insightful content and offer users solutions to their problems, such posts would be of great value regardless of whether they strengthen your backlink profile or not. Surely, to offer truly valuable content you need to be an expert in the niche and if you lack expertise, the right thing would be to get some help from other members of your team or third-party experts.
With such an approach to guest posting, you tick all the three boxes: brand awareness, traffic, and backlinks. But it means you'll have to aim for truly authoritative websites in your niche that have both a dedicated readership and high domain trust. And as you can imagine, knocking at their doors won't be an easy venture.
Guest blogging can work for a business of any size
If you are a small business, industry leaders will naturally be out of your league. But it doesn't mean guest posting is not right for you. Alexandra Tachalova, the founder of Digital Olympus marketing agency believes that guest blogging is great for establishing a solid online presence.
The easiest way to become a trustworthy source for both clients and Google is to start guest blogging heavily within your industry on a variety of sites and someday end up writing on leading ones.
So, simply reach out to smaller players in your niche to get started. The only condition is that these websites still need to boast high-quality content and a loyal readership. Meanwhile, obscure platforms created with the sole purpose of building backlinks to other resources are to be avoided at all costs.
…but it takes time
In any case, finding proper websites that accept guest posts and then writing articles for them takes a lot of time. So this is where you need to answer the second question. Do you have plenty of time on hand to invest in guest posting?
If so, you can proceed to step one—finding relevant websites that could potentially publish your guest post.
Step 2: Finding guest blogging opportunities
There are plenty of both time-tested and out-of-the-box techniques you can use to find websites to guest blog for. Some of the methods will help you find blogs that openly state that they accept guest articles. Others will straight away give you insights into key parameters of the website you want to partner up with. And some techniques have none of the advantages mentioned above, but they are still really efficient. To find something that will work well for you, let's briefly go through each of the most popular methods.
Simply ask Google
Traditionally, bloggers used Google search operators to find websites that accept guest posts. Here's how it works. You go to Google search and enter a keyword that best describes your niche followed by a phrase blogs often use to state that they accept guest posts, e.g. "write for us", "guest post", "become an author" "submit an article".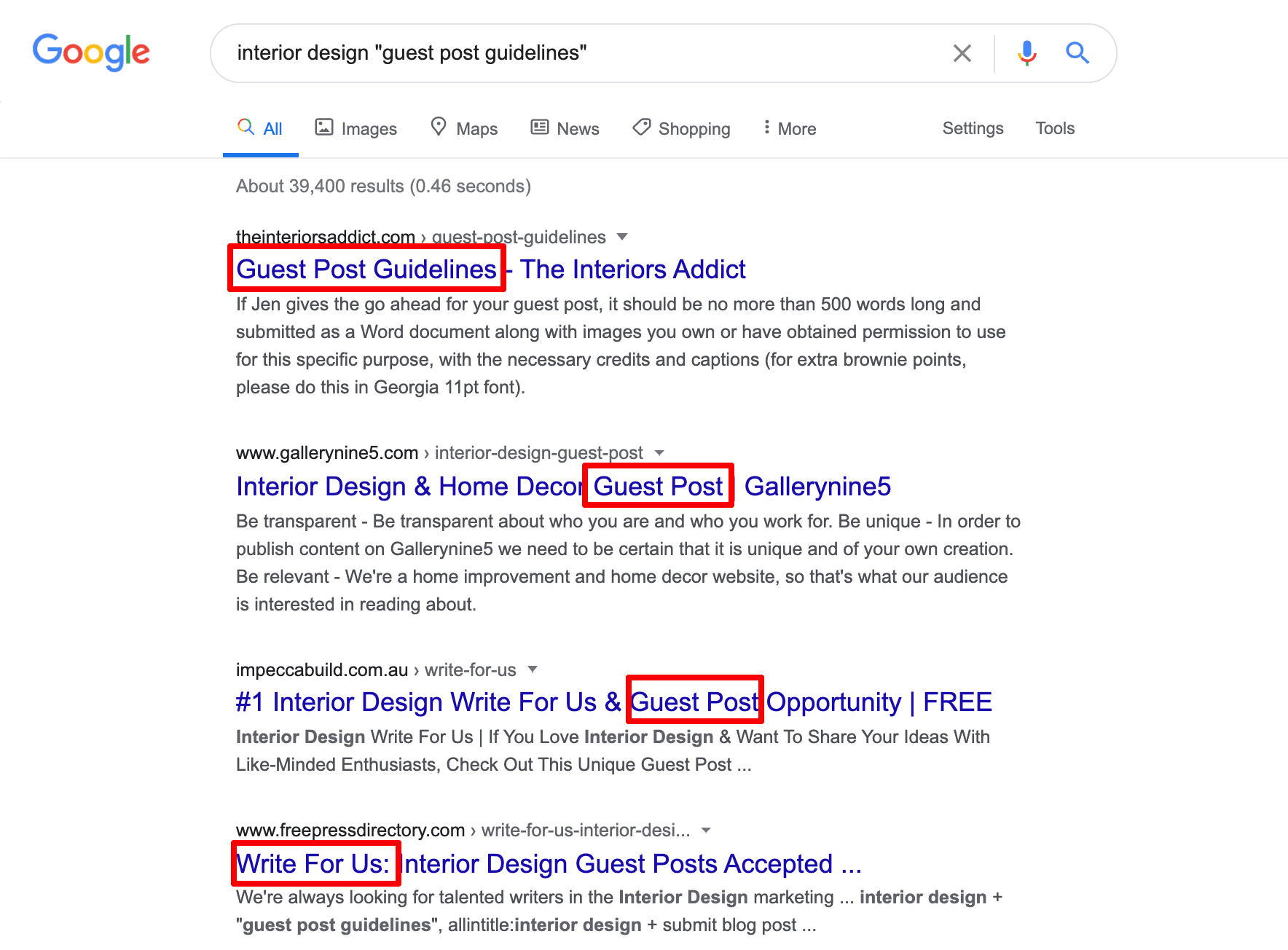 You can play around with the wording using other expressions that mean that a website accepts guest posts, but in fact, Google is now smart enough to give you what you're looking for in the first place. As you can see from the screenshot above, only two of the four top results actually contain the exact match of the phrase in quotation marks.
Another option is to find websites that once accepted guest posts from active bloggers in your niche. Use the "guest post by [bloggers name]" search string for this purpose.
Finally, if you're just starting out, you may as well Google something like "best interior design guest blogs" to find readily available lists of websites that accept blog posts.
Pros of this method
Allows you to quickly find plenty of websites that accept guest blogs.
Cons of this method
Not that convenient on a large scale. To be able to further analyze the collected data, you'll have to spend ages manually filling all the details in a spreadsheet. Surely, you can use one of the SERP scraping tools to speed things up, but then you'll still have to spend quite a bit of time filtering out low-quality websites.
Other people in your niche will reach out to the same websites you've found on ready-made lists or with the help of search strings. Top guest blogging platforms that can be found in Google normally get gazillions of guest posting email offers daily, and yours can easily get lost in the inbox.
Jen Penaluna even advises against "pitching an article to any site that has the term "Guest Post" anywhere, as it makes it easier for this to be found and seen as a link exchange scheme now or in the future."
Join guest blogging communities
In addition to having a "Write for us" page on their websites, many platforms that accept guest posts are members of various dedicated Facebook communities. Such communities may be open or private—in the latter case you may need an invitation from a member to join.
Here, websites that accept guest articles post announcements inviting bloggers to cooperate. Bloggers can also contribute to such groups describing their blogging background and/or specifying the kind of websites they'd love to write for.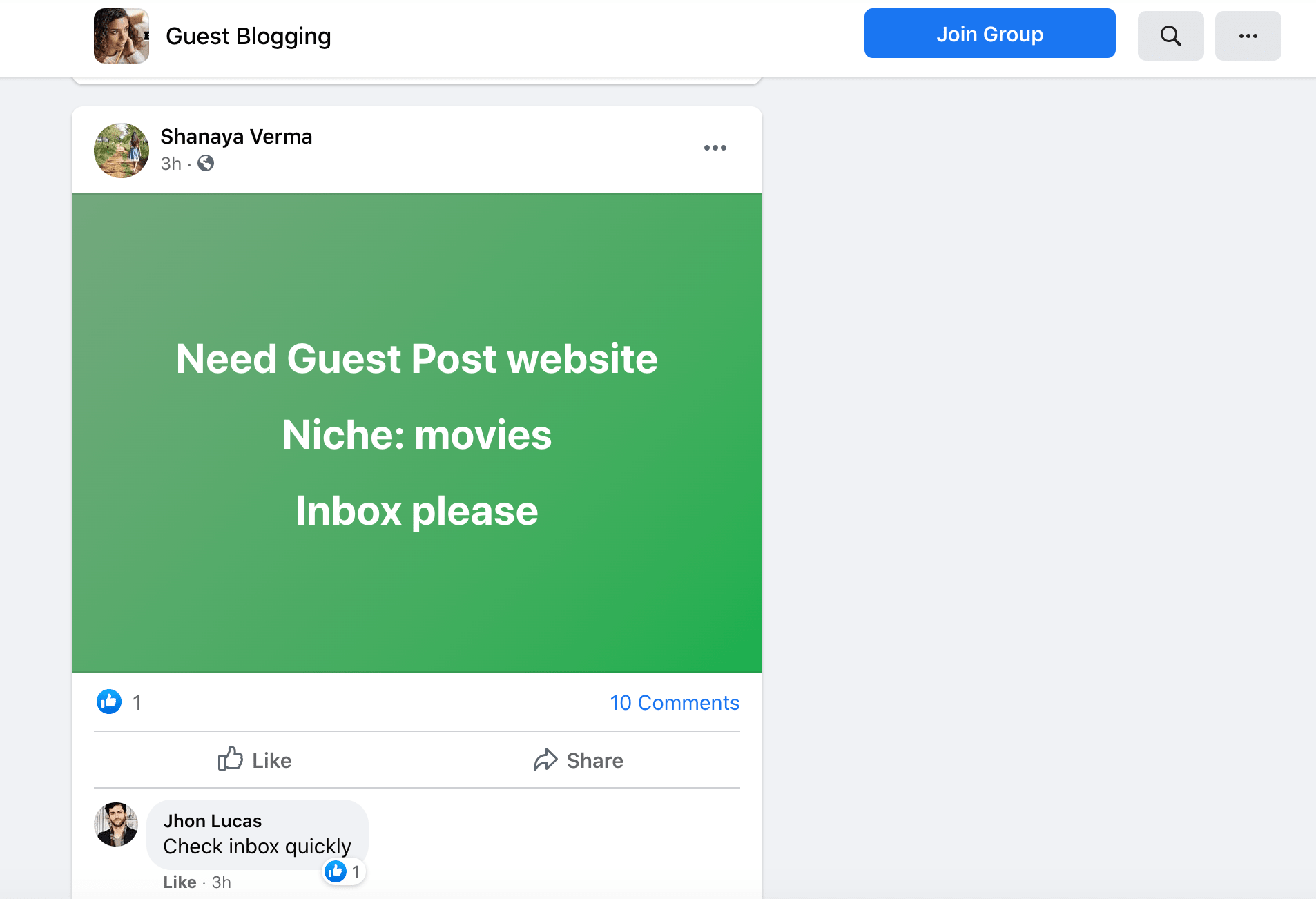 Pros of this method
You can find websites that are eager to cooperate and will be able to contact the right person straight away.
Many websites will share their website's key metrics like Domain Trust (or an equivalent metric from other tools) once you start negotiating.
Cons of this method
Most of the websites you can find through such communities will be of rather low quality. Even high DT domains with an impressive backlink profile featured in such communities often get little traffic and don't have a very loyal readership.
Some websites will offer paid guest posts which goes against Google guidelines, so working with such websites can get you in hot waters. The same goes for partnering with other community members for guest post exchange—Google can label it as a link scheme and penalize your website.
Follow your competitors lead
Another traditional way of discovering new guest posting opportunities is through analyzing your competitors' backlinks. Your business rivals surely engage with guest blogging platforms, and if they've managed to have their articles published on some websites, you can do the same.
Unlike the two previous methods, this one requires a tool that will collect all your rival's backlinks for you. SE Ranking has one, and it is called Backlink Checker. Now, let me quickly take you by the hand and show you how you can use the tool to find websites that accept guest blogs.
Once you get a report on your competitor's backlink profile, go to the Backlinks tab. To quickly find relevant websites within your rival's backlink profile, set the tool to only show one backlink per domain, and use filters to only see backlinks that contain the word "blog" in their URLs. That way, you'll filter out backlinks coming from forums, social media, etc. You can further use various filters to only leave authoritative domains with a high Trust score and, for example, sort them from the most recent to older ones.
Pros of this method
You can find websites that accept guest posts even if they don't openly state it on their websites.
From the get-go, you can see some website's key metrics such as Domain Trust score, Page Trust score as well as the types of backlinks you can possibly get (dofollow or nofollow).
Cons of this method
You can't be 100% sure that the websites you've found accept guest posts as you don't know on which conditions your competitors arranged for their articles to get published. Chances are it was not even a guest article. For example, a blogger could have linked out to your competitor's website in his own post just because it was relevant or because the post was a review of your competitor's product.
Run a Twitter search
Now, let's move to less commonly used methods of finding guest blogging partners starting with Twitter search that is a great alternative to using Google search operators. Basically, you can use the same search strings like keyword + guest post or guest post by + blogger's name you'd use in Google. But with Twitter, you have better chances of finding more authoritative platforms since spammy blogs that don't really care about the quality of the content are normally not active on social media.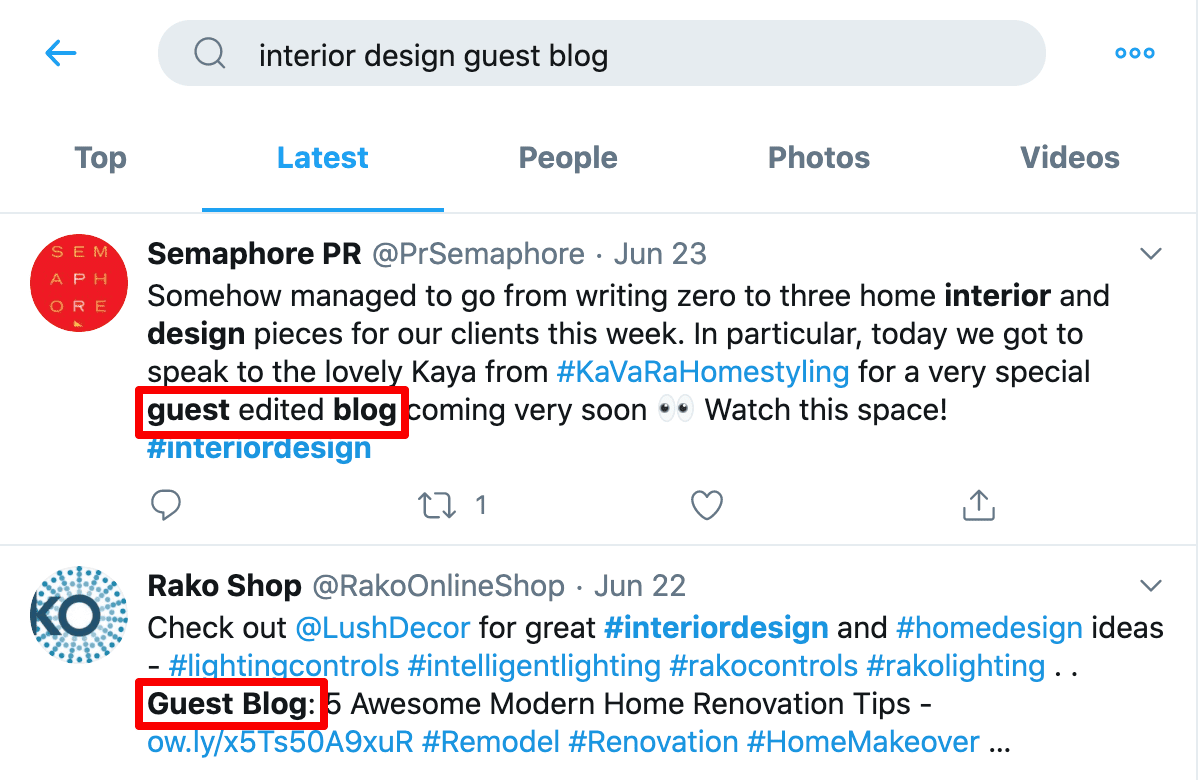 Pros of this method
Allows you to find higher quality websites that accept guest posts.
Since the technique is not that widely used as Google search strings, you have better chances to succeed with your guest blogging endeavors.
Cons of this method
You'll still have to manually put all the collected data in a spreadsheet, but since we're talking about dozens and not hundreds of potential guest blogging partners like in the case of scraping the SERPs, the task is quite manageable.
You'll still have to spend some time assessing the quality of the discovered websites.
BuzzSumo your peers
BuzzSumo is a platform that helps people find trending content, but it can also be used for finding guest blogging opportunities. Alexandra Tachalova advises using BuzzSumo to learn where other marketers within your niche are writing. By simply searching the names of your peers in BuzzSumo, you'll discover blogs they contributed to, which would mean these blogs accept guest articles. You can simply write the author's name, and as a result, you will find blog posts that have the author's name right in the headline.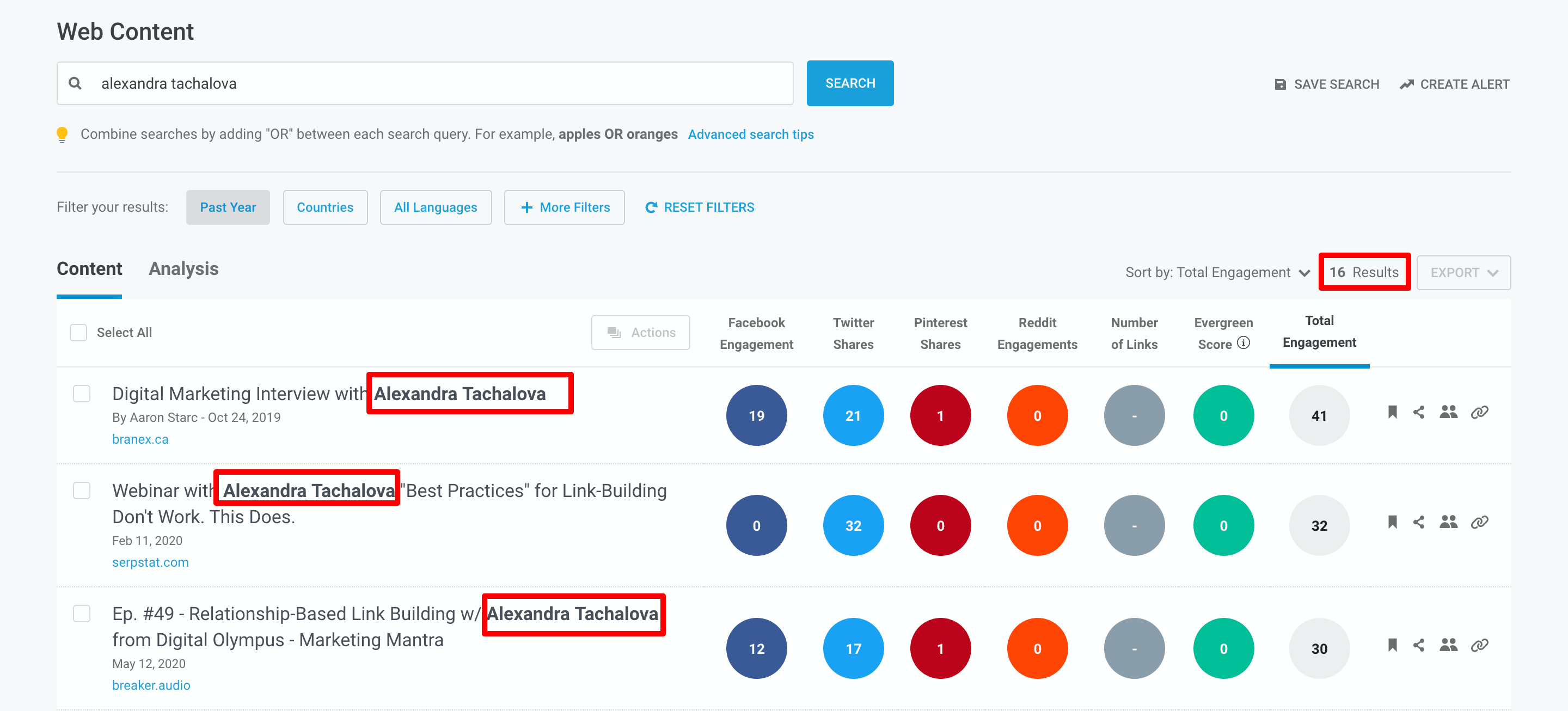 To get even more results, use the author: search operator. In this case, you'll find all the articles where your peer is indicated as the author.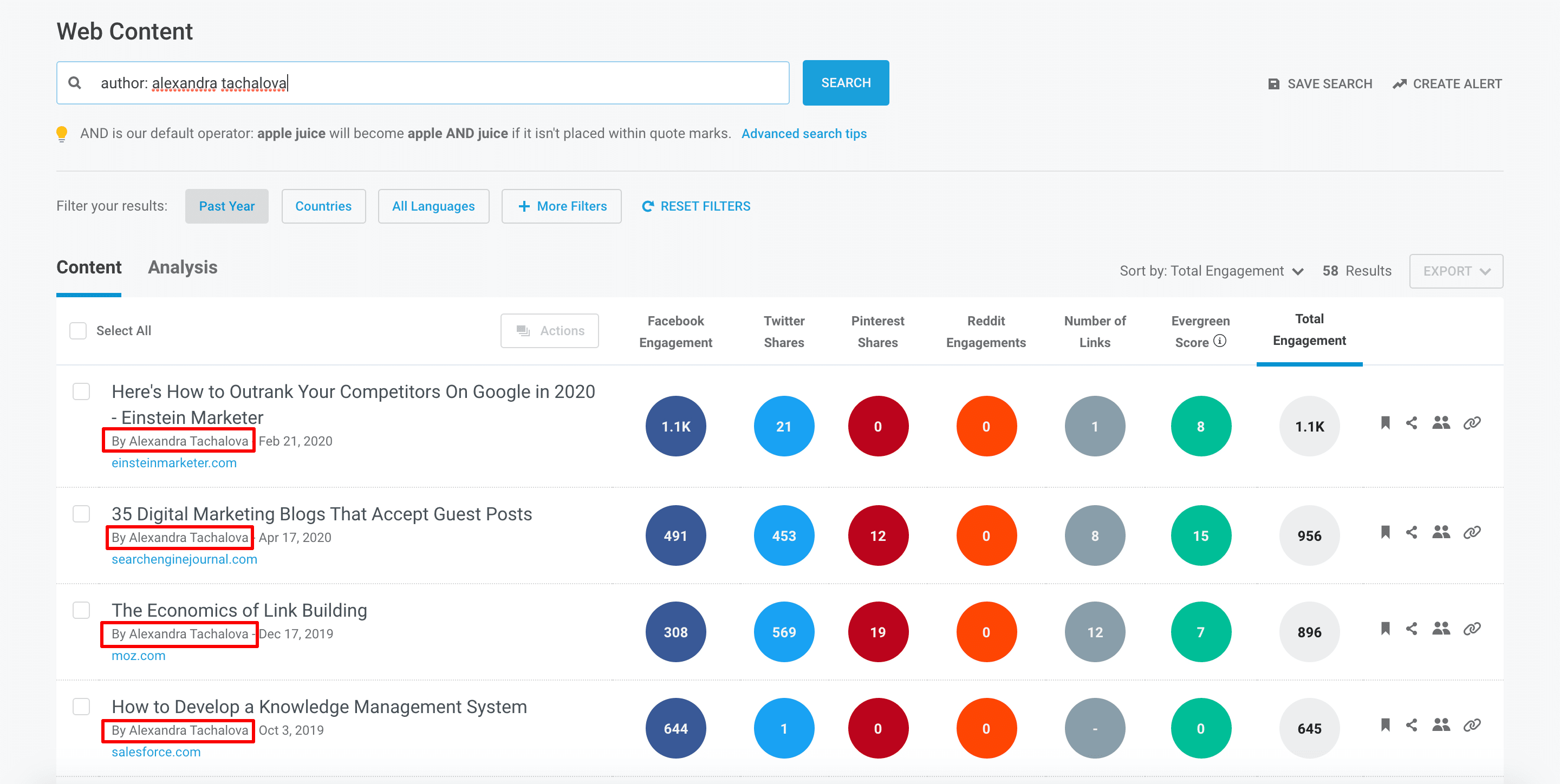 Pros of this method
Narrows your search down to high-quality websites that publish guest articles that get lots of social media shares.
You can see how popular each of the discovered blog posts were on social media. Surely, an article can get a lot of shares because of the topic it covers or because of the author's personality. But the social following of the website where the article is published matters as well. To check whether other blog posts published on the same websites enjoyed the same level of popularity, simply put the website name into the search box.
Cons of this method
BuzzSumo is quite a costly tool, so unless you plan on using it for purposes other than finding guest blogging platforms to partner with, the amount you'll spend monthly on a subscription may be not quite worth it.
Most of the websites you'll discover here play in the big league thus not a good fit for guest bloggers who are just starting.
Go for the industry leaders
This is the method Jason Barnard prefers:
Start with the industry-relevant publications you read. Some of those probably accept guest posts. If so, pitch them with an idea. Make sure you present the blog post in a light that makes the value to the publisher obvious to them. What value will their audience gain from your article? What credibility can you bring to their publication?
Just like finding top guest blogging platforms on BuzzSumo, this method will only work for seasoned guest bloggers. If this is your case, think about key players in your niche or related fields that are not your direct competitors and try to partner with them.
Ideally, you'd want to have a chat with someone from the company at an industry event before dropping an email—live communication is always a great way to break the ice. And writing a guest post is a great way to start a fruitful partnership.
If you are not sure, who the top players in your niche are, go to AllTop. Here you'll find lists of the most popular websites across various industries including Business, Education, Tech, Gaming, Food, etc.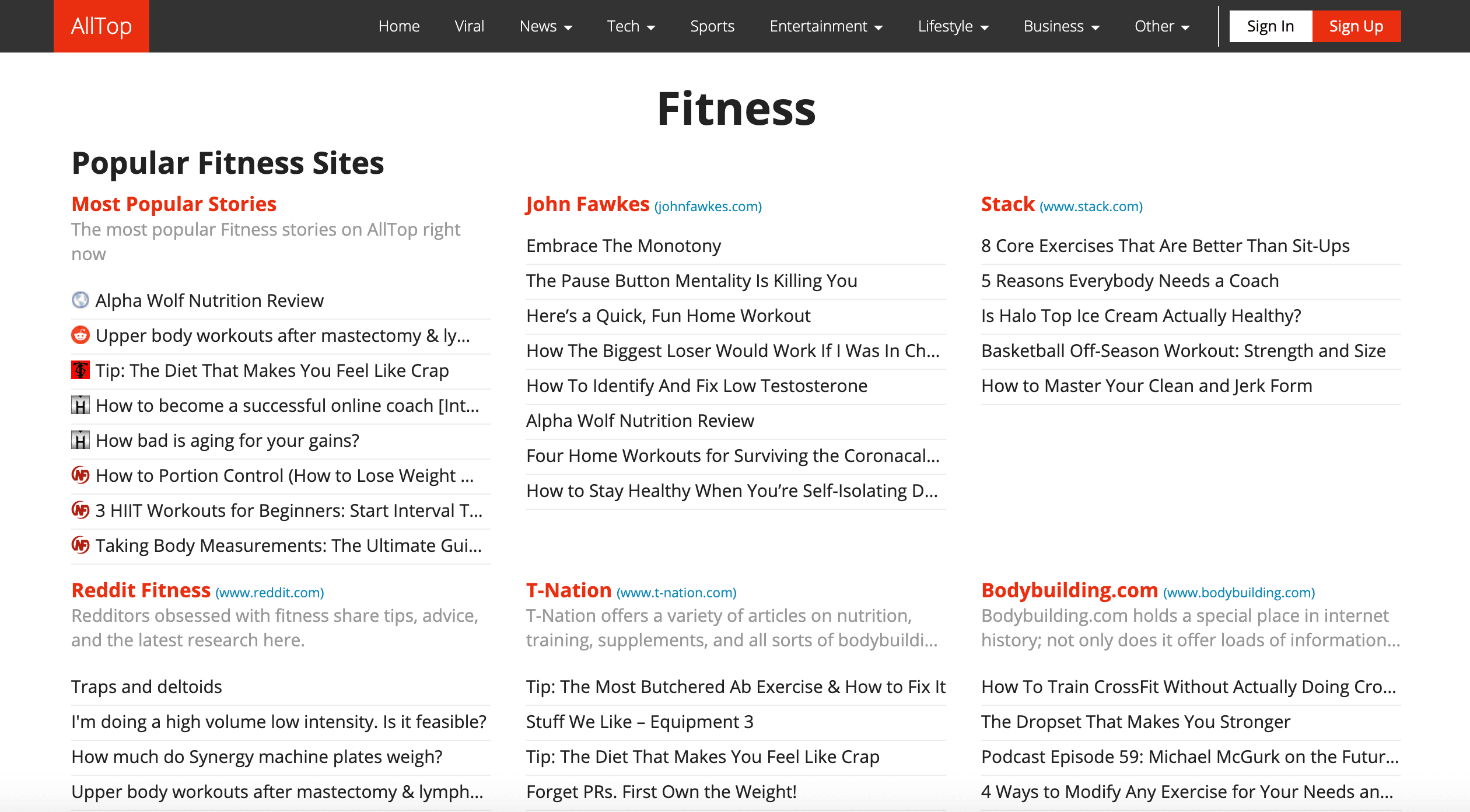 Pros of this method
With this approach, you shouldn't really care about checking domain trust, traffic, and other metrics of the websites—since these websites are crème de la crème, they'll top all kinds of ratings. The tricky part here is that they won't accept just any guest post—you'll have to come up with some truly exceptional article ideas to grab their interest.
Cons of this method
Not a good fit for beginners and intermediate level bloggers. If you don't yet have an impressive guest blogging portfolio, don't even bother to cold email the top websites, as you'll never get a reply.
Reach out to your existing partners and customers
You may not yet be ready to play in the same league with industry leaders, but if you do have some partners/customers/followers who have websites related to your niche, they would be your best guest blogging bet. Why? Because you've already built relationships with these people, and they may not mind doing a small favor for you. After all, as long as you come up with some quality piece of content, guest posting is a win-win venture.
With customers/followers, you can use social media to find your biggest fans. This is the method recommended by Adam Connell, founder of Blogging Wizard learning resource for bloggers.
Social media is a relatively untapped resource for guest posting opportunities. Specifically platforms like Twitter & Pinterest. This process can be automated slightly using social listening software.
What Adam offers is finding people talking about your business on social media and inviting them to become your blogging partners. The thing is, if a person already praises your product or service on social media, they probably won't mind showcasing your article on their blog provided that it is semantically relevant.
Pros of this method
You have much better chances to have your guest article accepted with someone you already know and work with.
Cons of this method
This method is not as easy as it may seem at first glance, as most of your biggest social media fans won't have their own websites. Some people in your circles will have websites, but they'll be totally irrelevant to your industry. So, after all, you'll have to spend quite a bit of time finding prospects that qualify. But if you do manage to find some, it will totally be worth all the time spent.
Use HARO to get media coverage
Pam Aungst, founder of Pam Ann Marketing and Stealth™ Search & Analytics believes that guest blogging is too risky nowadays to take on. Since Google currently states that all links in guest posts, including in bylines, should be nofollowed, Pam advises focusing on PR, and not guest posting.
Instead of looking for guest blogging opportunities, I suggest that brands seek opportunities to get media coverage. Getting a news story written up about your product or service, or getting yourself quoted in an article on a news site, can result in high-quality inbound links that aren't at risk of being considered guest blogging links. HARO is a great site for finding such opportunities.
Pros of this method
You tick all the three boxes getting high-quality backlinks, growing brand awareness and driving traffic to your website (provided that the media is popular among your target audience).
Cons of this method
You can't just contact the media and ask them to write about your product. For them to be interested in publishing an article, you need to come up with some newsworthy event e.g. new product release, big product update, a marathon you organize, etc. Creating a new product or organizing a marathon takes a lot of time and effort—way more effort than coming up with an interesting topic, and writing an article. So, you won't be able to get in the limelight too often.
Step 3: Weeding out your list
Depending on which methods you used to find guest posting platforms, you may want to give the discovered platforms a value check. Before you proceed with generating content ideas and pitching ideas to potential guest blogging partners, you want to make sure that the websites on your list are worth the time you'll spend arranging for a blog post and writing it.
To determine if a website is worth your while, you can go through the checklist Edward Sturm, Director of Marketing at Reverb shared with us:
1. I'd start by looking for sites that have been around for at least one year. I want to know if a webmaster cares about the site and that it's not part of a scheme. I'd quickly run through Wayback Machine for this.

2. I also want to see that there's a decent amount of recent content on the site; that it's active. Additionally, I look at the quality of the content.

3. I do not pay much attention to follow vs. nofollow for crediting the author. I care way more that the site is credible.

4. I look at social profiles. Do they exist? Are they fleshed out? Again, are they somewhat active with real content?

5. During this process, I look at numerical analytics: domain authority, spam score, ranking keywords, traffic – organic, and direct.

6. Spam score is extremely important. I use various tools, though Moz is my go-to, and I would not put up a guest post for anything over 2%.

7. As I'm doing this analysis, I look at semantic relevance. I care a lot about the site being relevant to my niche. Anything else can be seen as spammy, not worth the time, and potentially harmful. I look at semantic relevance through the site's homepage, its content, and its ranking keywords.

All this happens in minutes, sometimes less than a minute, and then I'll email saying I'd like to write for them.
Now, let's take a look at some of the criteria Edward mentioned in greater detail.
Content relevance
I've already mentioned this many times across this blog post, but let me stress my point once again. A website you want to guest post for should be in your industry or closely related. So, the first thing you need to do is scan through the website's blog to find out what kind of topics it covers.
Make sure to go deep and to not just skim through recently published articles, but to also check out posts published months ago. If some of the articles happen to be related to your niche, you are probably good to go. At the same time, if the articles do not really fit into the overall topic of the blog—if it just neglects the content relevance principle—you don't really want to follow this lead.
Content relevance allows you to pick websites with the right audience. Here's what Marina Apukhtina, SEO & Content Area Lead at MacPaw says on the matter:
What is really important is the audience of the platform you guest post for. Relevant topics and discussions published on the platform show you that its audience is likely to be interested in your industry/product too.
If the blog covers topics not directly related to your niche, see if you can find some creative way of connecting the dots. Just mind that when I invite you to be creative, I'm not talking about generating some far-fetched topic ideas.
For example, if you want to write about healthy eating and you have a guest blogging platform dedicated to cars, stating something like "human bodies need healthy food to fuel them just like cars need high-quality gas" won't cut it. At the same time, writing about a healthy diet for long car rides is a great way to marry the two mentioned niches.
In addition to relevance, pay attention to the quality of the published content. Ideally, it should be of the same high quality as the content you publish on your own blog. After all, once you published your guest post, you want to feel proud for getting featured on the resource, and not ashamed of the fact.
Keywords in common
Once you find blogs that cover topics related to your niche, you can take things one step further and check how many keywords you have in common. It will let you see the big picture and understand whether the website's overall semantics is close to that of your site. SE Ranking's Competitive Research tool can help you with this one.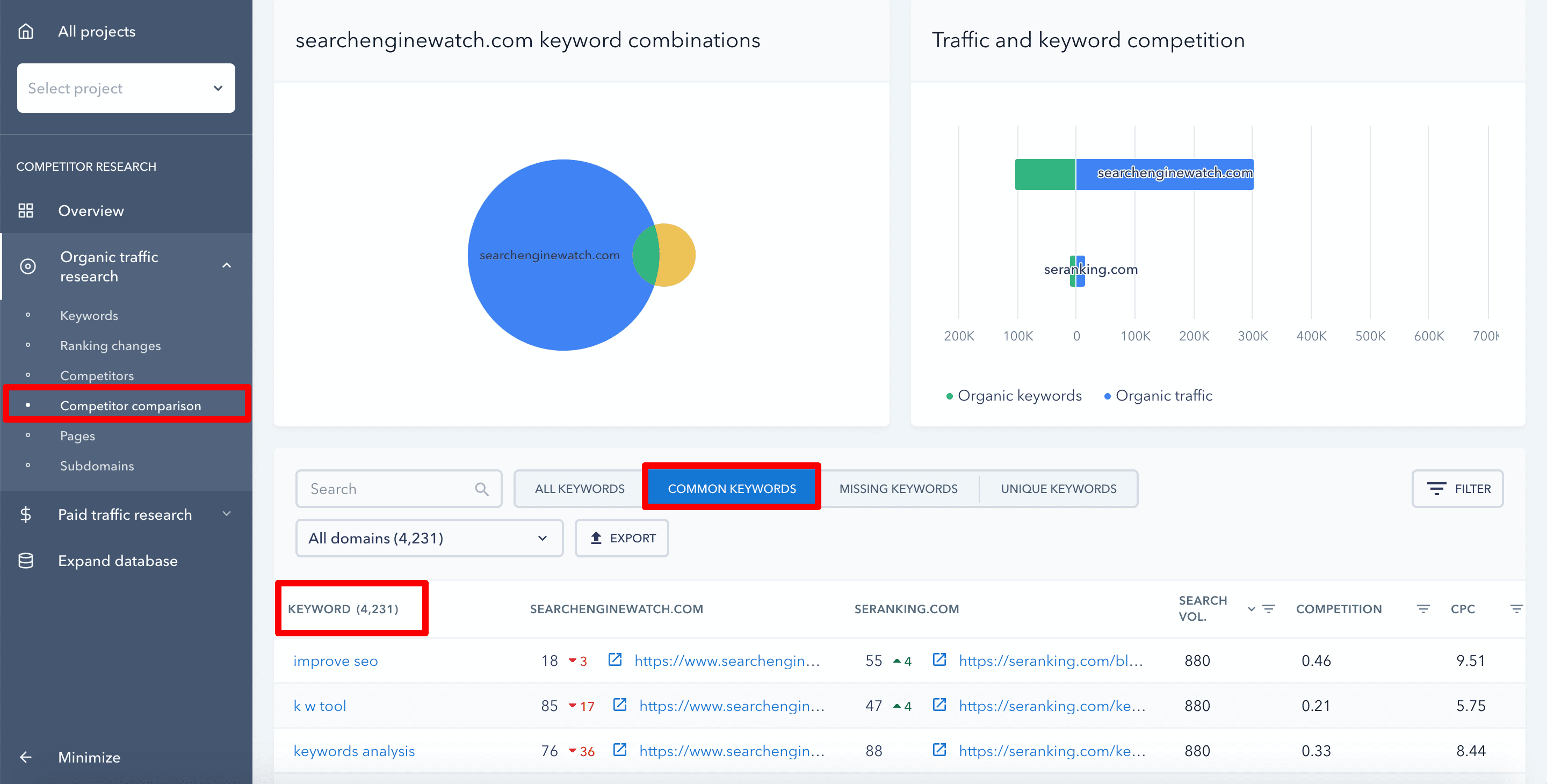 Just enter the domain name of the website you want to guest post for and go to the Competitor Comparison subsection of the Organic Traffic Research section. There, enter your own domain name and go to the Common keywords tab to see which keywords both of you rank for.
Pay attention to the number of keywords as well as to the search queries themselves—whether these common keywords are a part of your semantic core or they are rather complementary and don't reflect on the interests of your target audience.
You can as well go to the Unique keywords tab to see how your website semantics is different from that of your possible guest blogging partner. Here you'll find lists of keywords your website ranks for while the other website doesn't.
You might even find out that you don't really have much in common semantically with the website you want to work with. But that doesn't mean you shouldn't ever guest post for them, but if you have a choice, always go for the websites that have the greatest overlap in the keyword pool with your own site.
Backlink profile
To see how much link juice a backlink from a guest post can bring to your website, you'll have to analyze the websites' backlink profile. Many tools offer measurable metrics that show how strong the website's backlink profile is. We at SE Ranking call this Domain Trust and you can check the metric in the Backlink Checker tool I mentioned earlier.
You can also dig deeper and study the website's backlink profile in more detail. With the Backlink Checker tool, you can see how many referring domains and backlinks a domain has, how fast it is acquiring new backlinks, what is the dofollow/nofollow ratio, etc.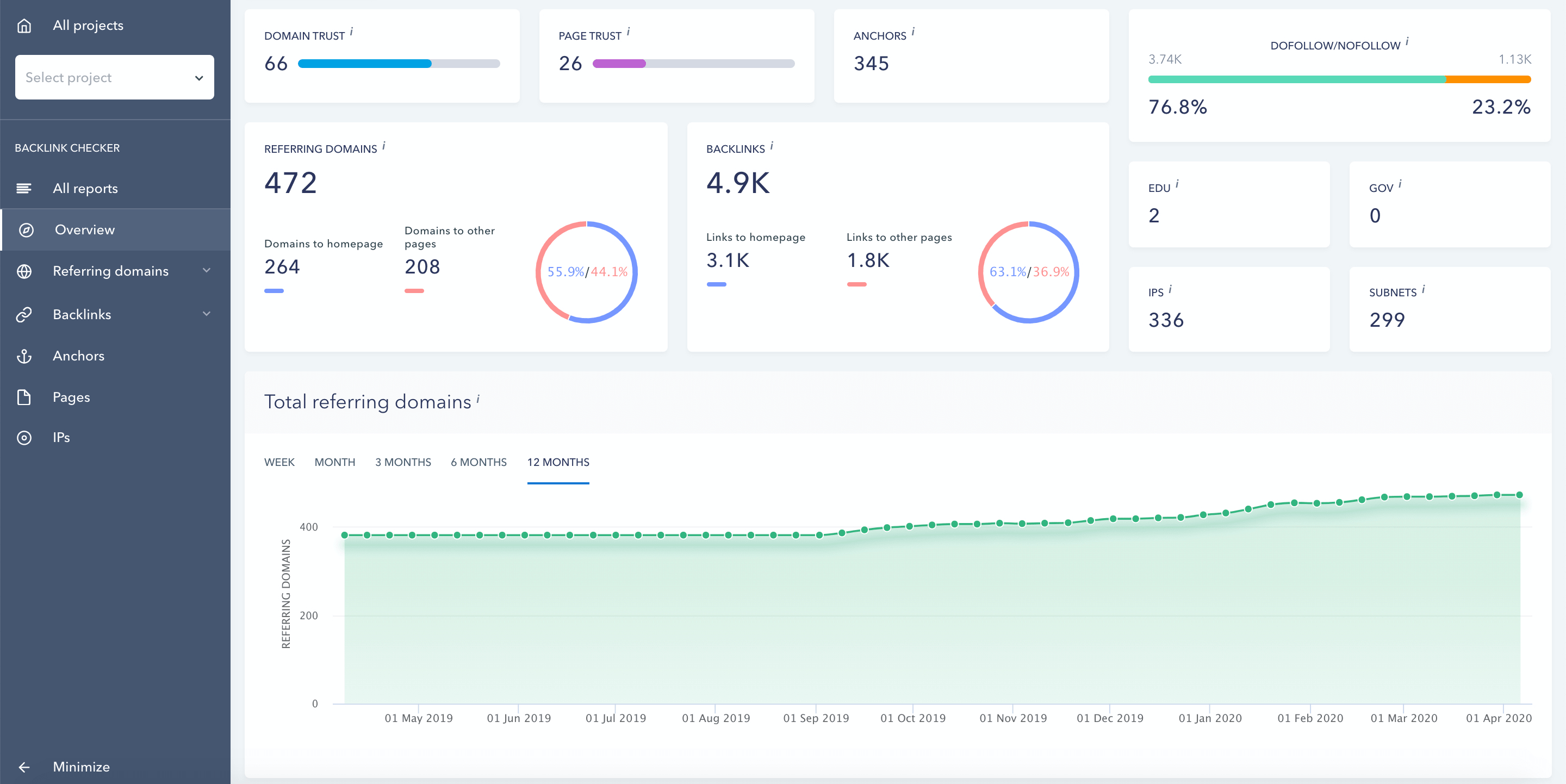 Oleksandra Khilova, a Freelance SEO Specialist advises to pay additional attention to the anchor text, the website's top anchors of the backlinks pointing to the website as well as to the anchor texts the website uses for internal linking. She also always checks websites' Trust Flow and Citation Flow scores by Majestic, which show whether a website and its separate pages have trusted backlinks pointing to them.
A good idea is to check whether the newly published posts of a website get organic backlinks—that would mean that the website has an active readership that values the information the blog offers and is happy to share it with others.
If you believe that a couple of high-quality backlinks to one of your website pages can thread the needle and make it rank way higher, set your expectations bar high and look for a website with a high Domain Trust score that keeps gaining plenty of high-quality backlinks.
Traffic and readership
Finally, check out how much traffic a website gets and how active its readers are. To get traffic data, you can once again use SE Ranking's Competitive Research tool. Here, right under the Overview tab, you can find how much traffic a website receives on a monthly basis both from organic and paid search (if they run ads). You can also see the dynamics of traffic growth on a handy chart.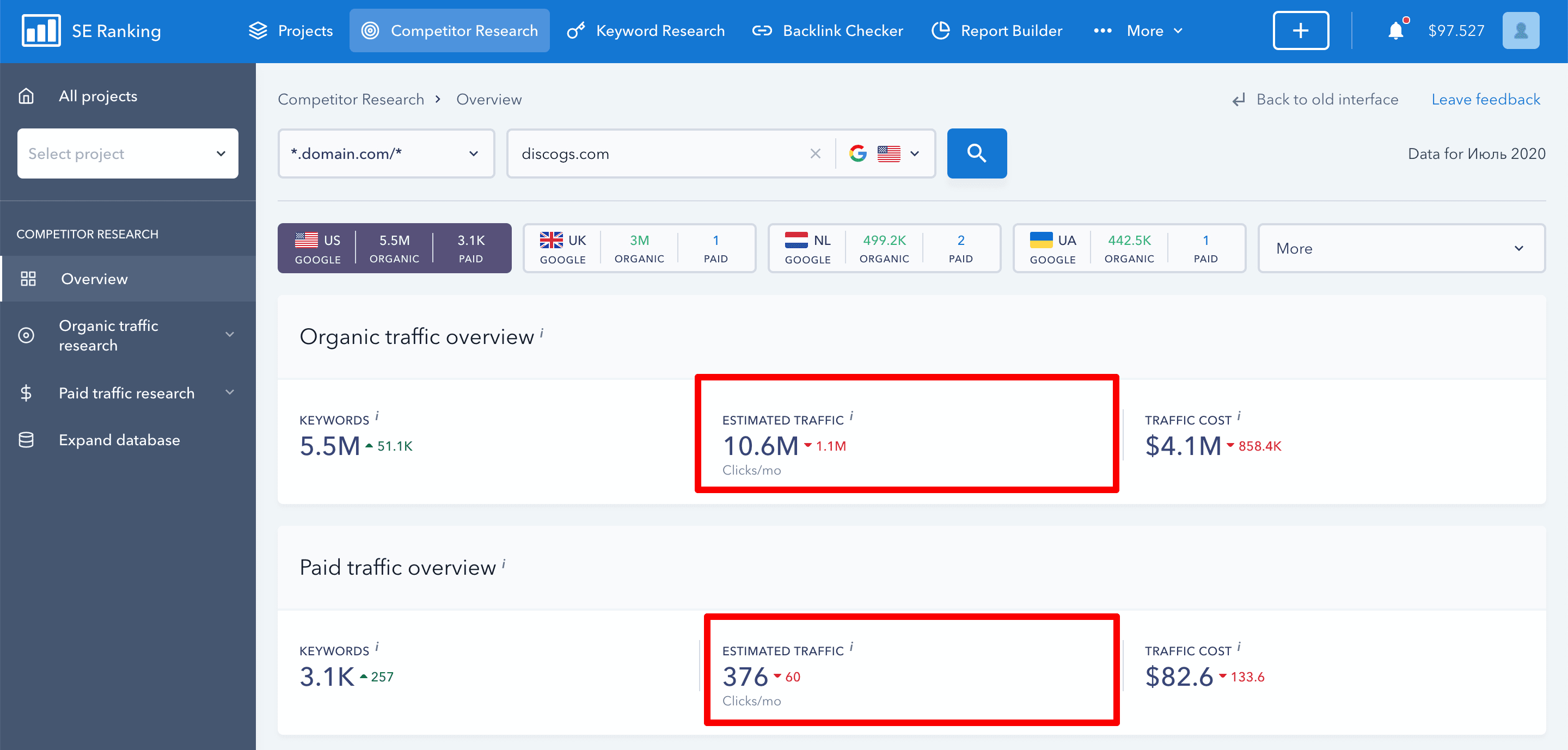 Moreover, you can check out which keywords drive traffic to the website—preferably those should be keywords related to your niche as in this case website readers will be naturally more interested in the topic of your future guest posts. Under the Organic Traffic Research section of the Competitive Research module, you can find a full list of keywords the website ranks for and you can sort them by the amount of traffic they bring to see the most profitable keywords at the top of the list.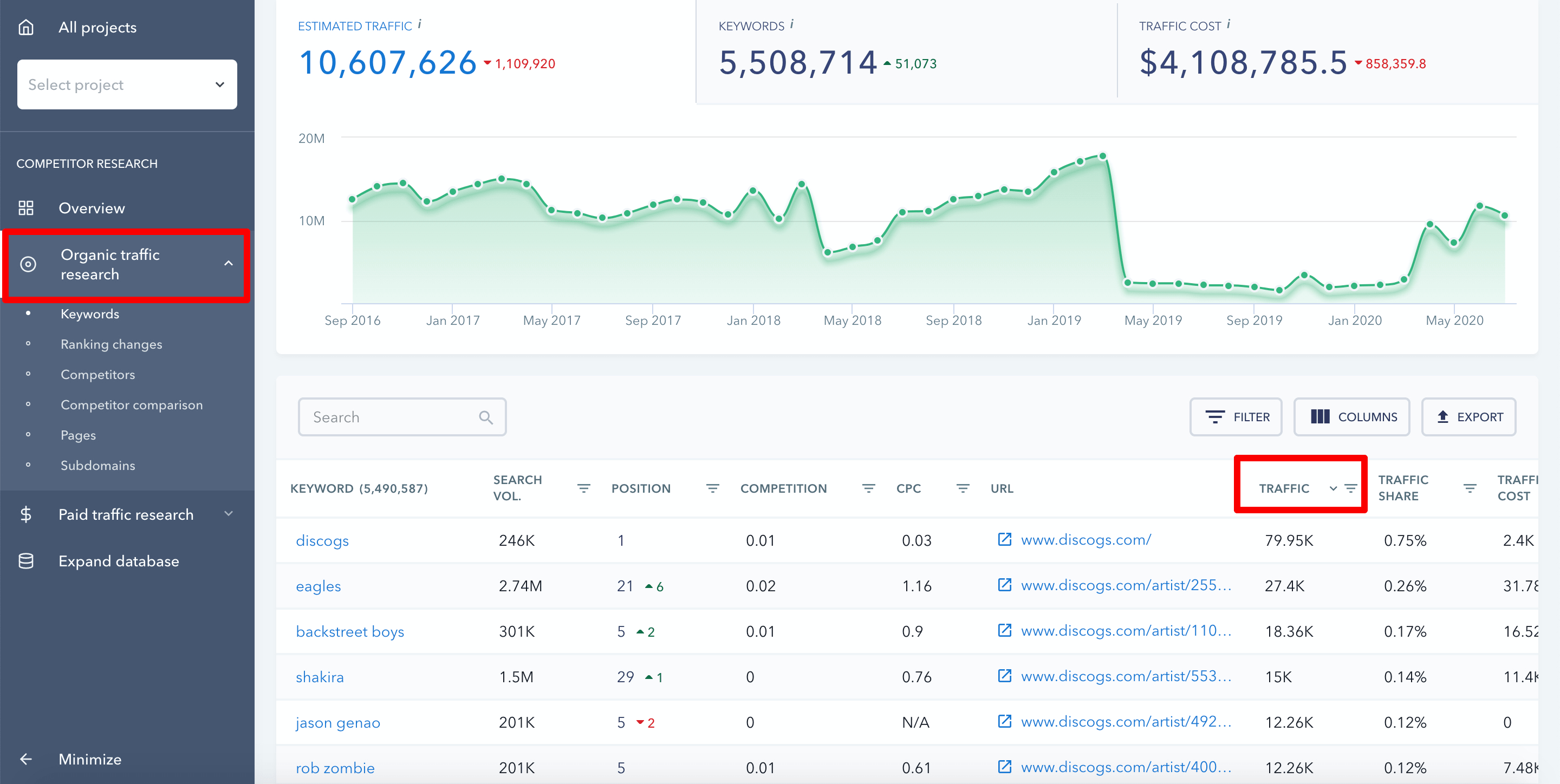 In the Paid Traffic Research section, you can check the same data for the keywords the website targets in their Google Ads.
If SimilarWeb is a part of your pool of SEO tools, a good idea would be to check which traffic channels the website relies on the most. If the majority of traffic is direct traffic or comes from ads, your guest post probably won't see many visitors. If the website has an active social following, try arranging for an social media post in addition to a guest blog article.
Besides analyzing website traffic data, you also need to assess how active its readers are. The thing is, a ton of traffic doesn't necessarily equal to a loyal readership. To see how active a blog's audience is, check out at least a couple of blog posts and pay attention to post views, comments, and social shares. And if a blog doesn't have any of those—no post views data, no social sharing buttons, and no comments enabled—then you don't really want to guest post for the website.
Step 4: Coming up with content ideas
Once you have a good number of selected websites that accept any of your guest post ideas, you'll have to come up with content ideas you'll include in your pitch. Maria Kazakova, SE Ranking's outreach manager recommends including up to 3 topics in your email offer to give your potential partners a chance to choose something that fits their blog best.
So, what kind of topics can help you grab the attention of potential partners? Here's what Jason Barnard recommends:
Search their site for articles that talk about the topic you intend to write about. Find a popular article on their site that covers your topic and pitch an article that expands on one aspect of that article. That is a great way to attract the attention of the publisher since it is immediately obvious both how the article fits into their editorial strategy and also that your article will gain traction with their audience.
Next, make sure you are truly an expert in the topic you choose. Don't try to write about something that you don't know well. That is likely to draw criticism and have the opposite effect to the one you are looking for—bringing value to your audience and credibility to yourself. 
If you realize that you lack the necessary expertise to expand on the topics that are already covered in your potential partners' blog, or maybe there's nothing more to say on the matter, you can come up with some ideas of your own. Think of the topics that are currently trending in your niche and see if you can cover the same topic from a different perspective. If you are not sure which topics are currently popular among the public, BuzzSumo can give you some hints.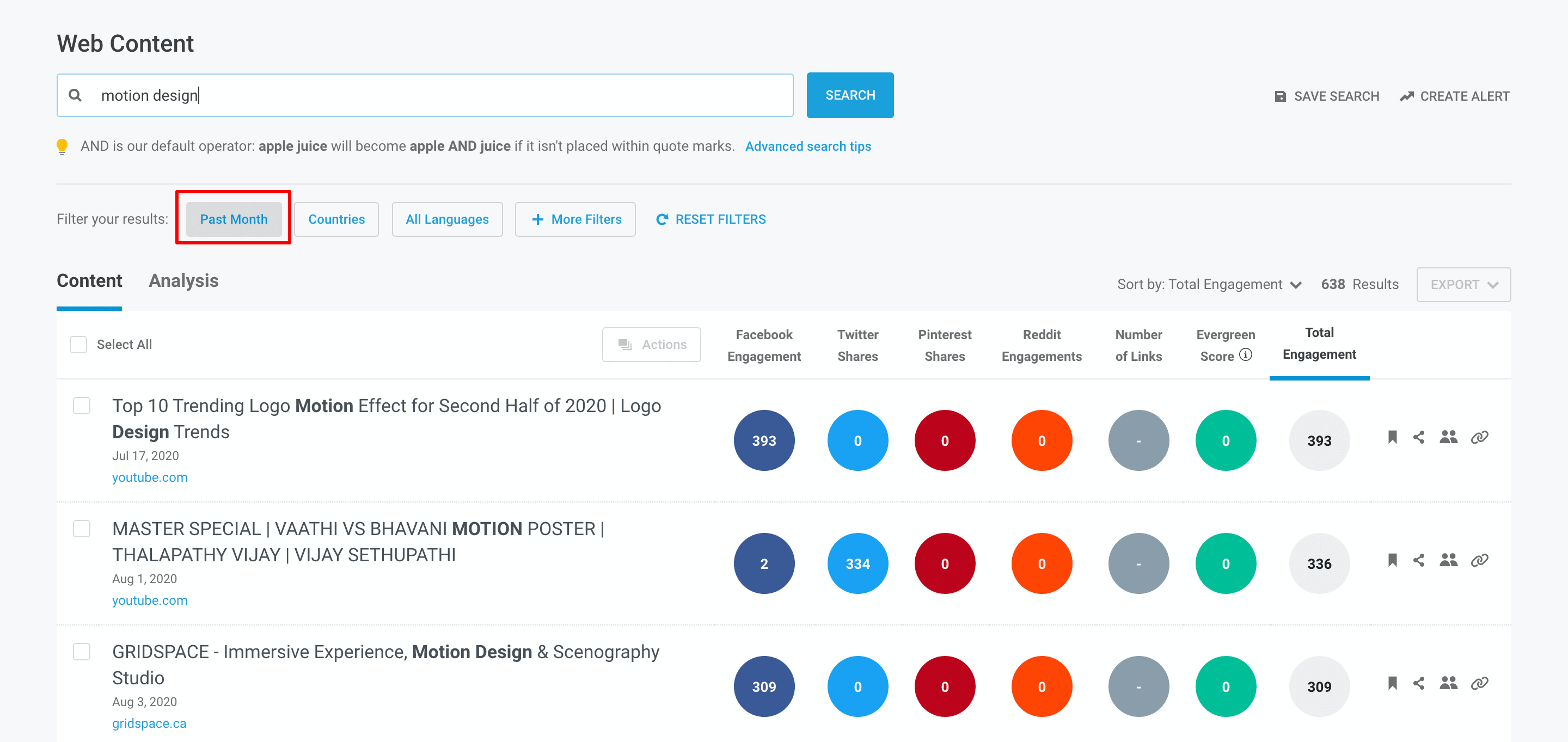 Or you can use Google Trends to find some popular topics for free.
Another option would be to elaborate on the topics you've covered earlier in your own blog. As long as you take a look at the problem from a different angle, it's a great approach that can save you some time as you won't have to do extensive research.
Finally, if you want a backlink coming from a guest post to help a particular page of your website grow, you'll have to write on a topic related to it. Besides, make sure your guest blogging partners won't mind linking out to your page. Here's what Jen Penaluna advises on the matter:
Before you pitch a piece of content to a site, make sure you've created a genuinely linkable asset from your own site, to increase the chances of another site wanting to link back to you. 
Step 5: Crafting your pitch email
Popular websites get dozens of guest post offers daily, so you need to be really creative in your email pitch to get noticed. Adam Connell shared with us his formula of successful pitching:
Take any outreach templates you found on the web and delete them. Most bloggers spot these immediately, and they do more harm than good.
Write your own templates from scratch. Keep things simple, personalize your emails where possible, and avoid sending them from random Gmail accounts. Use email signatures to prove that you're legit.
You can take things a step further and get to know bloggers & editors before you pitch them. A bit of pre-outreach can go a long way. If you want people to engage with you, you've got to engage with them first.
So what should you actually write in your pitch? Start by introducing yourself and mentioning some articles on their blog that you appreciate and would like to expand on. Or say that you have a couple of topics of your own that you believe will be interesting to their target audience. Offer up to three topics, and then share links to your three latest guest posts, so that your new partners can see that you're a real pro they can rely on. Preferably, the three publications should come from some well-known websites.
While it's preferable to make a personalized offer to every website if you see that a couple of sites on your list may be interested in the same topics, you can use the same topic ideas multiple times.
It is actually a common practice in the guest blogging world, so even if it so happens that a couple of websites find the same topic interesting, you can always apologize and tell one of them that it is already gone. They may become even more eager to work with you after since other industry players are happy to cooperate with you.
Finding the right person to contact
In addition to writing an email body, there's another important email field you'll have to take care of. That is the recipient's email. You may craft a wonderful pitch and still get no answer if your email hits the inbox of the wrong person. To define who within the company is in charge of the website blog, open the company's LinkedIn profile, and go through the list of employees. Content Leads, Content Managers, or, in the case of a smaller company, Marketing Managers will be the right people to get in touch with.
Alternatively, you can see who is regularly contributing to the company blog and then use special email finding tools to get their contact information.
Step 6: Writing your guest article
Getting up to this point takes a lot of hard work, so when the time comes to actually write the blog post you've been lobbying for weeks, many feel tempted to compromise on quality. This is something you can't afford if you want to get the most out of every blog post.
Before you start crafting a content piece, carefully study the guidelines if the websites you're writing for provide any. Because if you fail to adhere to the guidelines, they may not accept your blog post. If no guidelines were offered, once again go through a couple of posts from their blog paying attention to details: how long a post is on average, do they use American or British spelling, is the style conversational or more reserved, do they use many images in each post or just a few.
Jason Barbard recommends writing a blog post with your target audience in mind to justify the time and effort spent writing the article and having it published. He advises to pay attention to three things:
1. Your name and your brand name are clearly and unambiguously credited as the author of the piece; 

2. The publication is relevant, authoritative, and popular with your target audience;

3. Your article is truly valuable and helpful to your target audience.
Make sure to link out to other articles from the blog you're writing for in your post—they will definitely appreciate it. Surely, link back to your own website when appropriate. Another good practice is to link out to other guest posts you've written earlier. If these other posts link back to your website, linking out to them will indirectly benefit your website's backlink profile. Some seasoned bloggers also link out to their partners' websites in their guest posts. That way, they can expect to get a similar favor in return in the future.
When your article is ready, make sure to proofread it. You don't want some silly typos to spoil the impression you've been building up. And once you feel like you've done your best, send your written copy and wait patiently for it to be published.
Step 7: After your guest post is published
Your guest posting journey doesn't end when your article gets a dedicated address on the world wide web. Share the published post on your social media to put it in front of your own audience. People running the blog will surely appreciate it and you'll have better chances to build a fruitful long-term partnership. Then, make sure to come by a few days later and answer the comments—remember that people who are commenting may be your potential customers. Users who will read the post later will see how engaged and helpful you are which really helps build up a positive image of your brand.
If a blog post contains an important backlink to your websites, make sure to keep an eye on it. SE Ranking has a special Backlink Monitoring tool for this purpose, which is available in the free trial. It helps you see if the backlink is still there and the indexing status of your guest blog page.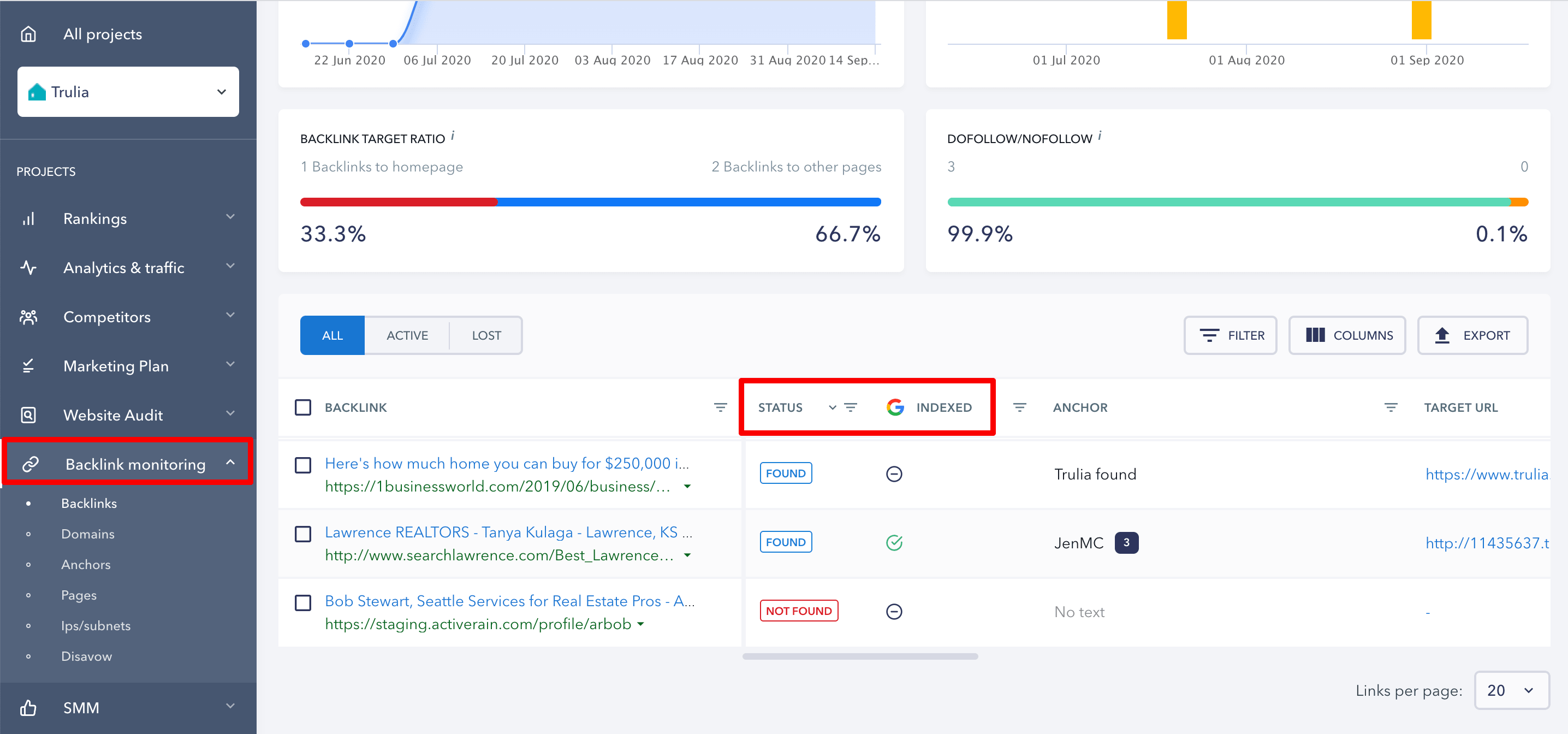 To reap even more benefits from a guest post backlink, consider building so-called second-tier links to your guest post page. You can do so, for example, by linking back to this guest post from other guest posts you write.
See what you've managed to achieve
Spend some time analyzing the results of your guest blogging venture.
If you added a backlink to your guest post, check if it helped boost the rankings of the page you linked back to. See if the keyword you used as an anchor text now ranks higher.
Go to the Google Analytics' Referrals report and check how much traffic you managed to get from the link.
While it's hard to measure brand awareness, the number of comments beneath your blog post and the number of social media shares can give you a rough understanding of the achieved results.
If it so happened that you didn't reap many benefits from your guest post this time, don't feel discouraged and carry on. But first analyze why you didn't get the expected results and do things better next time.
Finally, remember that guest blogging is a two-lane highway. So, if someone is knocking at your door with an offer to write for you, at least consider it. Surely, you don't have to accept some poorly written copies on irrelevant topics, but if someone offers you to publish a post that is on par with your high standards, let them contribute to your blog. After all, you do need to publish content regularly, and it may be hard when you spend a lot of time writing articles for others.
Closing thoughts
Quality guest blogging is a rather time-consuming process: every guest post we manage to publish here at SE Ranking takes long hours of hard work of several members of our team. So, before, you jump on the bandwagon, ask yourself if you have plenty of resources on hand.  If you do have the time and the zest, guest blogging is surely worth it. After all, it helps you grow brand awareness and credibility, strengthen your backlink profile, and drive traffic to your website.
Follow the time-tested best practices we've set out in this post to steer clear from all the pitfalls you can encounter and build an effective guest posting strategy. And if you have some guest posting techniques under your sleeve that we haven't mentioned, do share them in the comments section below.
Bonus: Guest blogging game infographic
Thank you for staying with me up to this point. With so many things covered in this guide, I decided to additionally prepare an infographic on guest blogging challenges you'll face. It will help you recap all the tips shared in the article in a fun way. Your comments and social shares are welcome and appreciated 🙂