GetResponse
GetResponse vs ActiveCampaign: Which Should You Pick?
Picking the right email marketing software for your business is hard.
And if you're reading this, it's probably because you're trying to make a tough decision right now about which tool is best between GetResponse and ActiveCampaign.
Of course, we're a little biased since we built the former. 
We think GetResponse is #1 because we built it with great email marketing capabilities, a drag-and-drop builder, a conversion funnel, and other inbuilt features. 
But we want you to be the judge here. So in this post, we'll be comparing ActiveCampaign and GetReponse's features so you can choose which is best for your business. Let's dive in.
Author's note:
This comparison is accurate on November 16th, 2020. We do our best to keep it as accurate as possible, and we check it on a regular basis, however, if you want to acquaint yourself with the offer of our competitors, you should check it at their official website or contact their representatives.
Table Of Contents
1. Which one has better email marketing features?
GetResponse:
GetResponse email marketing service is the bread and butter of our platform. 
With our email marketing platform, you can use templates or create emails from scratch and build an entire email marketing campaign from the ground up. This makes it perfect for sending out:
Newsletters 
Autoresponders 
Email sequences 
Segmented campaigns
Automated RSS feeds (blog posts)
If you have an existing contact list, you can easily import them in bulk using a CSV file or integrating with external services. 
So, what makes it good for small businesses?
Not only is it super easy to use (the drag-and-drop builder lets you quickly build a professional-looking email with your own copy and images in minutes), but it also nurtures leads and customers for you. 
For instance, when an email lands in your contact's inbox, GetResponse tracks how many times it gets opened and if the lead clicks any links. From there, you can see which contacts on your list are more engaged and likely to buy your products and run A/B testing to make future campaigns more successful. 
It won't take up much of your time, either. The "quick actions" menu makes it quick and easy to build professional email marketing campaigns, or if you need more input, the main navigation menu is equipped with all the tools you need to build a campaign that'll grow your list:
The "quick actions" and full navigation menu on the GetResponse dashboard.
The best part is that, unlike a lot of the other tools on the market, GetResponse comes fully equipped with other features like landing pages, conversion funnels, and webinars, which give your email campaigns a better shot at being successful. 
ActiveCampaign:
ActiveCampaign's email marketing suite also packs a punch. 
You can use the software to build various types of email marketing campaigns, like triggered and targeted emails as well as autoresponders. It also has prebuilt email funnels, which are helpful if you need to set up a campaign quickly, or you are a newbie when it comes to email marketing.
Like GetResponse, ActiveCampaign also has a drag-and-drop tool, which makes it easier to build professional-looking email campaigns without any coding experience. There is also an extensive library of mobile-friendly templates you can use to start sending out successful email campaigns. 
Verdict:
The biggest difference between the two platforms is the number of features each of them offers. GetResponse has a full-suite platform, but ActiveCampaign doesn't have features like conversion funnels, webinars, and social media tools that make it easier to launch successful email marketing campaigns.
2. If you need to run surveys, do these tools allow it?
GetResponse:
GetResponse has a survey builder you can use to create custom surveys and add them straight into your email campaigns. With a drag-and-drop builder, you can build custom surveys using:
multiple choice answers
text answers
subscription forms
Once you've created the survey, all you need to do is add the link to it when you're creating your email — and you're done. You can also use these surveys on GetResponse's webinars to collect data on attendees.
The drag-and-drop editor also makes it easy to customize your surveys by adding: 
your logo/branding.
multiple-choice questions.
subscription forms.
up to 50 pages (useful for in-depth feedback).
adjustments to a survey that is already published.
And if you want to use an outside survey platform to poll your audience, GetResponse syncs with most of them either through their prebuilt integrations or Zapier.
ActiveCampaign:
At the moment, ActiveCampaign doesn't have its own survey tool. But it integrates with third-party tools like SurveyMonkey, Survicate, and Typeform.
So you can link surveys into email and automation campaigns, and responses will be sent straight to your ActiveCampaign account.
Verdict:
If you don't want to use an external platform to run simple surveys then GetResponse is the right choice.
But if you want to use an outside platform and aren't bothered about the integration, then both GetResponse and ActiveCampaign will work just as well.
3. Deliverability is a big issue, so which tool does it better?
GetResponse:
An email marketing tool is only useful if those emails actually land in your contacts' inboxes. 
At GetResponse, one of our bragging points is that the deliverability rate for our customers collectively sits at 99%!
So why and how is our deliverability rate number so high? 
A lot of our success comes down to factors like message content and the trust we've built with Internet Service Providers (ISPs) around the world.
They trust us because we not only have a zero-tolerance policy towards SPAM, but we also make it easy to keep lists clean with our management tools and track undeliverable email addresses to make sure they're filtered out.
We've also built an in-house in-house anti-abuse system called Hydra, that helps identify and assess potential threats posed to our customers' reputation and deliverability.
Another thing that sets us apart is that we have two full-time Teams devoted to Email Deliverability & Compliance – and we've been in this business for over 20 years.
In other words, if you're sending your emails with us, you're in good hands.
ActiveCampaign:
ActiveCampaign also has a high deliverability rate for their emails. 
A study by Email Tool Tester tracked the tool's inbox rate (slightly different from deliverability but related) and found that in September 2020 it sat at 73%. In the same month, GetResponse scored 86%.
But do take these results with a grain of salt. They often fluctuate and even top performers like GetResponse and ActiveCampaign experience ups and downs. Plus, deliverability is tightly related to the content of your communication – not just the platform you're using to send your emails.
Verdict:
Both of these tools are likely to get your emails to their destination.
4. Do they both offer landing pages?
GetResponse:
Yes — GetResponse has a tool where you can build custom pages or use over 180 different templates to create the perfect landing page.
Like the email drag-and-drop tool, GetResponse landing page builder is all about ease of use. You can create landing pages that are mobile-responsive and professional without any coding experience. 
And if you want to add code? Using the editor, you can add custom code using HTML, CSS, or Javascript. If you want to add or embed any external elements, all you need to do is a quick cut and paste. 
And to make the page pop, the tool has a built-in image editor that lets you add your own images. You can also import photos straight from Shutterstock or even add engaging GIFs from Giphy to your landing page.
Once you're happy with how the landing page looks, you can launch it immediately and start collecting leads that'll be filtered straight into your email lists.
With the landing page creator, you can:
structure your landing pages using sections
add content blocks for images, video, text, and buttons
add static and pop-up forms
add webinar registration forms
add a sense of urgency with countdown timers
collect payments thanks to PayPal integration
add social sharing icons
add custom-code elements using HTML, CSS, or Javascript
preview your landing page to see what it looks like on a desktop or a mobile device
ActiveCampaign:
ActiveCampaign also recently launched an inbuilt landing page builder. 
Like GetResponse, it has a drag-and-drop designer tool that was created with ease of use in mind. You can build professional looking landing pages with a couple of clicks:
There is also a library of templates you can choose from, and you can switch out parts of the template to add in your own images, videos, and calls to action.
Verdict:
Both tools offer great, value-for-money landing page builders.
5. What about conversion funnels? 
GetResponse:
Conversion funnels can be daunting to build, but GetResponse has simplified this once complicated process. 
The Conversion Funnel feature in GetResponse makes it super easy for you to build successful conversion funnels, even if you've never done it before. The funnels are pre-designed scenarios of how a typical conversion might look. 
For example, if you're trying to sell a course, the conversion path may look like this:
With the Conversion Funnel feature, every step of this conversion is automatically organized into steps you can visualize: 
Not only can you see how successful each step of your conversion path is, but you can also track how profitable your efforts are. You can see how many leads enter your funnel, and ultimately, how many turned into paying customers.
Best of all? All the tools needed to build your conversion funnel are already part of GetResponse.
ActiveCampaign:
ActiveCampaign doesn't offer conversion funnels at this time.
Verdict:
If you're looking for a solution that combines multiple channels (email, landing pages, sales pages, Facebook ads, Facebook Pixel, etc.) in one simple dashboard, then GetResponse is the right pick.
6. You might need webinars, which one offers this feature?
GetResponse:
You can launch an interactive webinar right from the GetResponse dashboard. 
The webinar software's functionality lets you create webinars that have a custom webinar URL, sign-up forms, and inbuilt polls and surveys:
Because the webinars link back to GetResponse, every lead you collect will be automatically added to your email lists and nurtured. If you launch a webinar using GetResponse, you'll have access to key features like: 
Design tools and interactive whiteboard
Screen sharing/interactive chat room
Recording (so you can remarket the webinar once it's over)
Q&A session
Moderated chat
Multiple hosts
However, what makes GetResponse's webinar tool stand out is that it has a prebuilt promotion machine you can use to sell stuff from inside your webinars. The machine has features like: 
Predesigned registration pages
Advanced subscription settings
Payment gateways
Using these features, you can sell products, services, and courses directly from your webinars. 
ActiveCampaign:
ActiveCampaign doesn't have its own webinar tool. But you can integrate with tools like GoToWebinar, StealthSeminat, and WebinarNinja to host webinars straight from the software.
Verdict:
GetResponse comes with a built-in webinar software that you don't need to pay extra for. And if you'd like to use an external tool to run your webinar campaigns with, both platforms will integrate with them seamlessly.
7. Any provisions for Facebook or Google ads?
GetResponse:
GetResponse has a suite of tools that were created specifically to allow small businesses and freelancers to create successful Facebook and Google ads campaigns without taking up loads of time. 
Let's take a look at the Facebook ad tool first, which allows you to easily create and publish ads from the tool's dashboard straight to social media. 
First, you can build a list for the ad to target by picking from categories like website visitors, similar audiences, or existing contacts.
Then, you can use the Social Ads Creator app to create professional, striking Facebook ads that look like they've come straight from a designer. Like other GetResponse features, the ad creator is a simple drag-and-drop tool that anybody can master:
Once you're happy with how the ad looks, all that's left to do is submit it — and you are done. 
We also recently launched a tool that lets you build Google Ads from the dashboard. All you need to do is add your Google Ads account, add content to your ad, create a target audience, and set your budget: 
Easy!
ActiveCampaign:
You can't launch Facebook or Google Ads from ActiveCampaign, but you can still sync your Facebook Ads account and add/remove contacts from Facebook Custom Audiences.
Verdict:
If you're looking for simplicity in your paid ads campaigns, GetResponse has got you covered.
8. When it comes to segmentation, which tool does it better?
GetResponse:
We think our suite of lead generation tools makes it easy to nurture contacts and convert them into paying customers. 
How? By using segmentation to create highly targeted, personalized emails that make contacts feel like you're talking to them 1-to-1. 
This all starts with our forms, which we created to collect the most useful data from contacts when they sign up through a newsletter or landing page. 
Once they land on your contact list, you can then assign tags to them based on their behavior, and send out targeted emails to specific groups. 
What sets GetResponse apart is that it automatically picks the most engaged contacts out of your list so you can target them. 
We call this an Engagement Score. Using real-time data, GetResponse gives every contact on your list a score based on a 5-step scale:
Not engaged (when somebody is not interested in the content you send them… at all)
At-risk
Neutral
Engaged
Highly engaged (when somebody loves the content you send and is actively opening emails and clicking the links)
The Engagement Score will then be shown on your contact list, so you can target your most engaged contacts and increase your chances of turning them into paying customers.
An example of contacts with varying engagement scores
ActiveCampaign:
ActiveCampaign has a comprehensive segmentation tool that allows you to capture and use contact data like names, actions, and geography to segment contacts. 
Not only can you track this data, but you can also use it to segment your contacts. In ActiveCampaign, you can use segmentation to target your contacts based on their behavior, using data like if a contact has opened an email or clicked a link:
Verdict:
The biggest difference between the two platforms is how intuitive GetResponse's segmentation is.
While both platforms let you segment your email list into categories like products purchased, website visits, or industry, GetResponse also breaks down the lists into how engaged contacts are (automatically).
And that can be powerful when you're targeting contacts and trying to close deals.
9. Do they both offer email templates?
GetResponse:
We offer 100+ responsive email templates built specifically for the GetResponse New Email Creator & to be opened on any device.
Each template is high quality and professionally designed so you can send out campaigns to welcome, educate, promote, and sell without needing any coding skills. To make things even easier, the library is split into sections, from online marketing to ecommerce, travel, notifications, and many others.
Like a lot of other tools in our toolkit, our email templates are easy to customize using a drag-and-drop builder.
ActiveCampaign:
ActiveCampaign also offers a bunch of templates you can use to send to your subscribers.
Like GetResponse, all of ActiveCampaign's templates are mobile-friendly and easy to customize using the drag-and-drop builder. However, the library is slightly smaller and the aesthetics seem a bit outdated.
10. Marketing automation? Anyone?
GetResponse:
One of the best parts about a marketing suite is that automation features can put everyday tasks on autopilot. 
GetResponse Marketing Automation builder is one of the most comprehensive tools available for marketers who want to create simple and advanced automation. 
The drag-and-drop automation builder lets you create visual workflows to see the automation and customize each step as you go. You can create automation events based on your contacts' behavior and then trigger actions to take place based on selected conditions. 
For example, if you want a certain email to only be sent if a contact clicks a link within an email, all you have to do is create that sequence and condition using the visual automation builder: 
With the workflow, you can also add a "trigger" into the workflow for events like: 
new subscribers
email opens
clicks on links
abandoned carts
product purchases
product upgrades
URLs visited (i.e. pricing pages)
ActiveCampaign:
ActiveCampaign also has a visual automation builder that allows you to see & construct the stages in your automation sequence. 
All you have to do is add in your chosen conditions and emails, and ActiveCampaign will send out the campaign you design: 
It also comes with 500+ ready-made automation templates (or recipes as ActiveCampaign calls it), which will help you get up to speed with their tool fast.
Verdict:
Both platforms offer robust Marketing Automation tools that you can use to run both simple & complex communication sequences.
11. Do they both offer an autoresponder feature?
GetResponse:
Like a lot of other features that come with GetResponse, autoresponders come packaged and ready to use out of the box. 
Using the autoresponder, you can nurture and maintain relationships with contacts without spending all your time stuck in your inbox.
Here's a quick breakdown of everything you can do with GetResponse's Autoresponder: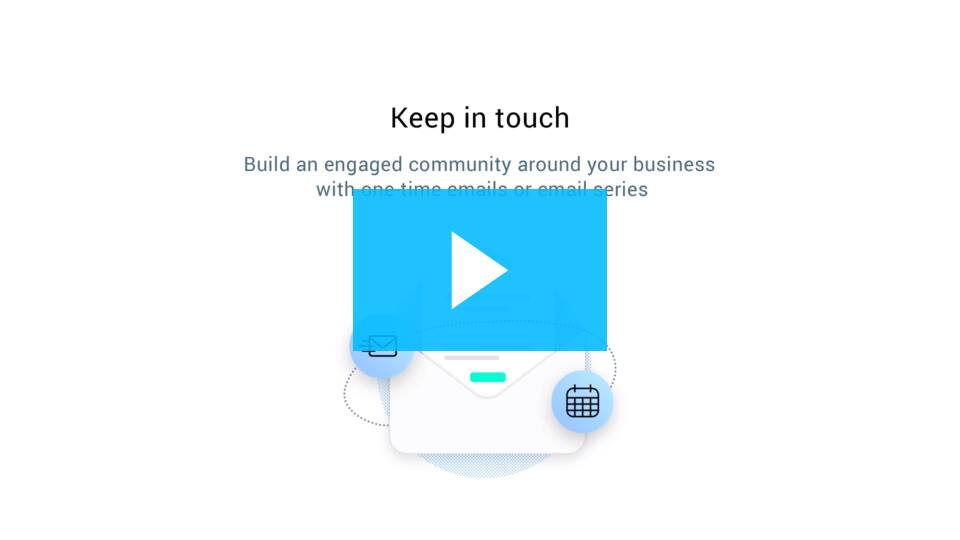 How do I create an autoresponder? – GetResponse Help
You can also view the autoresponders in a simple and intuitive calendar view. So if you're running a specific campaign or want autoresponders to be sent out on a specific day, all you have to do is add it to the calendar: 
ActiveCampaign:
ActiveCampaign also has an autoresponder feature that you can activate when you're creating a campaign or building a marketing sequence using the automation builder. 
You can set autoresponders to be sent out to new subscribers or through drip campaigns depending on where they're at in your marketing funnel. 
Using the automation builder, you can also customize the triggers when the autoresponder will be sent to a contact, like delaying it for an hour or a day after they sign up to your list:
Another cool feature? ActiveCampaign also has a built-in SMS autoresponder, so you can nurture contacts outside of their inbox.
Verdict:
Both platforms let you create email drip campaigns using Autoresponders.
ActiveCampaign's feature also lets you add SMS to the equation, which might be useful if you're running an ecommerce business.
12. What about pricing?
GetResponse:
GetResponse has four different pricing plans: Basic, Plus, Professional, and a custom one – Max.
Pricing ultimately depends on your list size & the number of features you want to have access to.
For 1,000 contacts, the Basic plan will cost you $15 per month. That will get you access to GetResponse's email marketing suite, autoresponders, landing pages, lead funnels, Facebook Ads, and other essential features.
The next tiered plan, Plus, costs $49/month and gives you access to additional solutions like webinars, sales funnels, and the automation builder. 
GetResponse has a 30-day free trial so you can test out the plans and decide which one is the right fit. And the best part? If you pay for a yearly plan, you'll get an 18% discount, and paying for a two-year plan will get you a 30% discount!
ActiveCampaign:
ActiveCampaign offers a free 14-day trial and four paid plans: Lite, Plus, Professional, and Enterprise.
For 1,000 contacts, the Lite plan costs $29 per month. It gives you access to their marketing automation, email marketing, web forms, and segmentation.
But if you want to use more advanced tools like landing pages, contact scoring, or Facebook Custom Audiences, you'll need to upgrade to the $70 per month Plus plan.
And if you want to A/B test your automations and use predictive sending, then you'll need to go for their Professional plan that costs $159/mo for 1,000 contacts.
Verdict:
Both GetResponse and ActiveCampaign offer some unique features and integrations.
Out of the two, GetResponse is more affordable for the same list size. It also comes with additional builtin functionalities that essentially eliminate the need to sign up for external tools to run your webinars or create conversion funnels.
GetResponse vs ActiveCampaign full feature comparison
| Feature | GetResponse | ActiveCampaign |
| --- | --- | --- |
| Email Marketing | Yes | Yes |
| Email Creator | Yes | Yes |
| Email Templates | Yes | Yes |
| Segmentation | Yes | Yes |
| Marketing Automation | Yes | Yes |
| Signup Forms | Yes | Yes |
| Surveys | Yes | No |
| Webinars | Yes | No |
| Conversion Funnels | Yes | No |
| Facebook Ads | Yes | No (only through integration) |
| Google Ads | Yes | No |
| Social Ads Creator | Yes | No |
| Push notifications | Yes | No |
| 24/7 Support Access | Yes | No |
| Phone Support | No | Yes |
| Integrations | Yes | Yes |
So, ActiveCampaign vs GetResponse… which one is better?
The answer to this question comes down to what you really need the tool to do. 
If you want a tool that goes beyond email marketing and allows you to build professional Facebook ads, create custom conversion funnels, and nurture customers automatically — GetResponse is your tool. 
However, the easiest way to make a choice is to compare features and pricing. Picking a marketing automation tool is a big step — so make sure you do your homework and that the tool you pick ticks all the boxes on your list before you invest!
And if you've already made your mind – and want to take GetResponse for a spin, you can sign up for 30 days for free using the button below 🙂