BiQ
Free vs. Paid Content – What Do You Need to Know?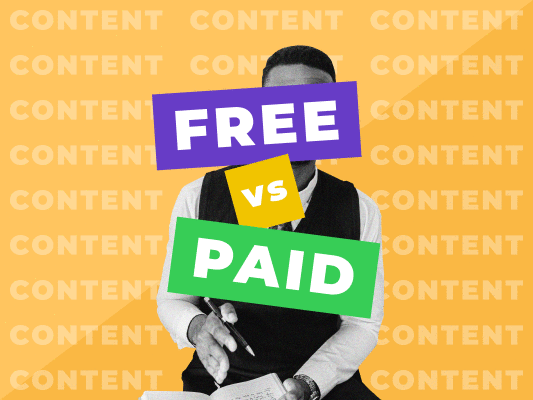 1. Builds brand value
Human beings are bizarre. If you give someone something at no cost, they will be delighted as they can't believe how lucky they were! However, a few hours later, that excitement is usually gone. The excitement of getting something for free fades, and now they are looking for their next need.
Nonetheless, if you work or save for something and you finally manage to buy it, you will undoubtedly value it more. A good example is Ramit Sethi's case. Seth is an online entrepreneur who launched a course known as 'Zero to Launch,' which was going for $2000 a few years back.
He received tons of requests from family and friends for free access, and being a caring friend, he shared it with them. However, the surprising thing is that none of them finished the course! Why?
Human beings value what they work or pay for.  Somebody that is parting with $20 every month to access your content will benefit from it more than somebody who is getting it at no cost.
That's is what is referred to as sunk cost fallacy.  Someone who pays for something is more likely to use it to get their cash's worth than someone who got it for free,
2. It tells you the "how."
Unlike free content that gives the 'why' and 'what' for free, paid content asks customers to pay for the 'how come' and 'how' part. Paid content deals with how to achieve something, mainly if it is in-depth and detailed.  This way, your prospects, and customers will know that you have a good idea of how to achieve something, and you can also do it for them.
And then, just like they people pay musicians to perform for them, your customers will pay you to teach how it works. Some marketers recommend that you scatter some 'how' information sometimes in your free blogs to help build trust.
3. Contents are structured and comprehensive.
If your piece is "5 tips to help you lose more than 10kgs within two weeks," and it is 400 words, honestly, that will not solve the problem completely. 400 words are not enough for you to craft an intricate piece anyone can follow to lose 10kgs in less than 14 days.
The level of depth, structure, and comprehensiveness determines how valuable your content is and a good indicator of whether it should be paid or free.
You can use tools like BiQ's content intelligence tool to analyze your site and its contents. The tool has a feature known as WordVector that shows your content's performance against the Top SERP content in relation to your target keyword.
What's more, it can tell you exactly which paragraph has lesser relevance to the overall content. Then check the "Edit Needed' section to check which paragraph needs revision.
4. Contents are personalized and convenient.
We all love convenience, and we will pay a premium rate to get it! That's why quick service, instant access, and fast food are important sales and marketing terms.  Research also shows that 44% of consumers pay for great content because it is convenient. It collects all the information they need and combines them into one document.
Technically, when it comes to free content is that you pay for it with some effort. You have to look for it from different sources, filter it and create your own understanding from it. For instance, if you want to learn to Copywrite, you have to find YouTube videos of people explaining what is copywriting or blogs to find copywriting tips.
But the search phrase returns hundreds of results and prompts several questions such as;
Who do I trust?
Is this the right level for me?
Should I really be learning this?
These queries create some form of doubt and require serious effort as well as trial and error to get right.  But what if you could sign up for a service like Udemy, where they share a more targeted and structured course?
The site is convenient because you do not have to worry about what works or what you should learn next. All you have to do is log in, watch the tutorial or infographics, and then start practicing.
5. The content is there to educate
When someone is willing to pay for your content, they want to inform or equip themselves with more knowledge. They want to be creative, fitter, and smarter, to change who they are currently into a more refined version.
Nonetheless, some do not know how to make the change. Free content like infotainment only hints at what and why do you need it. It is sporadic to find free content giving the whole picture. For instance, if a tattoo artist wants to learn how to create a peony, they can go to YouTube and try to get something from all the videos on the platform.
The issue, however, is that it requires a lot of hard work, and it is very easy to miss a step in the process. What if you can head to InkWorkshops, take a 10 hr masterclass, and make sure you get all the details you need.
You will also learn from industry leaders and interact with your instructors, which is priceless.
Conclusion
Free vs. paid content is not necessarily about which one is better or more important. It is about knowing which pieces to categorize as paid and what is free. Also, for some, a hybrid approach that blends both types of content makes a lot of sense and fuels the most success.