SEOPressor
An SEO Press Release Case Study and Our Findings « SEOPressor – WordPress SEO Plugin
Let's talk about how you can submit a MarketWatch press release and should you really get a feature on MarketWatch.com.
If you have been a loyal subscriber of SEOPressor, you will find that we are an avid user and advocate of press releases. 
We have been featured on Bloomberg, seen on Yahoo News, and we have sent more than a dozen press releases to over hundreds of authoritative media outlets over this past year. 
And there's only one reason why we continue to do what we are doing and that's simply because press releases bring results.
So far, they have been one of the more cost-effective ways to diversify our quality backlinks portfolio and to shape our branding and visibility on Google search engine result pages (SERPs). 
After all, you want to create your own news and press releases are one of the most economical options that businesses can use to create a business footprint for themselves. 
Besides, these releases usually become the resources people will reference when talking about SEOPressor. 
Plus, there are also the added benefits of increasing your website's traffic and building trust.
If you think about it, this is actually a pretty good value as you just have to spend an hour or two crafting a simple 500-word news release. Distribute it to news outlets and it will work its magic.
Then again, not all news outlets are equally effective.
You will have to know which are the platforms to reach using specific PR newswires because there are news sites that only publish your news for a limited time period to only be removed afterward. 
That's the norm of the business because after all news are only newsworthy when they are fresh out the oven. 
At the same time, there are also news sites and media outlets that publish news indefinitely and these are the sites we want to look out for. 
Because when you pair that with an optimized press release, it can be a huge boost to helping you rank your website for your targeted keywords. 
Just take a look at our news from 2013, we can still find it when we google the keyword WordPress SEO Plugin.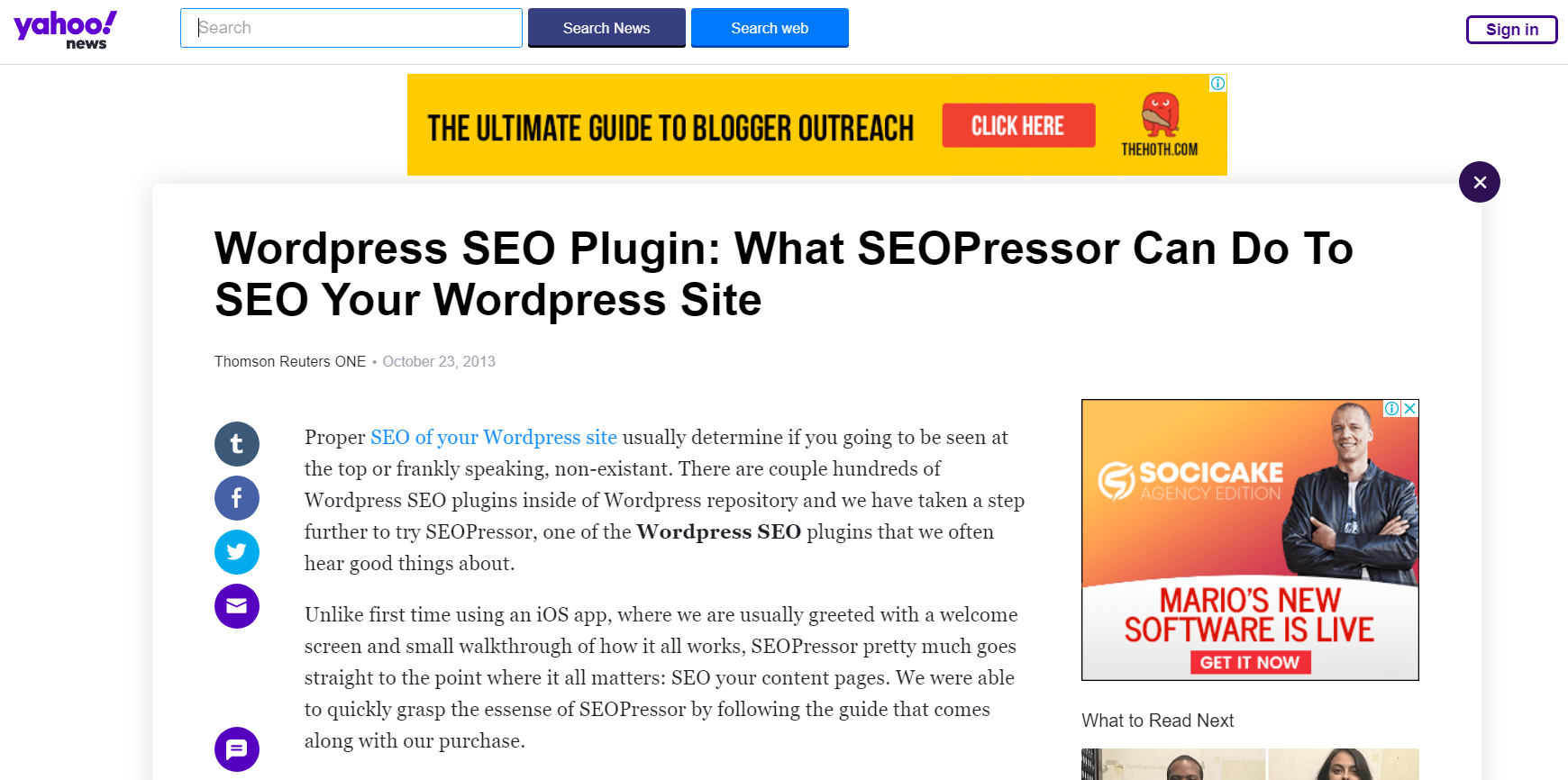 Of course, when it comes to how you can create an SEO-friendly press release, as usual, we've got you covered with our guide here on How to Write SEO Press Releases that increase Traffic and Exposure.
However, back to our main goal, we have written this blog post to uncover the findings of a new media site we have come across: MarketWatch. 
We first noticed MarketWatch when we came across it appearing on our SERPs when we recently sent a press release.
It was in hope of bringing more traction and traffic to our new SEOPressor News Updates that covers weekly Google algorithm changes and search engine optimization trends. 
Relatively new, it was not receiving as much traction as our blog posts. 
That's why we created the release targeting the keyword "SEO news updates" in mind, and we have submitted a First Tier press release with MarketersMEDIA  (read more to know how we got it for free).
To our surprise, we found MarketWatch ranking #1 for our keyword, even above our own actual weekly SEO news updates.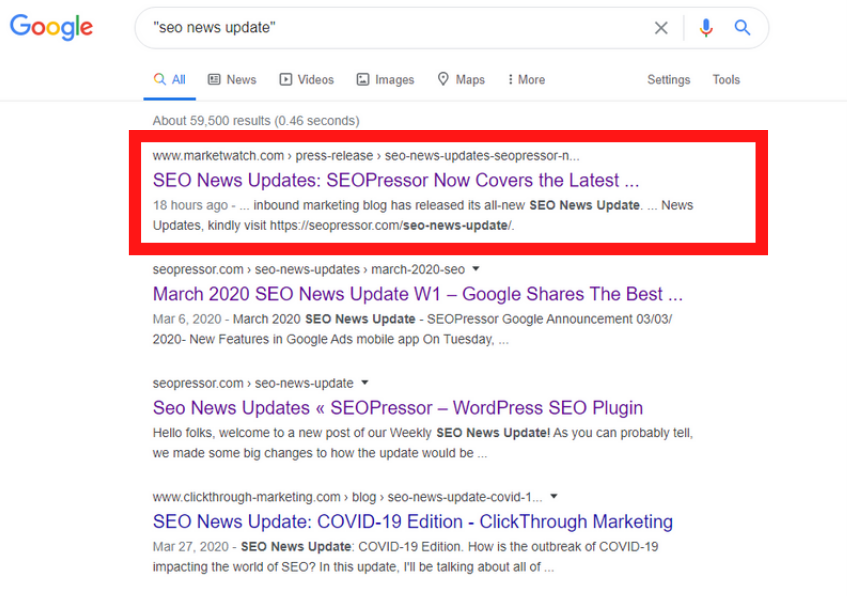 So we did some further digging.
What is MarketWatch?
A website that mainly provides financial information, business news, analysis, and stock market data, MarketWatch targets the same audiences as those who would visit Bloomberg. 
According to its website, the platform has more than 20 million unique visitors every month making it one of the leading innovators for business and personal finance news for the United States market. 
This gives it a high authority in Google with Moz Domain Authority (DA) scoring it at 93, which is why we find it ranking for short-tail keywords like argo gold update, and much more industry and business-related keywords.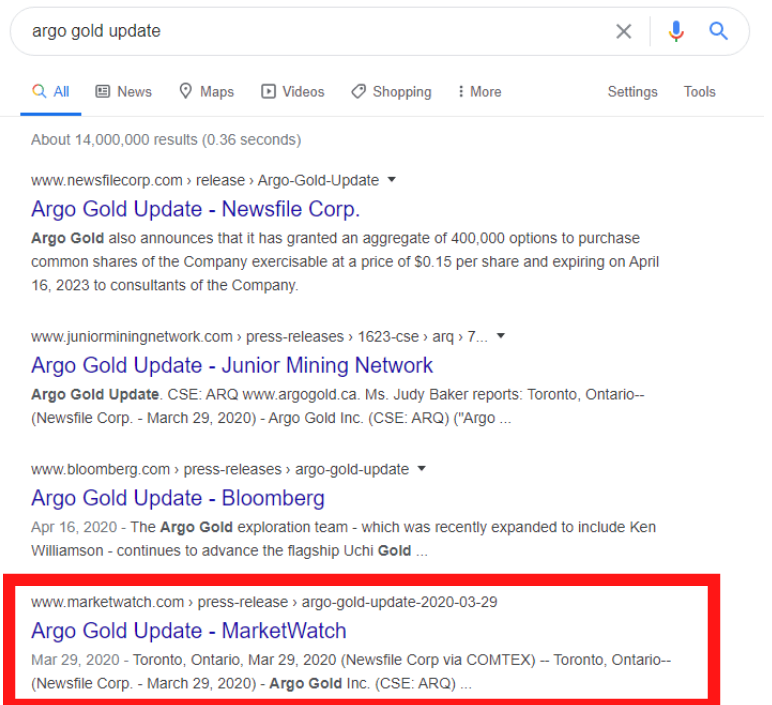 No doubt, this will give your website a PageRank boost when you score a link. In fact, it did when we experimented with our recent release on our new SEO News Updates.
Because astonishingly, after the press release was out, we saw a hike in our Google average position according to Google search console.  
Yes, our press release increased 3 positions in terms of its ranking which can make a pretty big difference in the long run. 
Though we can't really pin this increase directly to the press release, we will be continuing to experiment with MarketWatch. 
But for now, we think MarketWatch is something brands can't afford to miss.
Also, stay tuned to this blog post, as we will continue to update any new information on our MarketWatch press release. 
Updated: 18 October 2020