SEOPressor
A Step-by-Step Guide « SEOPressor – WordPress SEO Plugin
Let's be honest. Creating SEO-friendly content is no longer enough for your blog, especially if your Google Analytics is showing that a majority of your traffic is coming from just a handful of top-ranking posts.
Now it's time to change your approach, and adopting a pillar content strategy may be just what you need to move your website higher up on search engine rankings.
So let's walk through more details on what exactly is a pillar content and how you can use it to improve your site visibility.
What is a Pillar Content Strategy?
Using a pillar content strategy introduces site structure into your content creation, which will help improve your Google rankings and overall user experience.
It is basically designed to cover all the aspects and questions that a user may have about a topic. The pillar content strategy mainly focuses on creating two types of content: 
Pillar Content (also known as pillar page or content pillar)
Your pillar content serves as the primary go-to content for keyword clusters and generally targets a short tail or seed keyword. Putting all your information in a single place lets visitors get answers to their queries fast and effectively.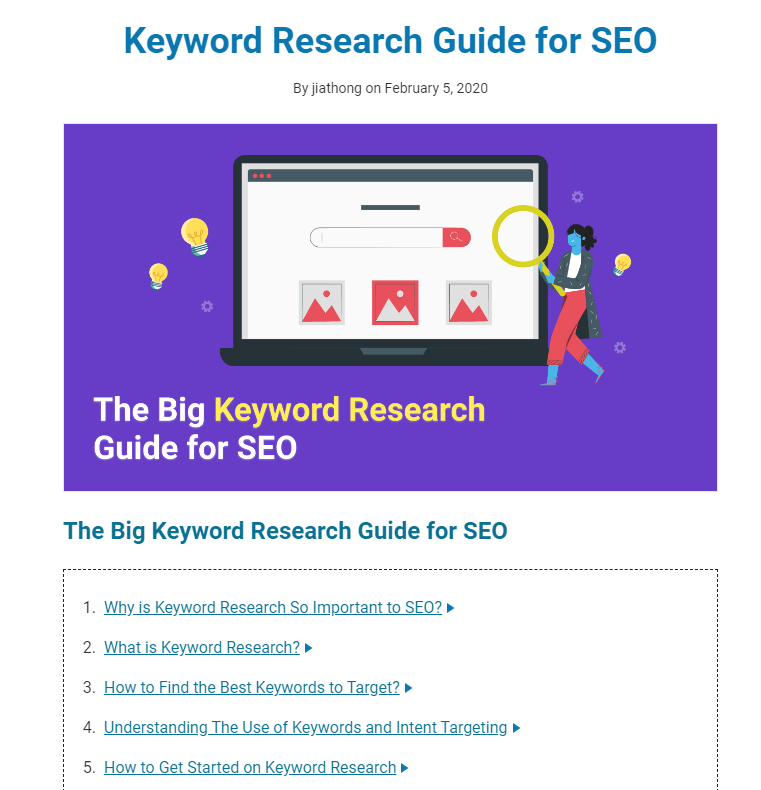 Imagine a mother of all content pages, where you are creating an expansive content to provide a complete answer to any questions that a reader may have on a specific topic.
They cover all the details across a broad topic but leaves room for much more in-depth analysis in cluster pages. 
Cluster Pages (also known as topic clusters)
Cluster pages, on the other hand, are a collection of subtopic pages that target longer-tail and complementary keywords. These pages tend to have more specific and detailed content that points back to the Content Pillar. 
By using topic clusters, you can optimize your content for relevant keywords, and then hyperlink the topics back to your pillar page.
So let's say you are targeting the keyword "Workout Routines", you will be looking to create cluster pages surrounding different workout routines like those specifically to lose fat or to increase strength. 
Understand that the relationship between your cluster pages and pillar page acts in a way to push your point your link juice to your pillar content.
By using a topic cluster or cluster page, you can also improve your search engine rankings and reach the target audience. Cluster pages are a collection of 10X Content or Pillar Content
10X content is another name for pillar content. Rand Fishkin from Moz coined the word and describes it as content that's ten times better than the best-ranking search results for any given topic.
How Does Pillar Content Boost SEO?
The benefit of content pillars to users is clear: it offers all the details they're seeking on a single place.
However, there are many other advantages of content pillars to Business owners and seasoned SEO practitioners, such as:
Users spending more time on your page. The more the content you have for visitors, the more time they will spend on your site
A reduction in your site's bounce rate. If your page offers the answers your visitors are looking for, they won't return to the search engine to seek another source
More keyword mentions. Pillar pages contain target keywords related to them, which boosts SEO effectively
Increase in backlinks and social media shares. Effective pillar pages are shared frequently and widely, particularly among influencers in a particular setting
High Google ranking and longevity. With a high word count, more social media shares and increased backlinks, your site will have improved SERPs visibility. 
Additionally, pillar content is evergreen, so your site's value will not reduce over time. You'll be able to get traffic all through your blog's or website's lifetime.
4 Types of Pillar Content
If you have an interest in incorporating a content pillars strategy, here are the four primary types of content pillars that you should use.
1. 10X Content Pillar Page
10X content pillar pages typically contain the content you want your blog or organization to be acknowledged for. Key characteristics of pillar pages include:
Complete and Authoritative Resources: 10X content pillar pages are aimed at answering all the questions potential readers might ask, so they are usually lengthy and include visual elements. The pages are frequently divided into sections, all placed on a single page
Putting all the Text on One Page: You can opt to include some form of downloadable resource on your pillar page. However, a defining property is that all the content is located on one page, so users can identify and reach it without completing a form. In addition to enhancing the experience of readers, putting all your text on a content pillar helps your page to rank for essential search words.
Bi-directional Links: A pillar page gives complete answers to user questions, but it may still link to other website pages. Linking back your webpages to your pillar page is essential, because it strengthens their connection for search engine ranking purposes
Top-Level Website Navigation: Pillar pages form part of the primary navigation on a site, making it simple for visitors to find them
Long Shelf Life: While you may create a blog post for a seasonal interest or new market trend, pillar pages are meant to have a longer lifetime. As a vital part of your operations, your pillar page should be relatively solid. That will also help in ranking your content over time, as your links and brand awareness continues to rise
Subtopic Pillar Page (Even Subtopics Can Have Their Own Pillar Page)
A subtopic pillar page is similar to a pillar page, because it dives fully into a particular topic with an aim to cover it fully. However, they are different when it comes to their importance to your operation. While pillar pages have a direct relation to the problem your organization solves, the relation is less direct for subtopic pillar pages. Hence, sub-pillar pages are not as elevated, and are at times called long-form blog posts.
Resource Pillar Page
Resource pillar pages are relatively different from the other two types of content pillars. They are fundamentally optimized adaptations of the normal Resource page on websites. 
A resource page acts as a tool for users, an all-in-one platform where it is filled with all the essential information with both internal and external links to the most relevant content on the topic. 
Although it may seem counterintuitive to be drawing people away from your page, you are actually still creating opportunities for inbound links 
Resource pillar pages are optimized for improved user satisfaction, and use by search engines.
What Makes a Good Pillar Content?
Good content pillars understand your target audience and are designed to suit their needs. Your pillar content strategy should meet the following requirements:
·Align with your product or service offerings, and reach your target audience
·Solve a problem or provide a answers to questions with detailed and precise information
·Cover a broad scope of the specific topic in detail
Marketers frequently ask about how long pillar pages should be, but in fact, content pillars are not constrained by word count. Instead, they need to offer comprehensive information, which frequently makes them long-form content. If you are looking to adopt a content pillars strategy, you should answer the following essential questions:
·What space do you want to own? You should review your target audience as well as your products or services
·What's your keyword cluster? Once you establish the space you desire to own, the next step is to perform a keyword research for the best keywords
·How can you make the production process simple? Without a doubt, implementing a pillar page strategy can be a difficult undertaking. You need to divide it into simpler tasks and incorporate into a timeframe. Develop and follow your blogging editorial schedule
·How do you make a pillar page? You should aim to make content that's so excellent that visitors will bookmark your webpage to read now and come back later for reference
Additional Tip: Developing web content is not about writing words alone. It also involves creating infographics, pictures, videos and any content type that can interest your readers. You should:
·Perform internal linking, which involves cross linking your subtopics with your pillar page
·Expertly promote your web content to enhance its value
·Keep track of your web traffic and conversion rates
·Update and repurpose your web content as necessary
Conclusion
It might take longer for you to develop pillar content than shorter blog posts, but the pillar page strategy is undoubtedly worthwhile. It helps to rank for shorter tail keywords for longer, and enhance your site's search engine optimization efforts.
After reading the content above, are you ready to create your content pillars for a more successful website?
Updated: 17 October 2020