SEOPressor
6 Actionable Tips to Boost Content Engagement on Your Blog
You're likely well aware of the fact that having an active business blog is crucial to building better brand visibility online.
Producing fresh content on a consistent basis is a key part of any website's search engine optimization (SEO) and overall digital marketing efforts.
But just churning out article after article that nobody cares about will do you little good.
You may already have a respectable amount of monthly visitors on your website, but if that audience doesn't engage with your content, then you need to switch things up.
So, if you wish to get more audience engagement on your blog in the form of comments, social shares, newsletter subscribers, mentions on other sites, and what have you, here are six things to focus on in every blog post you produce:
1 – Be Bold and Original
First off, strive to have original content on your blog. Your audience is smart enough to differentiate between original and regurgitated or republished (aka syndicated) content.
Naturally, nobody finds rehashed or derivative content appealing enough to engage with. But if your post is one of a kind, people will be more inclined to comment and share.
So, it's in your best interest to create original content that readers can't find anywhere else. Sure, it would require more time and effort on your part, but the results are worth it.
Moreover, be bold in what you have to say in your blog posts. Instead of offering plain advice, add some personality to your content. Converse directly with the readers as if you're talking to them in person.
Being bold, humorous, and a bit controversial invites a discussion. For example, as shown below, you can make a bold declaration in the headline itself, but then make sure to offer your take or a concrete solution in the actual article.
People are much more likely to comment if they disagree. So, if you want to prompt people to share their two cents on the topic, or you want to start an interesting discussion, consider being a bit controversial.
However, don't go overboard with being bold or you might have to deal with a lot of backlashes, something that could be counterproductive for your business.
2 – Include Lots of Visuals
Next, don't create blog posts that are just plain slabs of endless text. A huge wall of text is nothing but intimidating for the modern audience that lacks any sort of attention span.
That's because humans are visual creatures. 90% of information transmitted to the brain is visual. So, to make your blog posts more engaging and memorable, separate paragraphs of text with interesting images and graphics.
This could be something as simple as stock images to custom-designed infographics. Besides helping readers visualize the topic better, images break the monotony of text, improving the readability and shareability of your blog post.
For instance, you can have an option for readers to "Pin it" when they hover over an image, so they can easily save the piece on their Pinterest account to revisit it later.
Videos are another excellent form of media that will keep readers hooked on your blog post page. So, see to it that all your blog posts have numerous visuals carefully interspersed in them.
Read our guide on choosing the best image for your content here: How To Choose The Perfect Images For Your Content
3 – Link Out to Authority Sources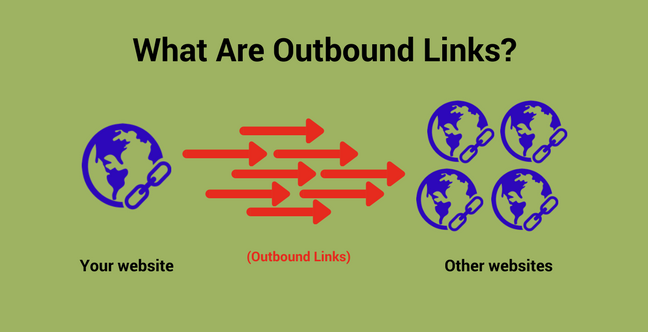 Writing original content doesn't mean you can't refer to credible sources for quotes, data, research, or other useful information. The key is to give credit where credit's due.
That is, citing sources of your information and providing resources for further reading builds your content's credibility. It shows that you've done your homework and have the courtesy to acknowledge the experts.
Naturally, people are more disposed to engage with content that's more trustworthy and reliable. So, always cite your sources. Publish content with at least a few hyperlinks that support your claims.
Also, you must also link to other blog posts on your own website. A proper internal linking structure not only helps to keep readers on your website but also boosts your on-page SEO.
When adding links, consider using a custom URL shortener like Capsulink to create short links that ensure consistent branding and an increased link trust.
4 – Ask Questions
Want more engagement on your content? Ask and you might just receive. Something as simple as "Have any more tips? Feel free to share your thoughts in the comments below!" at the end of the post can trigger more engagement.
If you explicitly invite readers to comment, they are much more likely to do so. You can even encourage people to share your post on social media — if your content is truly high quality, people would be happy to oblige.
For example, if you've published a recipe on how to cook lasagna, you can ask your audience to share pictures of their completed meal. It's as simple as that.
That being said, if you do invite people to comment on your post, make sure to respond to their comments in a timely manner.
If visitors notice that you pay attention and thoughtfully reply to each and every comment, they'll be more inclined to visit your blog again and stick around with your brand. 
5 – Add Interactive Content
As the name suggests, interactive content is a type of content that facilitates engagement. It can be anything from a simple quiz or poll to an interactive infographic or 360-degree video.
Adding interactive content to your blog can substantially boost time on page, which in turn helps your SEO. You can also use it to collect email addresses from your visitors, turning them into leads.
For instance, if it is a fun quiz, people will answer all the questions and at the end of the quiz, you can ask them for their email address where the results will be sent.
Simply put, interactive content offers freshness and variety to your audience. It can be much more enjoyable than plain text, which in turn can compel users to share your content with their network.
6 – Display Prominent Social Sharing Buttons
Finally, it can happen that readers genuinely enjoyed your article but because there weren't any conspicuous social sharing buttons, they missed sharing it.
So, simply having more prominent social sharing buttons on the side or bottom of the blog post can also help increase engagement in terms of social shares.
Plus, akin to the "Pin it" action for saving images to Pinterest, you can use a tool like Click to Tweet (or a WordPress plugin if you're a WP user) to have certain sentences or quotes pop out as tweetable text. Essentially, it's all about making it easy for the reader to share your content.
Get Started with Your Content Engagement
Content engagement is an important metric that's often overlooked, as most businesses are too focused on putting out more and more content instead of making every piece more engaging and noteworthy.
If your audience isn't active on your blog or doesn't really bother about what you have to say, then you are far from realizing the true benefits of business blogging.
After all, the higher the content engagement, the better are the odds of your blog post ranking at the top of Google.
Sure, in a sea of so-so content that's on the internet today, getting people to pay attention and stay interested in what you have to say is a tall order.
But by incorporating the aforementioned tips in your content strategy, it won't be long before you have an active reader base that actually cares about your posts, and is willing to comment and spread the word.
If you already have existing content, we recommend you to update before create. Find out if your content is actually engaging with your audience through looking at your click-through rate and move through there. 
Have any more tips? Feel free to share your thoughts in the comments below or read Ernest Hemingway writing tips and advice to get more amazing tips on content engagement.  
This article is contributed by Pratik Dholakiya.
About the Author:
Pratik Dholakiya is the founder of Growfusely, a content marketing agency specializing in content & data-driven SEO. He regularly speaks at various conferences about SEO, content marketing, entrepreneurship, and digital PR.
Pratik has spoken at the 80th Annual Conference of Florida Public Relations Association, Accounting & Finance Show, Singapore, NextBigWhat's UnPluggd, IIT-Bombay, SMX Israel, SEMrush Meetup, MICA, IIT-Roorkee, and other major events.
As a passionate SEO & content marketer, he shares his thoughts and knowledge in publications like Search Engine Land, Search Engine Journal, Entrepreneur Magazine, Fast Company, The Next Web, YourStory and Inc42, to name a few. Find him on Twitter @DholakiyaPratik
Updated: 18 October 2020