BiQ
10 Evergreen Content Ideas For Your Blogs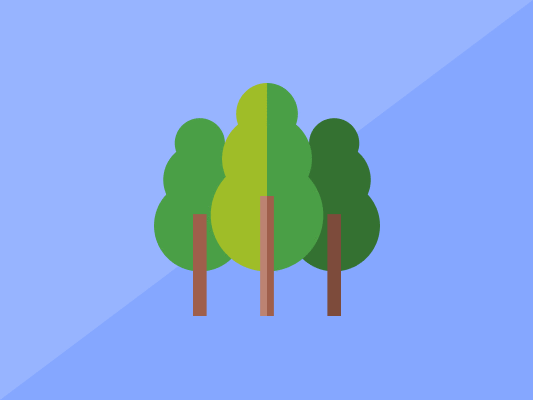 Looking for website content that ranks and drives consistent traffic for your blog? This article provides a complete list of evergreen content ideas that will just perform miracles!
Evergreen Content Ideas: All You Need For Lasting Results
What is evergreen content?
Well, the answer is simple. "Evergreen" simply just means fresh, and when you associate it together with the word "content," it represents sustainable ideas that stay relevant for a long time. It is not time-sensitive and is unaffected by trends or seasonal changes.
For example, if a gardening store website publishes an article called "How to care for succulents in Winter," it would only generate traffic during the winter season, hence the name seasonal content.
In contrast to seasonal content, evergreen posts will always stay relevant. For instance, the gardening store publishes an article on "How to Repot a Plant: 7 Simple Steps". This is an evergreen content that was first published in 2018 and is not obsolete as it applies to all plants, and they can't go extinct.
There is always a dilemma when choosing between seasonal content or evergreen content. Nevertheless, below are some reasons why evergreen topics will work wonders for your blogs and why you should invest in them.
Why should you invest in evergreen content?
To answer the question, let's take a look at this graph.
This is what a typical seasonal content graph would look like. As you can see, the number of visits only peaked after publishing and then remains on a low plateau for the rest of the days.
Meanwhile, this is the standard traffic graph from performing evergreen content. From this graph, you can clearly see the evergreen content's performance gradually increasing over time since it was published.
The blog receives tons of organic traffic progressively for over a year. This is proof that when you use evergreen content, not only does it require less effort to market your blogs, but it will also keep users coming back to your site for references.
It is evident that the rewards will continue to grow even after years later.
Next, let's look into the evergreen content ideas you can use for your next blog post.
10 Evergreen Content Ideas: The Complete List for your Blogs
Before you dive into the list of content ideas, please read this article on how to create evergreen content: a step-by-step guide so that you can grasp the fundamentals of it.
It is without a doubt that finding relevant and sustainable content will be challenging.
Why? It is because most of the best topics have already been covered and in excess. To stand out, you must be able to provide great value to your readers and keep them coming back for more.
But first, here are some promising evergreen content ideas for your blogs.
1. How-to Guides
One of the simplest tips to good evergreen content is to write for beginners. Why beginners? Well, experts wouldn't be searching for broad topics, right? How-to guides can generate large and recurrent readers who generally target beginners.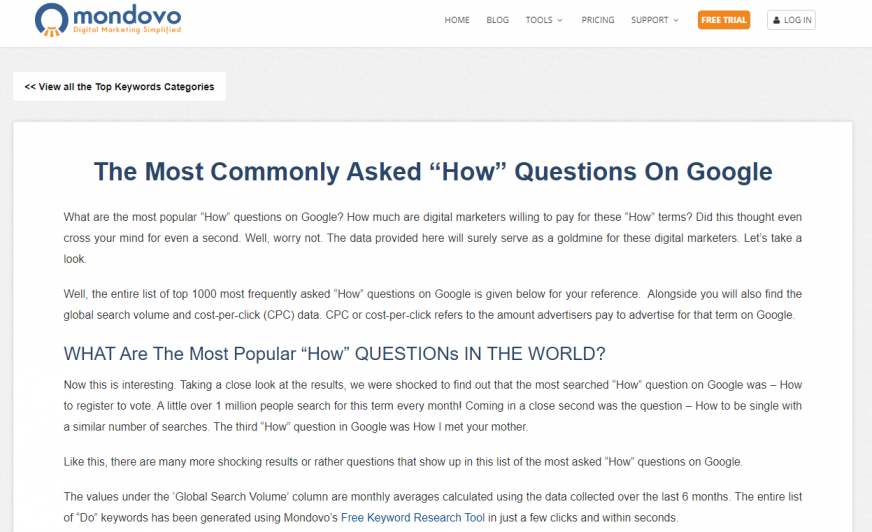 Yes, it may feel that all good topics are covered to the max. In this case, you can get creative and add your own unique spin or long-tailed keywords. More specifically, keywords that have an adequate amount of traffic but not too much competition.
How can you do that?
By using BiQ's Keyword Intelligence tool, you can generate a wide range of keywords but filter to only focus on long-tailed keywords.
By using this tool, you can gather data on the keyword volume, trends, keyword competition, related keywords, and more.
More importantly, the SEO tool shows the trend data of the keywords. This includes monthly search volume, which will easily let you identify evergreen keywords. You can also check out the keyword competition and CPC to find low hanging fruits to target.
What makes BiQ's Keyword Intelligence stand out from the rest of the keyword research tools on the market is the keyword analyzer feature. It helps you see why someone might be searching for the keyword in the search engine. With this data, you will be able to plan your content in such a way that meets your users' needs.
If you are unsure which keyword to use, you can sort the keywords based on their value. The higher-valued keyword means it can potentially bring more traffic to your website at a lower competition.
Also, keep in mind that Google prefers ranking listicles for "how-to" search queries. Hence after finding your target keyword, if possible, always break down the process into simple and actionable steps.
When writing your content, understand that everyone is at a different learning stage, so make sure your How-to guides should always be relevant and sustainable.
2. Tips and Checklists
Why are tips an evergreen content for your blogs? It is because people visiting your website will always be curious and want to better understand the service or product that they are paying for.
Giving tips to your readers is a great way to get closer to your clients or reader. It provides insights and keeps them well-informed, enabling them to appreciate your blog or your service more.
For instance, this blog post on tips on how to get more Twitter followers, which were published in 2014, has approximately 4.5 K shares. It is still evergreen even until now.
This blog post shows how a clear-intent blog about tips can help generate shares and engagement in the comment section.
What is the difference between a checklist and a list?
Here is the definition provided by Brian Dordevic:
"Checklists are a documented process, for something that you do daily, and to-do- list is something you assembled yourself and you need to do at a certain point of your day."
Checklists can provide a lot of value to your readers as they are very effective in ensuring you are doing something the right way, especially something complex. This, in a way, becomes a reference tool for the readers that will keep them coming back to your blog again and again.
Do you sell financial services? Then a "personal finance checklist" will likely generate a lot of downloads from your target audience – and stay relevant for years.
Maybe you run a pet shop or veterinary, then a "signs and symptoms your cat is sick" will provide value to your target audience, and in turn, help you reach them via search engines.
The point is, whatever that you're selling, checklists can be leverage, and it probably won't need any extra updates for years to come.
3. List of Resources
Isn't it ironic that here we are in a list, talking about lists? That's because lists, like this very list, can easily become evergreen. Listicles help readers to make better decisions as they become well-informed.
But the ultimate list is always a list of resources that have stood the test of time.
A good example I've seen is this company's blog that includes almost everything a reader needs to know for internet marketing using SEO bookmarklet.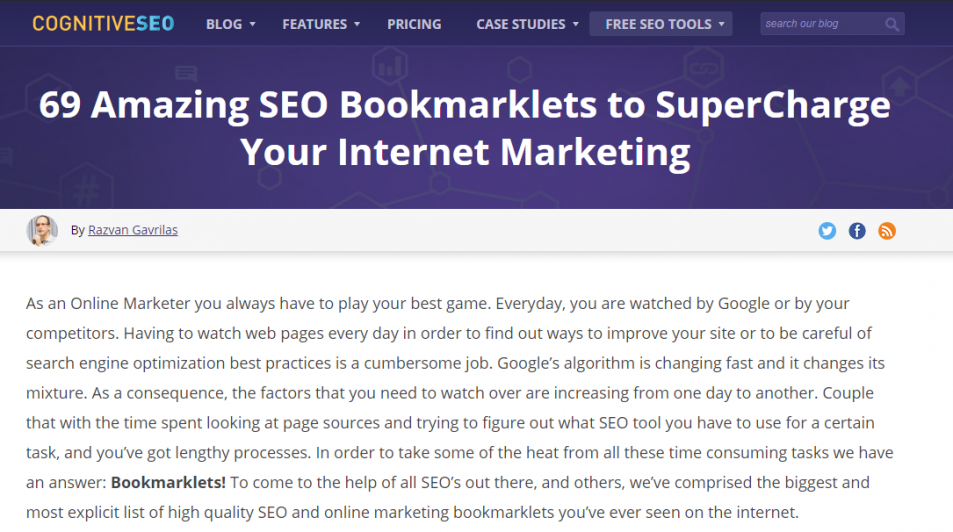 It contains dozens of resources for free, open-source tools, a list of resources for bookmarklets based on categories, and so on. If you are doing a good job, readers will come back more often than you think with the impression that your blog was a good source of information.
4. Case Studies
Writing an evergreen case study is not always that easy. However, a case study will be very priceless for readers doing thorough research, looking for the best and possibly worst-case scenario within an industry.
Case studies about the company's success are often a timely piece. Usually, case studies of "what went wrong" and how your company overcame them are very invaluable examples.
After all, failure is far better for a teacher than success.
An example of a blog about a case study: 18 tips to destroy your own webinar; the author provides tips, advice, and lessons through the stories of failures.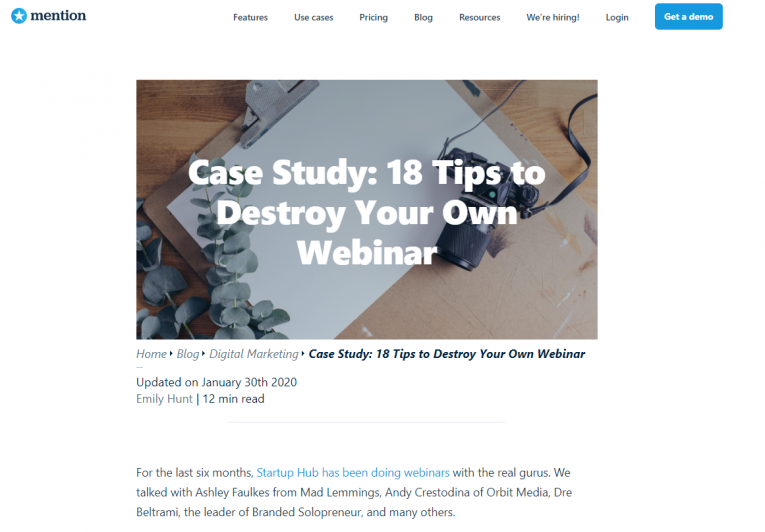 5. Product Reviews
You definitely can't go wrong with this one. Why? It's because when you are an expert in the field, and you provide your two-cents on the product or service, it is more trustworthy in contrast to what the general public thinks about it.
After all, credibility is built around competence. When you review a product or service related to your work, you will establish authority in your niche and encourage engagement over time.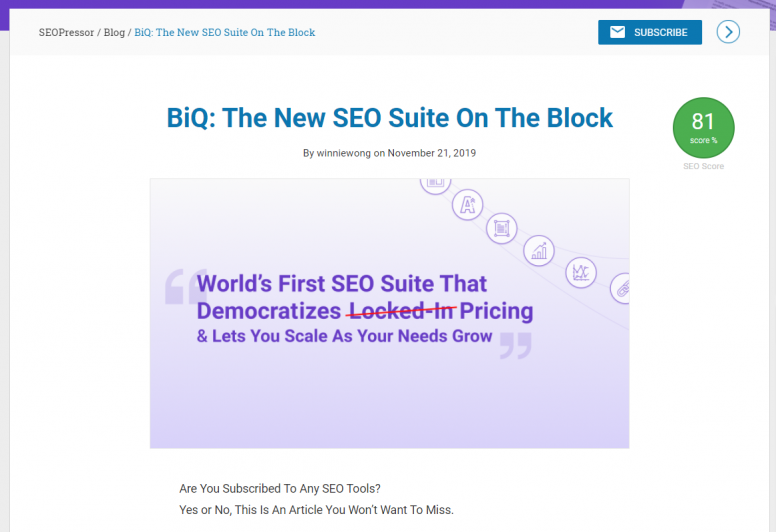 To illustrate, this review by SEOPressor for BiQ as the new SEO genie is one great example of an expert review on SEO service. The insight of a review builds credibility.
It is important always to update your blog on products or services review as this will maintain accountability, where your readers will better understand the review of the product and rank it higher in their preferences, boosting your brand indirectly.
6. Interviews
People are forever looking for expert insights, and interviews might just be one content that will always remain evergreen. In a way, it's always refreshing to listen to the opinions of a professional or successful individual.
What you can do is reach out to experts related to your industry or website and request an interview with them. They will most probably agree to it because people love being interviewed to show their expertise and experience.
The best part is, they might even share or promote this interview session on their website or social media, which means more organic backlinks and more visitors for you.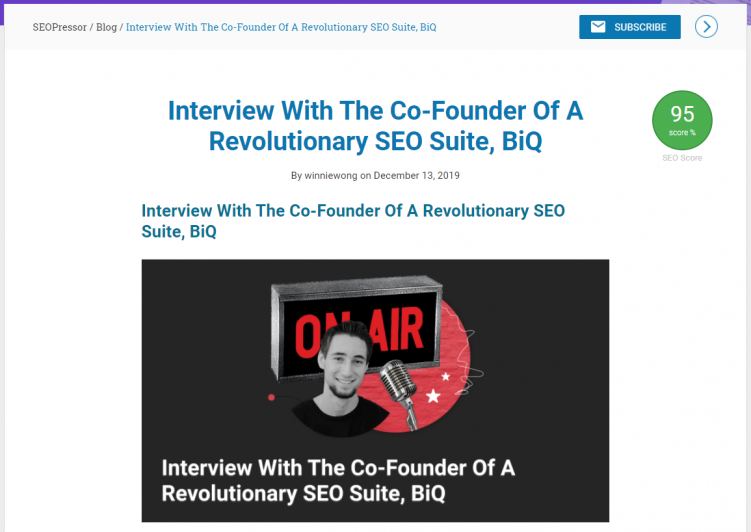 For example, take this interview where the co-founder of BiQ answers questions and provides insights on how he and his team manage to be one of the most-talked-about SEO suites in the market.
Interviews are somewhat like sneak peeks of a person behind the persona. The readers get to see how the person's mind works and how they think, indirectly humanizing a paradox.
7. Statistics
It's often been said that stories sell and facts tell. In other words, most people make decisions based on emotions and use supporting information to rationalize that decision.
Statistic posts are one of the best-supporting information one can have though they need to be updated from time to time.
We know curating your statistics or infographics is not easy, but the rewards are worth it as the data will always be relevant.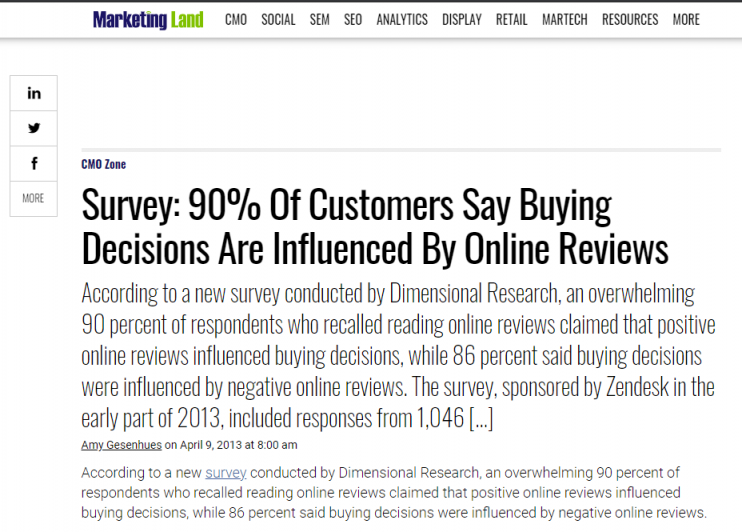 You think that you may find you have to spend money on recruiting analysts and developing a proprietary project of your own. You don't because there's value in curation. Take your niche's best research projects and build a post on statistics.
8. Success Stories
Success stories are evergreen because it motivates people no matter which point of life they are at.
What people don't see behind the shiny word success is how many countless sleepless nights it takes to start making money.
Success stories aren't about making a lot of money, but it can also be in academics, socially, or how you overcame a fear- you're allowed to share. Show your readers the lessons you've learned that they can take away and apply in their lives.
After all, everyone loves a good story.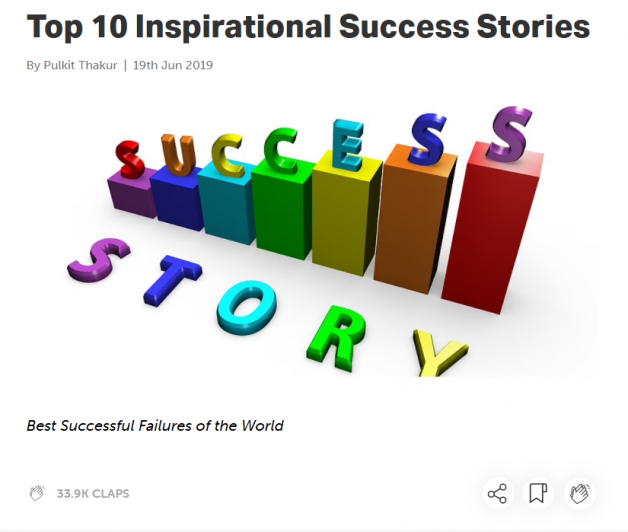 If you can do that, then it'll resonate with your readers and have them coming back for more.
9. Historical Data
This type of blog will stay evergreen because history is about the past, and the past could unlikely change.
Tell the history of your industry. Every industry has a history. Everything from digital marketing to fashion has a rich and varied history.
All you have to do is find the angle and tell the story.
The typical practice for a content writer to do this is to hop over to Google, type the keyword in, and open a dozen tabs consisting of the top articles. The problem is it takes so long, and human observation is prone to error.
This is where BiQ's Content Intelligence tool can come in handy. Since you already have your keyword "history of the dairy industry," for example, you can start creating your content with that keyword.
The tool analyzes your content as you write, comparing it with the top-performing organic content on Google. Better still, it gives you a breakdown of your keyword in terms of usage, similar keywords, and example sentences. They should be the go-to-source that shapes your article as you write.
This tool can help you to create a history blog that is not only SEO-friendly but contextually accurate.
Without history, we're doomed to repeat the mistakes of the past. Educate your audience while scoring an evergreen content win.
10. Industry- Specific Glossary
It is possible for someone working in a specific industry for a long time and still does not know some words, definitions, acronyms, etc.
This is because working in an ever-changing niche is sometimes overwhelming, and it is not any easier for your readers or clients.
You can give your readers a good start by providing a guide to the key terms people need to learn within an industry and can unlock a lot of understanding very quickly and have a transformative effect on a reader's confidence.
The goal is to want your evergreen content to appeal to people with a beginner-intermediate level of knowledge.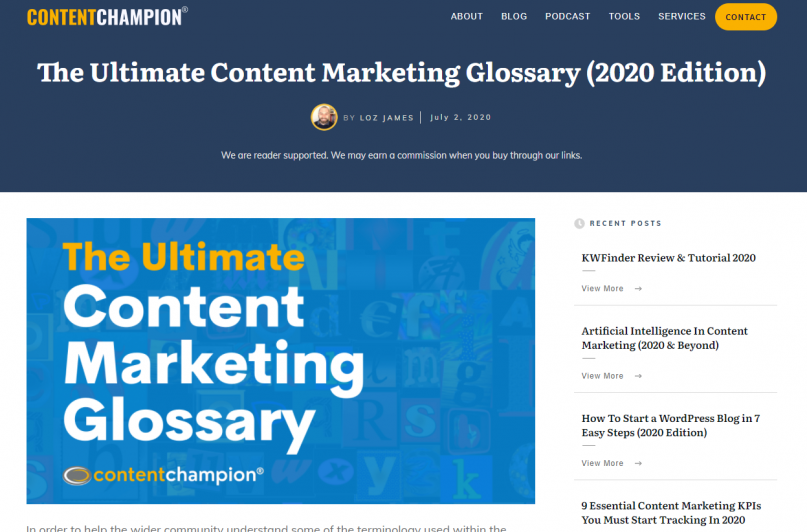 As a result, it will show your readers that there's nothing wrong with not knowing a specific word as you will offer constant guidance from the first step. Yes, it may seem redundant and unnecessary to you but trust us when we say that it will make you look like an expert.
You will be able to gain your readers' trust as they will keep coming back to refer to your industry-specific glossary.
Conclusion
Google algorithms are ever-changing, but one thing remains constant: the search engine's demands for high-quality and relevant content.
Evergreen content can help you to achieve this because it never goes out of date. When done well, it is guaranteed to help drive a consistent flow of traffic over time. So start creating blog posts with these top 10 evergreen content ideas today!
Have you ever tried any of these 10 evergreen content ideas for your blog? If you have any more evergreen content ideas to share or different opinions on some of the ideas we've shared, feel free to leave a comment down below to let us know!